India's emergence as a global economic giant is something that Vajpayee would have loved to see, having dedicated his life to it.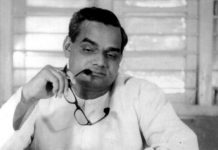 This is the tribute Atal Bihari Vajpayee paid Jawaharlal Nehru, India's first prime minister, after he passed away on 27 May, 1964.
BJP MLA Gyan Dev Ahuja blamed the Nehru-Gandhi family for all the social evils prevailing in the country.
To include any other Prime Minister in the Nehru Museum is to tamper with the soul of India.
For the longest time, institutions such as the Teen Murti estate have existed as fiefdoms of the 'first family' of Indian politics.
It will feature all past and future prime ministers of India, including Narendra Modi, but will not have Jawaharlal Nehru. The Narendra Modi govern...
The Thapar clan has been among the elites of Punjab and then New Delhi, with familial connections to the Nehru-Gandhis and Khushwant Singh, among others.
Until late 1947, Patel was open to Kashmir's accession to Pakistan if Pakistanis would tell Nizam of Hyderabad to join India.
Mountbatten took Patel's offer to Lahore the day Indian troops landed in Srinagar. Liaquat Ali, 'who understood neither history nor geography' said no, Soz tells Shekhar Gupta.
Since the text of the Constitution goes against the Hindu Right's worldview, minister Ravi Shankar Prasad has to scavenge the manuscript to show us pictures to suggest its Hindu-ness.