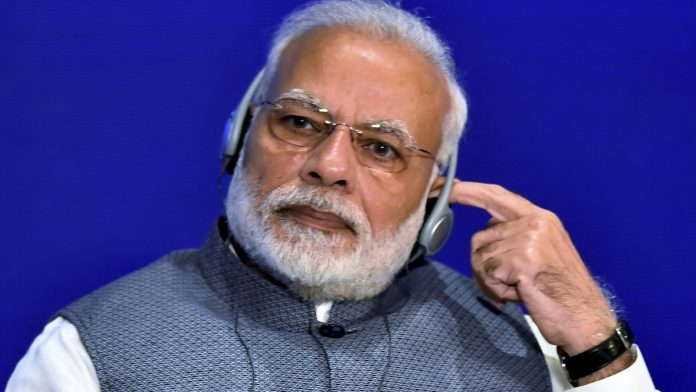 Text Size:
Pre-Truth — snappy, witty and significant snippets from the world of politics and government.
When Manvendra beat Narendra 
On the day Manvendra Singh quit the BJP, Prime Minister Narendra Modi was at a rally. But the story of the two events lies in the interesting Facebook streaming data they generated. While the BJP officially encourages people at its rallies to livestream, Modi's rally produced 900 livestreams, while over 12,000 beamed Singh's (a screenshot below).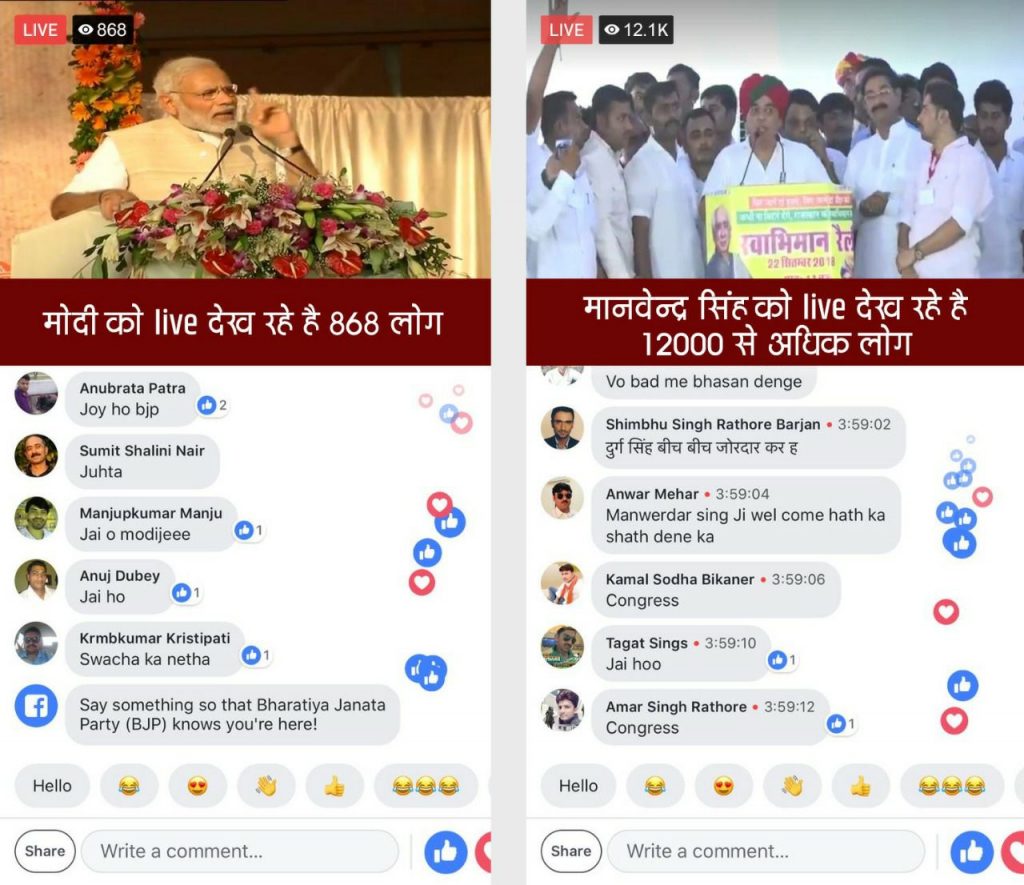 However, another interesting data comparison point is this: When Vasundhara Raje spoke at the Ajmer Gaurav Yatra rally on 6 October, barely a thousand people livestreamed it. But when Modi spoke from the same Ajmer stage that day, it was live-streamed by about 1,100 people.
In politics, it's difficult to avoid your 'exes'  
The political bitterness between Prime Minister Narendra Modi and Telugu Desam Party (TDP) chief Chandrababu Naidu is no secret. The former allies have been at loggerheads since the TDP split from the BJP-led National Democratic Alliance earlier this year.
In politics, however, paths of rivals do inadvertently cross. As PM Modi gave a speech at the inauguration of the Centre for the Fourth Industrial Revolution in New Delhi Thursday, Naidu's son Nara Lokesh, a minister in the Andhra Pradesh government as well as a businessman, was in the audience.
Just two months ago, Lokesh's wife Brahmani Nara was in the audience when Congress president Rahul Gandhi met corporate leaders in Hyderabad and spoke on a range of issues, including the goods and services tax (GST).
---
Also read: Modi has made more enemies than friends in four years as PM: Chandrababu Naidu
---
Guests do some heavy-lifting at launch of book on PM Modi 
The recent launch of a coffee-table book on Prime Minister Narendra Modi was a rather weighty affair, though not solely because of the several heavyweights on the guest list, like RSS leader Indresh Kumar and former Supreme Court judge B.S. Chauhan.
The book, titled Narendra Modi: A Charismatic & Visionary Statesman, weighs over 5.5 kg, and the guests were seen struggling just to lift it.
Authored by senior Supreme Court lawyer Adish Aggarwala and British writer Sarah J. Marchington, the 672-page book claims to have never-seen-before pictures of the Prime Minister, including from his younger days.
A sidelight included the furrowing of a few brows over union law secretary Suresh Chandra's presence on the dais. Chandra, however, retires soon and there are indications that he is trying to get an extension.
Surprising silence of Sharad Pawar 
It has been a fortnight since Nationalist Congress Party (NCP) MP Tariq Anwar resigned from the party, but chief Sharad Pawar has not spoken about it.
Anwar resigned in protest against Pawar's remarks defending Prime Minister Narendra Modi's "intentions in the Rafale deal". He was concerned about the impact Pawar's "clean chit" to Modi would have in his Lok Sabha constituency, Bihar's Katihar, where Muslims comprise 30 per cent of the population.
Anwar was one of the founding members of the NCP, having walked out of the Congress with Pawar and P.A. Sangma in the 1990s over Sonia Gandhi's foreign origin.
But Pawar hasn't even called him up to persuade him to take back his resignation, even though his daughter Supriya Sule, party colleague Praful Patel and other senior leaders have. Needless to say, Pawar's silence has perplexed many in the party.
Why Mamata Banerjee's frugal lifestyle doesn't impress rivals  
Politicians are known to have a taste for good things in life, especially after they assume office, but West Bengal chief minister Mamata Banerjee has remained an exception. She still flies economy, once described by Congress MP Shashi Tharoor as 'cattle class', and enforced the same rule for her ministers and bureaucrats last July. She has also mandated a one-person-one-car policy for them, even if a minister holds multiple portfolios. She herself owns a Santro car. Her austere lifestyle, however, doesn't seem to impress her political adversaries, who have been targeting her for the lavish lifestyles of her nephew Abhishek Banerjee and other Trinamool Congress leaders.
---
Also read: Mamata Banerjee is poetry-bombing the Modi government, for better or verse
---
The Bollywood classic BJP doesn't want on its playlist right now
Even as minister of state for external affairs M.J. Akbar faces allegations of sexual harassment and assault during his stint in journalism, most BJP leaders, including Prime Minister Naredra Modi and party chief Amit Shah, have chosen to keep quiet. At a briefing, a senior BJP leader took refuge in an old Bollywood song when pestered for a comment: "Ayega, ayega, aayega aane wala". He refrained from singing further, as some of the ensuing lines could have been more telling – "Khamosh hai zamaana, chupchap hain sitare…"
IIT-R students steal nostalgic moment after Javadekar diktat
After human resource development minister Prakash Javadekar's advisory that universities opt for Indian attire for convocation ceremonies, instead of western formals and the ubiquitous robe, education institutions have started issuing strict dress code for students.
At the recent convocation of IIT-Roorkee, boys turned up in kurta-pyjamas and girls chose sarees. But the students couldn't let go of their desire to wear a robe and throw the motor boat cap in the air – immortalised by multiple depictions in pop culture.
After the official function ended, many students put on robes and caps outside the venue.
Another change noted at the IIT-R ceremony was the lack of cheers and claps that usually echo through auditoria at convocations. It was later discovered that students had also been instructed against cheering during the ceremony.
(Contributors: Ruhi Tewari, Pragya Kaushika, Maneesh Chhibber, D.K. Singh, and Kritika Sharma)
Get the PrintEssential to make sense of the day's key developments.