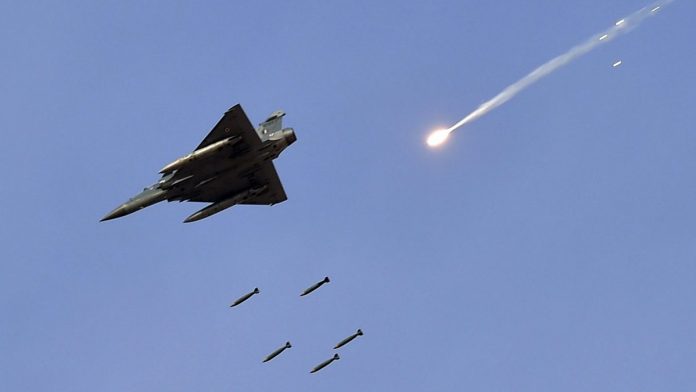 Text Size:
Let's go graphic. Alternatively, let's fake it.
On Wednesday morning, a day after Indian Air Force struck terror camps in Balakot in Pakistan-occupied Kashmir, Times Now, Aaj Tak and other channels did both. All morning, Times Now called Pakistan's bluff claim of shooting down an India Air Force aircraft by claiming their photograph of the downed plane was the photograph of a MIG crash in Jodhpur 2016.
Pakistan is 'Fakistan', declared Times Now editor Rahul Shivshankar. 'Pak peddles fake news', tut-tutted India Today.
Simultaneously, fighter planes — in graphic representation — zoomed in and out of the screen to convey the other piece of breaking news: the Indian Air Force (IAF) had downed an F-16 Pakistani jet — '#PakTaughtLesson by India', said Times Now.
---
Also read: India media declares Balakot air strike a victory
---
As proof of 'Pak jet shot down', India Today led other channels in repeatedly running footage of a blue sky with two encircled portions with faint white streaks discernible in them labelled 'Pak Jet' and 'Indian jet'.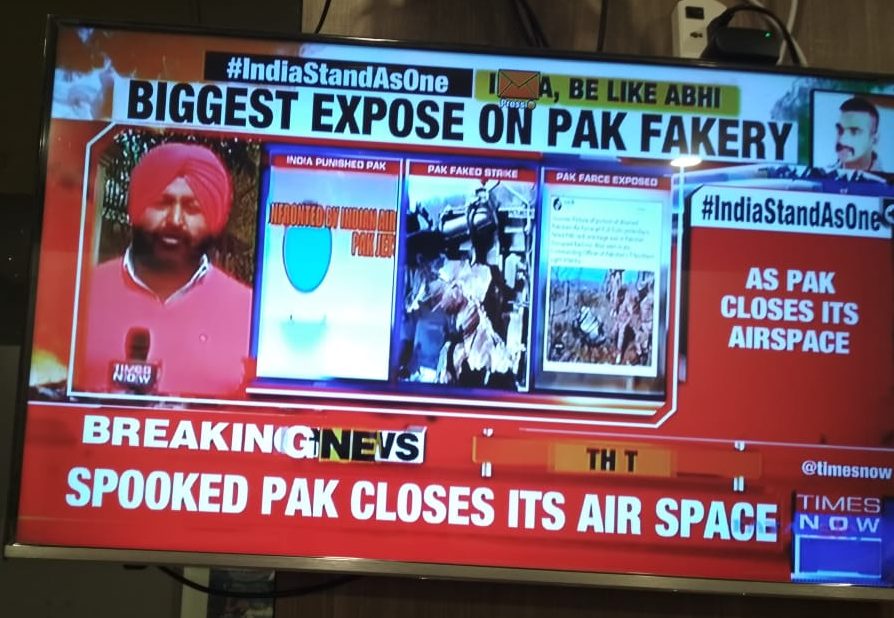 Indian news channels celebrated this success until early afternoon, barring NDTV 24×7, which was treading so carefully it refused to even mention the F-16 until lunch time, preferring to show us the remains of an Indian helicopter crash in flames.
Meanwhile, a 'spooked Pakistan' — as Republic TV called it — claimed it had shot down two Indian MIG 21s. India admitted in an MEA press briefing later in the afternoon that one MIG was down and one pilot 'missing', but in Pakistan, news channels like ARY had shown someone they claimed to be the Indian pilot since morning.
Yes, you are right to be confused. There will be plenty of falsehoods, fake news, feints, propaganda, exaggeration and hyperbole flying around both sides of the Line of Control (LoC). So, when Major Gaurav Arya (retd) claims 'the LoC is absolutely on fire', don't call the fire brigade or run for cover: verify his claims.
Nobody knows what tomorrow will bring so let's focus on what we have seen so far. And what we have seen is an Academy Award winning performance from news channels for best cinematography, animation, graphic design, special effects — and choreographed air attacks (it's a new Oscar category).
---
Also read: Risk of India-Pakistan war could hang on fate of captured IAF pilot
---
In the absence of any authentic, irrefutable video footage of the airstrikes, TV news channels, desperate for visuals other than those of the prime minister, have turned creative.
On Tuesday evening, during the Republic TV debate on the aftermath of the airstrikes, eerie music played in the background.
For the last two days, most news channels have been showing what they call 'representational video'. A favourite one is of jets taking off from a runway to the sound of martial music.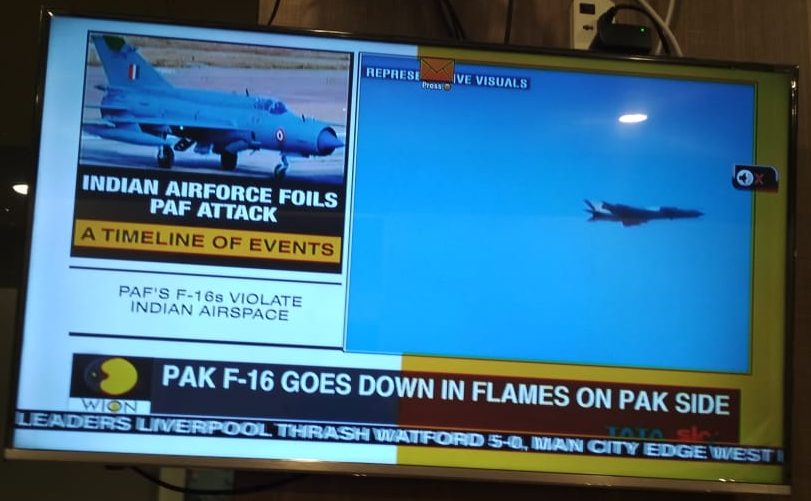 Alternately, there are fighter jets in full dress rehearsal or auditioning for a role in the next Top Gun film. They zig, they zag, they zoom in and zoom out of vision — not sure that the aircraft is always the MIG 2000 — could it be the Rafale?
NewsX often filled the entire screen with one fighter jet. Another video had fighter jets zoom across terrains and throw up green clouds. WION, Republic TV also had 'rep' videos of planes in fly past, bombings and mushroom clouds.
More imaginative news channels went further. Zee News went for graphic animation: there was a mountainside, a brick and mortar house, a pitched tent, superimposed on a rough map of the LoC with the Pakistani flag and the Indian flag. Suddenly, the planes fly past the house, and it's bombed. Fires consume the tent, the house and voila — the 20-odd minute strike by the IAF in two seconds.
In an earlier animation, Zee had the aircraft traveling across water before creating the clouds of war.
---
Also read: Claim vs fact — what's true and what's not in the India-Pakistan information war
---
Zee Hindustan's graphics had aeroplanes and helicopters (huh?), fireballs and clouds rising like a nuclear explosion from the airstrike. News 24 and News 18 India had an 'airstrike' with jets in formation and '300 dead'.
Aaj Tak produced a graphic animated short film: it had Indian jets take off from Gwalior and Bareilly in formation, fly across the LoC, hit three targets in Pakistan, leaving behind huge fires of destruction. ABP News had an almost identical air show of planes, Balakot house and the air raid.
Times Now is not one to be left out so it went with a graphic of the jets, the targets and the air strike with huge balls of fire ballooning out to represent the destruction of the Jaish-e-Mohammed camp in Balakot.
As for Mirror Now, it had a delightful conceit: during its prime time debate on Tuesday, toy-like fighter jets flew across the panelists and the anchor.
And so on and so forth.
On a lighter note, Koffee with Karan (Star World) ended its latest season on Sunday with Kareena Kapoor Khan and Priyanka Chopra as Johar's final guests. Kareena was very much the 'begum', and Chopra was all teeth as she described how marital bliss led to her constant smiling.
This season, Johar has made an effort to be more inclusive: he invited actors from Bollywood other than his close chums. He had one disastrous episode with cricketers Hardik Pandya and K.L. Rahul but he did meet the Bahubali team, Ayushmann Khurrana, Vicky Chauhan and Rajkummar Rao. Plus, Alia Bhatt with Deepika Padukone and Saif Ali Khan with daughter Sara.
Now, if only he could hold some intelligent conversation…
Get the PrintEssential to make sense of the day's key developments