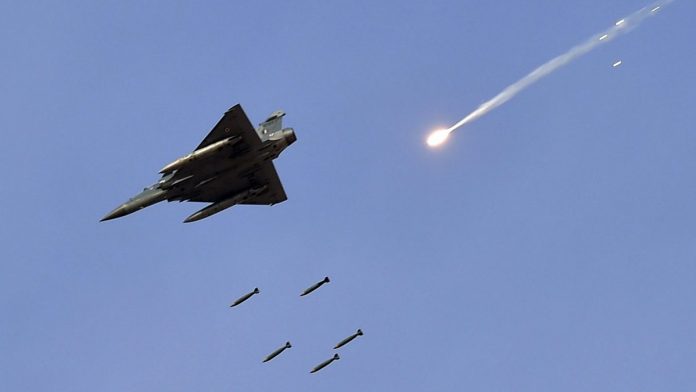 Text Size:
Front Page
Wednesday's newspapers are as forceful in language as the Indian Air Force (IAF) had been in the attack on Jaish-e-Mohammed camp in Pakistan. Sobriety is left to the editorial pages.
The IAF "bombed" (The Hindu), "struck" (The Indian Express) with "Jets to Jaish" (Economic Times), and "destroyed" (Hindustan Times) what the Times of India calls "a major Jaish-e-Mahammed terror training facility" in Pakistan's Balakot region across the Line of Control.
Express's headline is military: "India strikes terror, deep in Pak." The Times of India highlights, with red ink, IAF in its "India's Avenging Force".
HT declares in all caps "Terror attacked" while Hindu is positively prosaic: "India bombs Jaish camp in Pakistan's Balakot." It creatively recreates the attack's timeline with a comic illustration titled, "Àir Force Rains Fire."
The Telegraph, otherwise bombastic in headlines, soberly advises, "Strike thirst met, time to choose wisely."
It is also among the only newspapers to treat state 'sources' with wariness, carefully saying, "India has said it carried out pre-emptive strikes" and "The purported strike site."

Uniformly, the newspapers reflect Telegraph's observation: "One of the few points on which the two sides agreed, either on record or off the record, was that Indian air power did enter Pakistan territory."
However, newspapers disagree on how far IAF penetrated Pakistani airspace. TOI's "source" says IAF crossed "by over 10 km."
Hindu says the planes bombed the camp "based 70 km inside the LoC."
Express goes with "about 80 km away" from the LoC. HT, meanwhile, quotes external affairs minister Sushma Swaraj as saying the "Indian jets had penetrated 80 miles (130 km) into the LoC."
TOI's busy page 1 entirely devoted to the airstrike, has two unusual stories: in "Facility was posh…" it claims to have "exclusively accessed" photographs and documents of the "five-star terror training facility, complete with a swimming pool and gymnasium" that was bombed, but offers none as evidence to readers.
On page 16, it carries a tiny photograph of the "facility," credited to ANI.
It also claims in a story without any byline that "200 yrs ago, a Rae Bareli man used Balakot as jihad launchpad."
On the number of "terrorists" killed at the campsite, TOI goes with 300 dead, HT, again carefully quotes "intelligence officials," for 325 killed. Express credits the "NDA government" and vaguely states, that "'a very large number' of JeM terrorists and their trainers were 'eliminated.'"
Hindi Dailies
Dainik Jagran says, "Pulwama ka hisab poora" (Revenge for Pulwama complete) Amar Ujala says "Pakistan mein ghuskar jaish ke teen badey thikane tabah" (Three big Jaish camps destroyed inside Pakistan') and Dainik Bhaskar says, "Airforce ne 48 saal baad Pakistan ki Sarhad langhi, aatanki adda tabah" (Indian Air Force entered Pakistan border after 48 years and destroyed the terror camp).
Bhaskar carries pictures of people celebrating – it says, "this is the josh- poora desh khush'" Bhaskar reports claims from Balakot that that there was no power, no light there was just bombardment, fire and smoke. One Khalid Awan, a resident, is quoted to say: "I heard loud noises in the Jaba area of Balakot… then there was a loud blast. We got out of our houses and by then there were two- three loud thuds…. followed by fires and billowing smoke. we were all very scared."
Jagran claims a flustered Pakistan fired some missiles late at night – "baukhlaye Pakistan ne der raat missailey daagi."
Amar Ujala has made a graphic of the Balakot camp site and Modi wearing the Azad Hind Fauz cap.
Opinion
Comment on the IAF's airstrikes is as "calibrated" across the major newspapers, as it finds India's response.
Hindu's "Pushing boundaries" calls the airstrike a "robust but calibrated message" to Pakistan. It marks a "major shift" since it was carried out "in Pakistani territory." The government has perhaps correctly "judged" that there's "little tolerance today for terror groups" sheltered by Pakistan, it writes — the Modi government should continue its "restrained" approach and "avoid triumphalism."
TOI's "Surgical Strike 2.0" argues the attack "has raised the cost to Pakistan" for its "asymmetrical" war against India through "terror proxies." It also counsels "sobriety." "Loud chest thumping" and "attempts to politically own the air strikes" will be "counterproductive" — "triumphalism" could motivate terror groups. It adds, "…this is not about defeating Pakistan."
HT's "Airstrikes: India's clever counter…" says the airstrike "proves that (Pakistan) may have overused its terrorism-under-the nuclear-umbrella card." For the "first time" a nuclear power has used "airpower to strike inside the territory of another nuclear power." The strike has show Pakistan's vulnerability to conventional attacks. Now, if Pakistan escalates hostilities, "it further expands the space for conventional warfare below the nuclear threshold" unless it "uncorks" its nuclear arsenal.
Express sees "The New Red Line" that has "set a new metric" in relations between the two countries. The airstrike signals a "willingness" and "ability" to "push the envelope on the deterrence imposed by nuclear parity." Express adds that the Foreign Secretary's "careful choice of words…showed a sobriety that this delicate moment demands of a responsible power."
Jagran, in its editorial, says that it had become imperative for India to take strong action and teach Pakistan a lesson and send a message to Pakistan that India would not be taken in by their 'chaalbaazi'. Along side the Indian government should take concrete steps to improve the ground situation in Kashmir, it writes.
Bhaskar says a strong message to Pakistan and terrorists was a must. What India did, says the editorial, was a must for any self respecting nation. "This message had to be sent that those who indulge in terrorist acts would not be spared", it writes.
Prime Time
There was euphoria on the news channels after the IAF's attack across the LoC tempered by a little fear of a response by Pakistan. The TV studios were crowded with former military men, diplomats and "defense analysts."
Some Hindi channels like Aaj Tak and Republic Bharat went to the public for reactions: "Vande Mataram" and "Jai Hind" was the response.
Times Now anchor Padmaja Joshi, who used to anchor India Today's People's Court, discussed the takeaways for India from the air strikes.
Former deputy NSA Leela Ponappa said, "The message has gone through that enough is enough."
Consulting editor Maroof Raza thought, "We have also hit Pakistan's core argument to the world that they are victims of terror and they have nothing to do with terror."
Former bureaucrat Tilak Devasher added, "Pakistan is really now on the back-foot and doesn't know how to react."
On India Today, anchor Rahul Kanwal's "War Room" discussed the IAF's success.
Retired General Bikram Singh admitted, "It is a turning point as far as our political leadership is concerned. At the same time, we should prepare for a retaliatory action. They will respond."
Retd. Air Marshal Anil Chopra believed a lot of "planning" must have gone beforehand…go deep inside Pakistani territory."
At Harvest TV, Gen Singh explained Pakistan's denial and then threat of retaliation: "(they) have a tradition of denial" and "tight" media control.
WION TV hosted former diplomat G. Parthasarathy who said that what must have most upset Pakistan was "China's reaction," although you "cannot trust China," he added
The Republic TV debate opened by calling Pakistan defence minister a "joker". It lauded the airstrike, with an ominous musical accompaniment.
Republic TV's consulting editor Retd. Major Gaurav Arya said, "Nobody wants war, but Pakistan has not left us with any other choice."
Defence expert Retd. Wing Commander Praful Bakshi was pleasantly surprised that, "Now the leadership is clearly showing political will."
Defence analyst Retd. Major General S.P. Sinha said: "(After) the 26/11 attack the IAF had proposed air strikes in a similar manner which the Congress government had denied."
Zee News anchor Sudhir Chaudhary said that after IAF strikes, "Pakistan has gone totally mad" and is "confused" about what to do next.
Tweet of the day
For all those looking at today's air strikes through a political/electoral prism it might be worth remembering that PM Vajpayee went in to the 1999 elections with nuclear tests AND victory in Kargil under his belt & still only returned to power with a coalition.

— Omar Abdullah (@OmarAbdullah) February 26, 2019
Check out My543, our comprehensive report card of all Lok Sabha MPs.