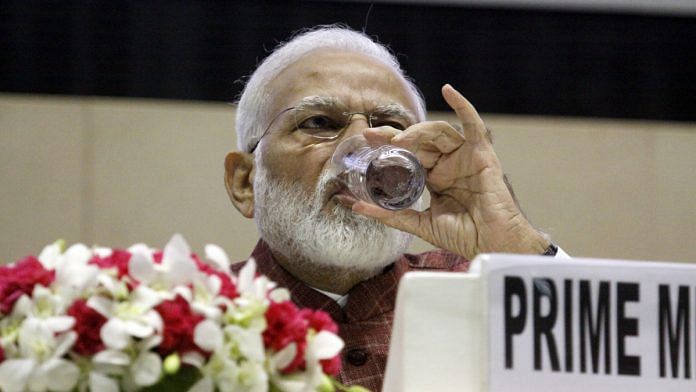 Text Size:
After Ram Mandir bhoomi pujan, Article 370 and triple talaq, many Bharatiya Janata Party observers are asking, 'What next?' The clue to the BJP's future agenda lies in two factors: one is in the past, in how the party's politics changed after the 1992 demolition of Babri Masjid; and two, in how Prime Minister Narendra Modi sees his own role.
After the demolition, the BJP faced what political scientist John McGuire described as 'a moment of crisis'. It had reaped the political gains of the Ram temple movement, but now that the issue was over, it had to redefine itself.
The BJP would do so over the next four years, remaking itself from a hard Hindutva party to a party of governance — a national alternative to the Congress. When the 1996 Lok Sabha election came, Lal Krishna Advani was on a 'surajya' (good governance) yatra and Atal Bihari Vajpayee was emphasising the BJP's commitment to pluralism and tolerance.
There are some optimists who hope that the successful completion of the BJP's Right-wing projects under Modi — Citizenship (Amendment) Act, Article 370, triple talaq and now Ram Mandir — would similarly precipitate another 'move to the centre'. Now that the BJP has reached the limits of the potential gains from cultural nationalism, it will finally focus on issues of governance.
This view is deeply mistaken. In an article last year, I had argued that while Modi's first term was defined by the 'soft Hindutva' mixed with social welfare of Deen Dayal Upadhyaya, its second term would be defined by 'hard Hindutva' of V.D. Savarkar and the remaking of the Indian nation. The first term was used by Modi to patiently redefine the 'centre' and 'mainstream' of Indian politics, while holding off on the implementation of 'core issues'. From this redefined centre, Modi has finally unleashed his transformative cultural nationalism agenda and this would likely last for the remainder of his second term. The next big political issues are likely to be UCC (Uniform Civil Code) and NRC (National Register of Citizens).
The BJP under Modi is remaking both 'Hindu identity' and 'national identity', a project that is still a long way away from completion. 
---
Also read: In his second term, Modi govt has moved from Deen Dayal Upadhyaya to Veer Savarkar
---
The shifting need for allies
During the mid-1990s, the BJP's expansion was predicated on political moderation. In 1996, its coalition government led by Vajpayee fell in 13 days because no major party, except the Shiv Sena, Samta party and Shiromani Akali Dal, wanted to ally with it owing to its communal image. As political scientist Michael Gillan noted in his study Assessing the 'National' Expansion of Hindu Nationalism: The BJP in Southern and Eastern India, 1996-2001, the BJP aggressively sought coalition allies in this phase — on the basis of a common anti-Congress platform — and reconfigured Hindutva to suit regional contexts, as opposed to big national Hindutva issues. In fact, the BJP's 1999 manifesto, astonishingly, had no mention of Ram Mandir.
The BJP is now in its phase of dominance, and is freed from the constraints of regional allies. The compromises have to be made by regional parties, recently seen with the AAP and BSP, in line with the BJP's ideological agenda, not the other way around.
---
Also read: Why the Modi government gets away with lies, and how the opposition could change that
---
A national 'model' for states
Hindutva is now the pathway to the BJP's consolidation and expansion. In West Bengal, the political fight is between BJP's Hindutva and Mamata Banerjee's Bengali pride resisting the suzerainty of Delhi. In Telangana, the BJP accuses the TRS of appeasing Asaduddin Owaisi's AIMIM, celebrates the day of the state's accession as liberation from Muslim oppression, and its state president promises the UCC. In Assam, the BJP's entire politics is based upon the fear of the 'Bangladeshi Muslim'. These state-level communal agendas have to be necessarily packaged within a national narrative.
Hence, the BJP would likely push the UCC before the 2021 election in West Bengal, challenging Mamata Banerjee's TMC to defend special protections for minorities, a charge on which she is politically vulnerable. This will be supplemented in Bengal (and other key states) by what political scientists Sudha Pai and Sajjan Kumar have described as the Uttar Pradesh "model" of riot. "Rather than instigating major and violent state-wide riots as in the earlier phase, the BJP-RSS have attempted to create and sustain constant, low-key communal tension together with frequent, small, low-intensity incidents out of petty everyday issues that institutionalise communalism at the grass roots, to keep the pot boiling," the authors wrote in their book Everyday Communalism: Riots in Contemporary Uttar Pradesh.
In fact, we are already seeing this model at play in Bengal, the latest example being the Telinipara riots. In Uttar Pradesh, we might see the completion of the Ram Mandir just before the 2022 assembly election, rekindling 'Hindu consciousness'.
---
Also read: Modi faces no political costs for suffering he causes. He's just like Iran's Ali Khamenei
---
The 'role' of Modi
The widespread Hindu consolidation under Narendra Modi is still in its infancy. Caste and regional identities are still potent under the surface. If the BJP relaxes on its cultural nationalist agenda of 'us versus them (Muslims)', these regional and caste identities will regain political salience and hamper the party. Indeed, backward caste identities are being progressively integrated in the Hindutva project, a phenomenon known as 'subaltern Hindutva'. The PM's reference to Raja Suheldev — a backward caste icon who supposedly resisted 'Muslim aggression' — in his Ayodhya speech is just the most recent instance of this careful strategy.
Modi hardly ever names Rahul Gandhi, Manmohan Singh or Rajiv Gandhi because he is not competing with them. The competitor he sets up for himself is Jawaharlal Nehru, the pre-eminent architect of modern, secular India who defined the country for its first four decades of Independence.
Modi presents himself in similar historical terms, not as an economic reformer or a social welfare populist, but as a nation builder — or rebuilder — a 'saffron Nehru'. The former politicians might be held accountable in one or two terms, but people understand that remaking the nation is a long drawn-out affair. Much like the country gave Nehru three terms to complete his project, Modi implicitly asks Indians to trust him with a similarly long time-frame.
---
Also read: Bhoomipujan 2020 is like Balakot 2019, the surgical strike that washes all sins
---
Economy not a national issue anymore
People seem to have bought into this framing of politics. In states they might punish the BJP for failure on economic issues — such as farmer distress and unemployment, which we saw in Maharashtra and Haryana — but national politics has been delinked from economic issues. As India slides into its worst economic recession since Independence, Modi's popularity is at an all-time high.
This is helpful for the BJP since the economic recession means almost certainly that the Modi government will not go into 2024 with any major economic achievements. It takes many years for the economy to recover from such a deep recession. Since a lot of fiscal space will be taken in ameliorating the impact of the public health/economic crisis, the BJP won't have the space to launch any new big social sector schemes or expand the welfare state.
The fact that Modi now almost never talks about 'India by 2022' — a set of ambitious targets in the sectors of housing, electricity, internet, and drinking water among others — is an indicator that those targets wouldn't likely be achieved. Neither it is likely that Modi would spend much political capital on big economic reforms, lest economic issues come back to the centre of political debate.
If the opposition is waiting for the cultural nationalistic issues to subside of its own accord and material issues to become salient again, it will have to wait for a long time. It is almost predetermined that the BJP will go into 2024 on the plank of Hindu nationalism, because it is not just the most potent option but also, in many ways, its only option.
Mao had described his system of rule as "permanent revolution". "In making revolution, one must strike when the iron is hot — one revolution must follow another, the revolution must continually advance." This was how the new Chinese nation would be created after centuries of feudalism and imperialism.
In the Hindutva ideology espoused by Modi, Indian is emerging after centuries of Muslim/British/secularist rule of Hindu oppression — '1200 years of slave mentality', in Modi's words. Article 370, CAA, and Ram Temple bhoomi pujan are just one cycle of the new "permanent revolution" — many such cycles of 'revolution' await to play their part in the building of 'New India'.
The author is a research associate at the Centre for Policy Research, New Delhi. Views are personal.
Subscribe to our channels on YouTube & Telegram
Why news media is in crisis & How you can fix it
India needs free, fair, non-hyphenated and questioning journalism even more as it faces multiple crises.
But the news media is in a crisis of its own. There have been brutal layoffs and pay-cuts. The best of journalism is shrinking, yielding to crude prime-time spectacle.
ThePrint has the finest young reporters, columnists and editors working for it. Sustaining journalism of this quality needs smart and thinking people like you to pay for it. Whether you live in India or overseas, you can do it here.