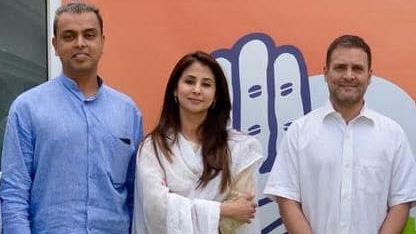 Text Size:
When Mumbai Congress chief Milind Deora got his candidature from Mumbai South endorsed by Mukesh Ambani and Uday Kotak last week, he might have broken the unwritten code in Rahul Gandhi's party: That a Congressman must be seen as anti-rich.
One doesn't know how Congress president Rahul Gandhi, a buddy of Deora, has taken it. It might be the first instance in recent years of a Congressman publicly questioning the 'povertarian' politics of his party high command. Rahul Gandhi would rather have his party leaders speak and act like aspiring Robin Hoods who wouldn't let the Adanis and the Ambanis of the world have a good night's sleep. In their personal life, they may go vacationing in foreign climes and travel by private jets but their public persona must be defined by austerity. Remember then Mandsaur MP Meenakshi Natarajan (2009-2014) who would turn up late at Gandhi's meetings and explain how she was not getting an auto-rickshaw outside Parliament? This endeared her to Gandhi who obviously didn't know that the Lok Sabha Secretariat provides cars to ferry MPs.
But artists are not always conformists and Deora is an accomplished guitarist. He has shown a mature politician's head on his shoulders by seeking out industrialists but if Rahul Gandhi is not convinced of the political wisdom of his buddy's dalliance with them, he may take a tip or two from Kamal Nath, nine-term Member of Parliament from Chhindwara who secured Madhya Pradesh for the Congress after a gap of 15 years last December.
---
Also read: From Nehru to Kamal Nath, Congress' cow politics has always been a balancing act
---
Travel around this election season and you will come across many who agree with Rahul Gandhi's contention that the Narendra Modi government has been a failure in providing jobs. But ask them if they will vote for Rahul Gandhi's party to bring them jobs. They are likely to respond with a hesitant smile, if not an outright 'no'.
Kamal Nath can show to the Congress president how a politician doesn't have to be anti-rich to become pro-poor. Tribal-dominated Chhindwara used to be an epitome of backwardness with no roads, electricity or water when Nath first won from there in 1980. It is totally transformed today. It's not just because bijli, sadak and paani are not the issues any longer. Raymond, Hindustan Unilever and scores of other big and small companies have their plants set up in Chhindwara today. Kamal Nath, an influential minister in UPA government, did wield his clout to get Central ministries to set up Apparel Training and Design & Training centre, IL&FS Skills Development Corporation Ltd and Footwear Design and Development Institute, but his real success was in roping in the private sector.
Look at the companies that are providing employment opportunities to Chhindwara youth at the CII Skills Training Centre: Larsen & Toubro, JCB, Toyota Kirloskar, Cummins, GMR, Voltas and Hero Motors, to name a few. There are at least 10 other skill development institutes and centres in Kamal Nath's constituency, over 300 km from Bhopal, the state capital. A trainee driving a truck in snow, mist and heavy rains in simulated conditions at the Ashok Leyland Institute for Driving, Training and Research in Chhindwara can leave you awe-struck.
---
Also read: Why Priyanka Gandhi can be BJP's best friend in 2019 Lok Sabha elections
---
How many ministers or parliamentarians could boast of bringing Aegis and Paytm call centres and Tata Business Support Services (BPO) in their constituencies? All these skill straining institutes produce over 10,000 skilled youth in Chhindwara every year, more than 70 per cent of whom get placement with salaries ranging from Rs 6,000 to Rs 20,000 per month. You have to see the glow on the faces of the youngsters at these centres to understand why Rahul Gandhi's broadside against the Ambanis and the Adanis fails to impress the youth.
That explains why Kamal Nath, who has fielded his son Nakul Nath from his Lok Sabha seat this time, looks relaxed and secure in Chhindwara while Rahul Gandhi feels insecure in Amethi, a starkly backward constituency in terms of development, and optsfor a second, safe seat of Wayanad in Kerala.
Rahul Gandhi needs to appreciate Milind Deora's compulsion to get endorsements from Mukesh Ambani and Uday Kotak. The aspirational India doesn't look at them as enemies, however much the Comrades would like them to read Marx's 'Wage Labour and Capital' and their conflicting interests. And that's where the Congress is failing to read the pulse of the youth. Many of them were expecting the moon from Modi and have been left disappointed. But Rahul Gandhi's promise of providing 24 lakh government jobs — even if that involves coercing the states — doesn't seem to have impressed them. They would rather trust Milind Deoras and Kamal Naths to fulfil their dreams but they are no more than outliers in Rahul Gandhi's Congress today.
---
Also read: Why Rahul Gandhi's Congress is in danger of morphing into a clueless NGO
---
For the Congress president, the journey is more important than the destination. He once made headlines riding a bike pillion to Bhatta Parsaul village (in Uttar Pradesh) to join the cause of farmers opposing land acquisition. But the Congress could never earn their confidence on voting days. It was the same in Niyamgiri hills when Gandhi went as the 'sipahi' of tribals to stall Vedanta's bauxite mining project in Odisha. They didn't show any trust in the Congress in subsequent elections. The party's victories in the recent assembly elections seem to have convinced Gandhi of the electoral dividends of the farm loan waiver. It has been his pet theme in all his campaign speeches. In the last Madhya Pradesh assembly election, the BJP retained all seven — out of eight — assembly constituencies in Mandsaur parliamentary constituency, the epicentre of farmers' unrest that was supposedly instrumental in the BJP's ouster from power in the state. But these are minor details in Gandhi's larger politics.
Having said that, the fact is that the Congress party's position as a default option in national politics may still secure it a better tally in the next Lok Sabha — and even more if identity politics holds sway in the Hindi heartland. But that would be a reflection on the BJP and Modi, and not a vindication of Rahul Gandhi's politics. On the ground, people are voting either for or against Modi and the latter's choice of the alternative may not perforce reflect her preference.
There are umpteen explanations for why 2019 is not 2014 but this election is still for Modi to lose or win.
Aside, Rahul Gandhi is known to take a break abroad after every election to re-energise himself. He should consider a trip to Chhindwara this time.
Get the PrintEssential to make sense of the day's key developments