The Congress party today looks like the one Gandhi found it in 1915 – and changed.
Chatterjee died Monday morning of multiple organ failure and suffered a 'mild heart attack' a day before his death.
EC Ashok Lavasa says loopholes will be plugged to ensure social media isn't misused in run-up to Lok Sabha polls.
In an interview with news agency ANI, he also criticised West Bengal CM Mamata Banerjee for her 'civil war' remark on NRC.
Who else, if not Modi, in 2019? The dominant question in most social gatherings in India and its many answers.
BJP president Amit Shah says TMC chief against NRC for 'vote-bank' politics, calls upon people to 'uproot' the government.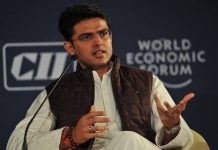 Rajasthan Congress president insists party's state unit is united, says even PM can't save the state's BJP government. 
Party calls Congress the biggest obstacle to opposition unity, says it is the reason why AAP MPs abstained from Rajya Sabha vote.
Addressing a gathering protesting against the dilution of SC/ST Act, Gandhi said states under BJP rule saw Dalits being beaten & crushed.
The Hyderabad MP says no one wants to use the word 'Muslim', accuses BJP of furthering its agenda through NRC.