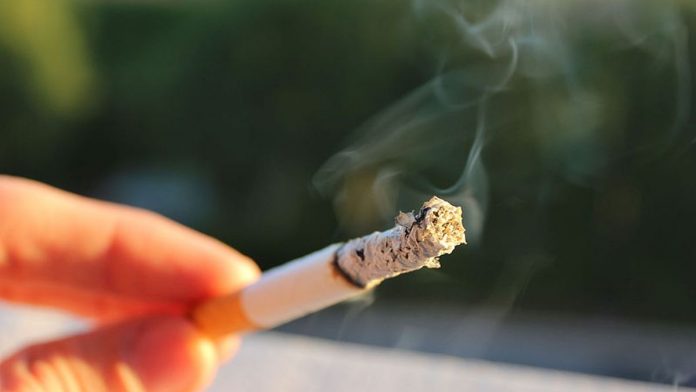 Text Size:
Here's what's happening across the border: World Bank says India-Pakistan trade has potential to reach $37 billion, and Bill Gates appreciates Imran Khan's polio eradication efforts. 
Uproar on social media after Pakistan announces 'gunnah tax' on cigarettes, beverages
People in Pakistan have taken exception to the use of the word gunnah (sin) in the term 'gunnah tax' as the government Tuesday announced that a new levy would be imposed on cigarettes and sugary beverages, reports Dawn.
Pakistan Tehreek-e-Insaf (PTI) minister Faisal Vawda also joined the chorus against the move.  "I'm a chain cigarette smoker myself and I appreciate all the measures taken by the government to discourage smoking and I understand it's injurious to health but this term 'Gunnah Tax' is inappropriate," Vawda tweeted.
"If this is gunnah, then what would we name and term the actual gunnahs", he added.
I'm a chain cigarette smoker myself and I appreciate all the measures taken by the government to discourage smoking and I understand it's injurious to health but this term "Gunnah Tax" is inappropriate. If this is gunnah then what would we name and term the actual gunnahs.

— Faisal Vawda (@FaisalVawdaPTI) December 4, 2018
The decision has sparked a public uproar on social media but the term 'sin tax' has not been invented by the PTI government.
According to an article on Bloomberg, the United Kingdom and the United States were among the first countries to use this term when they placed a tax on "harmful products" such as tobacco and alcohol several years ago.
Citing the example of the United Arab Emirates and the UK, director general of National Health Services Asad Hafeez said that a tax on cigarettes and sugary beverages is being imposed in 45 other countries. He also explained how India uses the money received from imposing a tax on gutka and pass masala in the healthcare sector.
Minister claims daughter's remark on global NGOs is 'incorrect'
Pakistan human rights minister Shireen Mazari Wednesday said that her daughter Imaan Zainab had made an "incorrect" statement about the registration procedure for international NGOs in the country, The News International reports .
Imaan Wednesday had tweeted that international NGOs in Pakistan were being "told to work on issues that fall outside their mandates or face expulsion" from the country. This, she said, was "yet another indicator of civil-military collusion" that was undermining the country's democratic system.
INGOs being told to work on issues that fall outside their mandates or face expulsion. Democracy, human rights, transparency & accountability are no-go areas. This crackdown on INGOs is yet another indicator of civil-military collusion to weaken the democratic system.

— ایمان زینب (@ImaanZHazir) December 5, 2018
Responding to this tweet, Shireen Mazari said the statement was "absolutely incorrect". She said that some of the global NGOs were denied registration by the government because they were "deliberately spreading disinformation". The minister also stated that registration of 18 such NGOs was rejected on account of their non-compliance with respect to their "stated intent" of work in the country.
Absolutely incorrect – INGOs denied registration delib spreading disinfo. 80 plus re-registered. 18 denied for non compliance viz what they had defined as their work. They must leave. They need to work within their stated intent which these 18 didn't do! https://t.co/qgvpWfXpQP

— Shireen Mazari (@ShireenMazari1) December 5, 2018
In another tweet, Mazari claimed that the 80 NGOs that were re-registered, had political agendas.
Now these INGOs using EU diplomatic pressure and latest is US State Dept pressure which shows govt was right in not registering them as they have political agenda overtones! 80 plus INGOs (apart from UN Orgs etc) is a lot already! https://t.co/f7UhwYxLvh

— Shireen Mazari (@ShireenMazari1) December 5, 2018
Pak-India trade has much more potential, says World Bank report
Trade between Pakistan and India is worth only a little over $2 billion whereas the potential stands as high as $37 billion, Dawn reports citing a latest report of the World Bank.
The international financial institution also estimated Pakistan's trade potential with South Asia at $39.7 billion as opposed to its current trade of $5 billion.
The World Bank report titled, 'Glass Half Full: Promise of Regional Trade in South Asia' was released in the country Wednesday. It analyses the scope of trade integration among South Asian countries.
Sanjay Kathuria, an economist and lead author of the report, talked about the correlation between trust and level of trade among countries. Addressing a group of journalists in Islamabad, he said that the opening and development of the Kartarpur Corridor by governments of Pakistan and India would act as means to reduce trust deficit between them.
He explained that for India and Pakistan to leverage their trade potential, the two countries must first work on specific products facilitation.
Kathuria said that Pakistan had poor air connectivity with South Asian countries, especially with India. Pakistan has merely 6 weekly flights with India. It has far fewer flights to other South Asian countries in comparison to India.
Imran Khan assures US envoy of Pak's support in Afghan peace process
Prime Minister Imran Khan Wednesday assured that Pakistan has an "abiding interest" in ensuring lasting peace and reconciliation in war-torn Afghanistan with the help of a political settlement, reports Dawn.
He reiterated his government's policy during a meeting with the US Special Envoy for Afghanistan peace process, Zalmay Khalilzad, at the Prime Minster House in Islamabad. Khalilzad Tuesday had held discussions with Foreign Minster Shah Mehmood Qureshi and other officials on the matter of Afghanistan.
According to a statement issued by the PM's Office, the US envoy said that "US leadership looked forward to working with Pakistan in furthering the shared goal of peace through a political settlement in Afghanistan".
This is the third visit by Khalilzad to Pakistan since he took office as the Special Envoy for Afghanistan reconciliation.
Bill Gates appreciates Imran govt's anti-polio efforts
Billionaire and philanthropist Bill Gates has assured Prime Minister Imran Khan of his assistance in his fight against polio.
According to a report by Dawn, Imran Khan and Gates discussed over phone ideas to boost the Pakistan IT industry and polio eradication. The PM thanked Gates for his contribution to the social sector in Pakistan.
This is not the first time that Bill Gates has reached out to Pakistan. Earlier when the Trump administration had reduced aid to Pakistan, the Bill & Melinda Gates Foundation assured Khan of increased financial aid.
Back then too Gates had appreciated Pakistan's efforts towards polio eradication. He is also looking into the area of healthcare with a focus on "strengthening mother and child care and reproductive health".
Babar Bin Atta, the focal person working on polio eradication, told the media that the number of polio incidence is declining. He said, "In 2014, we had 306 cases which came down to 54 in 2015, 20 in 2016 and eight in 2017, but we are concerned about the circulation of the virus in Peshawar, which is the main obstacle in our way if we want to align ourselves with the World Health Organization's eradication initiative."
Hindu pilgrims to reach Sindh today
The Evacuee Trust Property Board (ETPB) will receive a delegation of 200 Indian pilgrims who will arrive in Pakistan Thursday to attend their annual religious rituals at Shandani Darbar at Mirpur Mathelo in Sindh.
The group of Hindu pilgrims is expected to stay in Pakistan for 12 days and return to India on 16 December reports Ary News TV.
According to officials, all the arrangements for the stay, travel and security of the pilgrims have already been made.  The central religious ceremony will be organised at Shandani Darbar on 6 December.
The visitors will also visit the historic Sadhu Bela temple in Sukkur and other places during their stay in the country.
For ThePrint's smart analysis of how the rest of the media is doing its job, no holds barred, go to PluggedIn