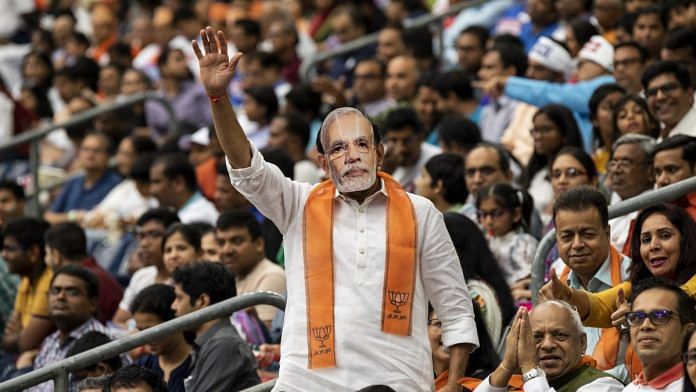 Text Size:
Indian activism in the US has been shaped by the discrimination the community has faced in the country. The discrimination has essentialized all desis as Hindus for more than a century now. So the responses to it often swing to a place where the Hindu community in America volunteers—they don't necessarily need to be recruited— for a project to defend anything Hindu. And they are also willing to buy into, and in fact add to, the narrative that equates being Indian with being Hindu and being Hindu with being Indian. If anything happens in India, be it communal riots, lynchings in the name of cow protection or caste violence, the reflex and default response of most Indian Americans is to defend India's reputation. Quite often, this leads to defending activities of the Hindutva brigade; conversely criticism of the Hindutva agenda gets attacked as anti-India or Hindu- phobia, or defamation of India, Hinduism or both.
Such campaigns quite often and successfully benefit from the hypocrisy of American policy, the Christian origins of America's own principle of religious freedom and the strategic importance of India–US ties. American advocacy of religious freedoms abroad is inspired by two political factors at home—the first, primarily on the Republican side, are the Christian evangelical and charity organizations that want to operate in other countries; the second, primarily on the Democrat side, is the human rights and values camp. Both streams have their own hypocrisies, and the Hindu groups, speaking and campaigning as American citizens, question them. Often, their advocacy benefits Hindutva groups in India. The campaign by the Hindu American Foundation (HAF) to lift the visa ban on Modi is a case in point. The decision to deny a US visa to Modi, as we will see later, was by no means a transparent decision.
There are many organizations in America that are affiliated to the Sangh Parivar, but we are focusing on the HAF because it is not allied to Hindutva nationalistic groups or organizations in India in any formal or technical way. The attempt, hence, is to examine how and why the Hindu–India equivalence becomes almost axiomatic for a large mainstream of Indian Americans, who do not find anything contradictory about championing minority rights in America while overlooking or even promoting the rise of majoritarianism in India.
---
Also read: Indian Americans disillusioned with Hindutva can still give moral oxygen to CAA protesters
---
Negative essentialization of India as Hindu is based primarily on stereotypes about caste and gender in India. The HAF's campaign has been about contesting such stereotypes with a humane interpretation of textual Hinduism, which often leads to decontextualizing it from the actual practice of the religion on a daily basis and sanitizing it. It argues that caste or gender violence is only as relevant to the teachings of Hinduism as the Crusades are for the teachings of Christianity. The HAF has pushed back against the negative stereotyping of India as backward. It has alternatively proposed a positive essentialization of India as a Hindu spiritual place of virtue where democracy, pluralism and market economy exist in an eternal yogic union with the cosmos—a formulation that sounds very pleasing to the mainstream American self-perception. The HAF operates in the minority, civil rights activism space in the US—not as a conservative religious group—and consequently gets easily aligned with the Democrats. The overall Indian-American alignment with the Democrats is against their economic interests, argue Kapur and others in their study, and is a reaction to the preponderance of Christian evangelicals in the Republican Party.
The HAF is at the forefront of many campaigns for minority rights in America, including those of Muslims. It denounced the Trump administration's move to impose a travel ban on Muslim-majority countries. 'We are not only a Hindu organization, but also a civil rights group,' Samir Kalra, a second-generation Indian American and a key functionary of the HAF, told me. The organization sees India as the 'spiritual homeland of the Hindus' and hence its ties with India are more pronounced, but it does not feel obligated to champion Indian causes in America.
The HAF's focus is on fighting prejudices against Hindus and Hinduism widely prevalent in America. Kalra said that their organization tried to 'contextualize' reports on Hindus and their faith. For instance, regarding the often violent, Hindutva-promoted cow protection movement in India, the stand it takes is this:
Throughout the world, laws are often formulated based on the moral and cultural norms or judgments of a country's population. It is illegal to sell dog or cat meat in the U.S. [ . . . ] Similarly, in India, Hindus view the cow as a generous, ever-giving source [ . . . ] Hindus treat the cow with the same respect accorded to the mother, as the cow is a vital sustainer of life, providing milk and a means of ploughing the earth to grow crops.
Without going into the merits of these assertions—for instance, a large number of Hindus in India actually eat cow meat (unless one wants to count anyone who eats cow meat as non-Hindu), and the argument against the violent cow protection movement has not been that it is against the religious beliefs of Muslims—suffice it to say that this could be an appealing explanation for the American audience—the cow protection movement in India is not contrary to the principles of a democratic, multireligious society. The HAF also defends anti-conversion laws enacted by Hindutva governments in India that target minority religions as it opposes conversion from Hinduism, but supports conversion to Hinduism, echoing the Hindutva view on the topic. It also has a widespread campaign for the propagation of Hinduism in America, but opposes Christian missionary activities in India, curiously making the argument that poor, uneducated people in India are gullible to the machinations of evangelists.
---
Also read: Vote for America or vote for India-US ties — Why Indian Americans and their funding matter
---
The Indian-American community is still divided along caste and linguistic differences and is often debilitated by the humongous egos of its numerous self-styled leaders. Modi's engagement has helped cement some of these divisions and build an Indian identity, difficult to distinguish from Hindu identity though it may be. Even so, it is quite a long way from achieving the success of the Jewish American community. The Jewish model is what politically active Indian Americans aspire towards. It is curious that the election that brought Trump to power also resulted in the highest representation of Indian Americans in the US Congress.
Jason Isaacson, director of international affairs at the American Jewish Council (AJC), is a great supporter of India–Israel–America triangular ties. At the 110-year-old organization's headquarters in Washington, he spoke about their attempts to coordinate with Indian Americans, 'We will work together, to demonstrate the benefits of what is really a trilateral relationship, between India, Israel, and the U.S.'
About the ambition of several Indian-American initiatives that try with limited success to emulate the Jewish model of intervention in American politics, Isaacson said, 'The way you can be effective in this society is—gather people together, make an agenda, raise funds, hire staff. If you are going to have a community that has a political voice, it has to be treated as a business. America is welcoming to that kind of political activity. But you will have to take that job seriously.'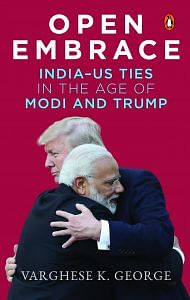 This excerpt from Open Embrace: India-US Ties in the Age of Modi and Trump by Varghese K. George has been published with permission from Penguin Random House India.
Subscribe to our channels on YouTube & Telegram
Why news media is in crisis & How you can fix it
India needs free, fair, non-hyphenated and questioning journalism even more as it faces multiple crises.
But the news media is in a crisis of its own. There have been brutal layoffs and pay-cuts. The best of journalism is shrinking, yielding to crude prime-time spectacle.
ThePrint has the finest young reporters, columnists and editors working for it. Sustaining journalism of this quality needs smart and thinking people like you to pay for it. Whether you live in India or overseas, you can do it here.