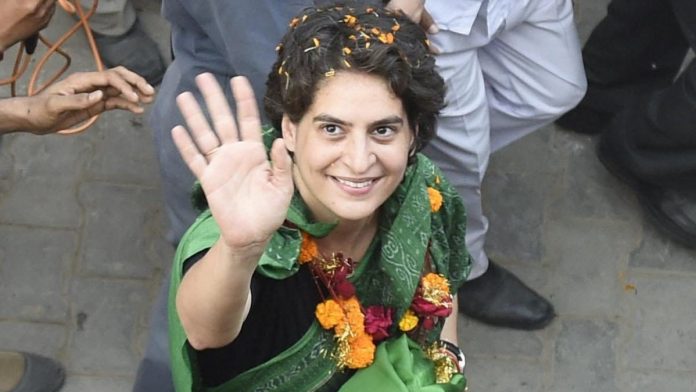 Text Size:
Suspense is the word Congress president Rahul Gandhi has used to answer whether Priyanka Gandhi Vadra will contest the Lok Sabha election from Varanasi against Prime Minister Narendra Modi.
Suspense is often what the Congress party has to offer. It keeps building up suspense for weeks and months and sometimes years, only to become a Diwali fire-cracker that fails to light up. Phuss, it's called colloquially.
One recent example of this was the proposed alliance with the Aam Aadmi Party (AAP) in Delhi. Another is how the rumour of Priyanka Gandhi entering public life carried on for so many years it didn't have meaning.
When the Congress did launch Priyanka, at the fag end of Modi's first term, it was too late for her to make any impact. She and her brother both made it clear they were looking at the 2022 assembly election in Uttar Pradesh, implying they knew Priyanka wasn't going to have much impact in UP in 2019 Lok Sabha election. This is how the Congress undermines itself, all the time.
The list of things the Congress party gets wrong is long. But there are a few things it is as poor in as timing. It doesn't know when to strike. When the iron is hot, the Congress party goes into a slumber.
---
Also read: This election, a lot of people are rooting for a weak Modi
---
Don't chicken out of it
How about Varanasi, Priyanka Gandhi casually told Congress workers in Raebareli last month. Having created the suspense herself, she must not chicken out of it now. Already, BJP mouthpieces who call themselves news channels have been hyping up the idea of Priyanka Gandhi contesting from Varanasi, so they can later say she lost her nerve.
If Priyanka Gandhi now decides to not contest from Varanasi, it will make Modi appear even stronger — in Varanasi and India alike. The unmistakable message will be the Congress doesn't have the fire in its belly to fight the Modi juggernaut.
It is unlikely that Priyanka Gandhi could win Varanasi if she were to contest. But she'll definitely give Narendra Modi a tough fight. At any rate a tougher fight than, say, the local Congress favourite, Ajay Rai. Priyanka Gandhi can at best hope to bring down the margins. The contest will be one of margins. There is no reason why Varanasi will want not want to be represented by the likely prime minister for a second term.
Yet the benefit of Priyanka Gandhi taking on Narendra Modi will be that this election will look like a contest after all. It will energise not just the Congress but opposition forces across the country. The prevailing sense of an absent national opposition will change.
---
Also read: In maiden rally, Priyanka Gandhi Vadra takes on PM Modi on his home turf
---
In the 2014 Lok Sabha elections, the BJP put up Smriti Irani in Amethi, against Rahul Gandhi. Narendra Modi went and campaigned there. The idea was to impact the national political narrative by suggesting that the BJP is so resurgent, it is willing to go and attack the Congress on its home turf. That is also what the Congress could achieve by taking on Modi in Varanasi.
Over a few weeks in Varanasi, Priyanka Gandhi's campaign will help voters across India get a better chance to compare the two sides. It might even help us answer the TINA question. Is there really no alternative?
Who's afraid of Priyanka?
That is not to say that Priyanka Gandhi should or could come to be seen as a prime ministerial candidate. But at least a high-profile PGV vs NaMo campaign will help the Congress articulate its position better. At a time when the BJP has established a monopoly over the means of mass communication and political campaigning, Priyanka Gandhi in Varanasi will help the Congress hog the limelight, get saturation media coverage, and occupy people's minds.
On 23 May, we should be ready to hear that Priyanka Gandhi too has flopped, because under her command the Congress isn't about to see a revolution in central and east UP. By contesting from Varanasi, she can save her own career. She can establish her image as a politician at least willing to put up a fight.
---
Also read: Priyanka Gandhi Vadra launches political career, but talk is all about Indira
---
AAP national convener and Delhi chief minister Arvind Kejriwal may have lost Varanasi in 2014 but people there still remember what a challenge he had mounted. "The people of Varanasi don't disappoint anyone. They are always welcoming of outsiders," a local journalist told me. Varanasi is a city of possibilities. Who knows the impossible may happen? It is a BJP stronghold all right, but the Congress did win a surprise victory in the 2004 Lok Sabha election.
Nominations can be filed between 22 and 29 April. Varanasi votes on 19 May in the last phase. If the idea of Priyanka Gandhi contesting from Varanasi is to lift the Congress campaign nationally, then it is already late. Two of seven phases are over. Time is running out but the Congress is never in a hurry. If not this election then the next one.
Suspense is not a bad thing, Rahul Gandhi says. It reminds one of former Prime Minister PV Narasimha Rao's famous line, that not taking a decision is also a decision. Priyanka Gandhi has made it clear she is up for it. But party president and dear brother Rahul Gandhi is hatching eggs on the idea.
Most likely, he will tell her to let Modi win Varanasi without any trouble. After all, Rahul Gandhi has the most to lose with the success of Priyanka Gandhi.
The views are personal.
Get the PrintEssential to make sense of the day's key developments