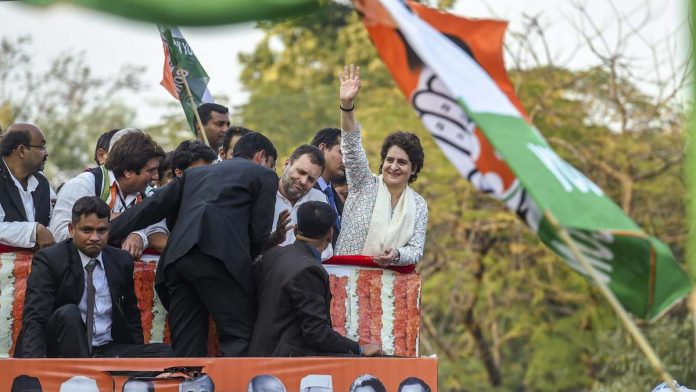 Text Size:
Lucknow: Decked up in the Tricolour, a truck slowly made its way from the Lucknow airport to the Congress headquarters over the course of six hours Monday. Standing atop that truck, surrounded by hundreds waving the party flag stood one woman, seemingly a beacon of hope to a party that was a no-hoper till even weeks ago.
A banner on the truck carried her photograph, juxtaposed in front of a black and white image of the first woman Prime Minister of India, her grandmother Indira Gandhi. "We see Indira in you," read another banner.
This was the political debut of Priyanka Gandhi Vadra, 20 days after she was appointed the Congress general secretary in-charge of eastern Uttar Pradesh.
Accompanied by her brother, Congress president Rahul Gandhi, her western UP counterpart Jyotiraditya Scindia and UP Congress chief Raj Babbar, she was welcomed with flower petals and garlands, with residents standing on balconies and terraces waving at her.
She smiled, waved back, flashed a thumbs-up sign and offered garlands to the crowd of Congress supporters who gathered around her entourage. Her face never gave away the size of the task that awaits her — she has to shoulder the burden of a party that had won just two Lok Sabha seats in Uttar Pradesh in 2014, and just seven assembly seats in 2017. A party whose grassroots support barely exists outside the Gandhi family's pocket boroughs of Rae Bareli and Amethi. A party that is not only facing the might of the ruling BJP, but also the heavyweight strategic alliance of Mayawati's BSP and Akhilesh Yadav's SP.
The cavalcade reached the Congress office just after 6 pm. Priyanka had made two short halts, offering floral tributes to the statues of Mahatma Gandhi and 'Babasaheb' Dr B.R. Ambedkar. Twice, her brother addressed the Congress workers, but the newly-appointed in-charges remained silent.
"I am very happy that Lucknow has given a very warm and love-filled reception to Priyankaji and Scindiaji. The Congress party will play on the front foot in every state," Rahul said.
"This is an ideological fight. On one hand (is) the Congress party ideology of brotherhood, love and bringing the public together. On the other hand (is) RSS-BJP-Narendra Modiji's ideology of dividing the people, spreading hate and weakening the state."
---
Also read: Why just Indira and Priyanka Gandhi, media must psychoanalyse Narendra Modi too
---
'Like Indira, she will fulfil promises'
For Congress supporters, it is Priyanka's resemblance to Indira Gandhi that is fuelling their belief in the newest entrant to India's politics. The formula for change seems clear in the minds of Congress supporters — a Congress victory in the Lok Sabha polls, and pulling the country out of unemployment and poverty.
"She has the charisma of her grandmother. All the old Congress workers and supporters see Indira Gandhi when they look at Priyanka and they call her Indira. Like Indiraji, who used to fulfil her promises, Priyanka Gandhi has the same persona," said Poonam Sharma, part of the Congress' Purvanchal Women's Wing, who belongs to Gorakhpur.
"We believe that she will fulfil all the promises that she makes with the same decisive streak that she has inherited from her grandmother."
Shyam, a Congress supporter from Rae Bareli who especially made the journey to Lucknow to see Priyanka, said: "We are all very excited with the arrival of Priyanka Gandhi. Her entry will bring about a lot of changes — on farmers' issues, unemployment and poverty."
Twitter debut
Hours before her arrival in Lucknow, the newly-appointed AICC general secretary launched her official Twitter account, and also gave a message to her party members: "…I wish that all of us together will start a new kind of politics, politics in which everyone will be a participant – my young friends, my sisters and the weakest, where everyone's voice will be heard."
While she has been a part of political campaigns in Amethi and Rae Bareli for her family, this is Priyanka's first visit to Lucknow, which has been a BJP stronghold since 1991. She is expected to interact with office-bearers and party workers from across UP at the state Congress headquarters in Lucknow over the next three days.
---
Also read: Priyanka Gandhi can be to Congress what Sunil Gavaskar was for India in West Indies
---
Check out My543, our comprehensive report card of all Lok Sabha MPs.