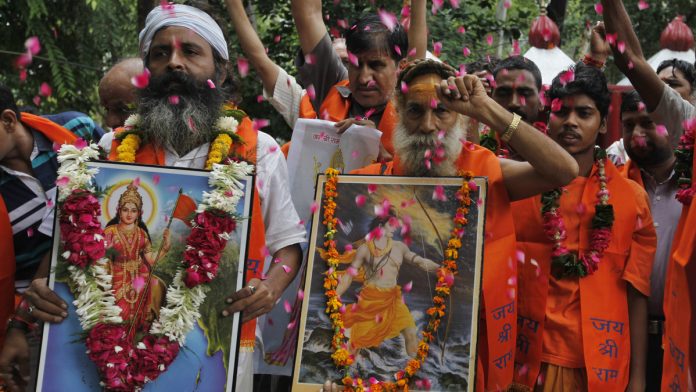 Text Size:
The underlying narrative in the cacophony of views is 'mandir wahin at any cost'.
The clamour for a temple in Ayodhya seems to grow louder each day, mainly on television news or at press conferences: 'loudest Mandir chatter in two decades', claimed Times Now, a channel you will agree knows a thing or two about 'chatter'.
How many of us have heard the noise to '#Resolve Ayodhya', as Republic TV urged Sunday, is incidental to the debate that currently dominates TV news. If you have been watching news channels since 29 October when the Supreme Court postponed the hearing of the Ayodhya case till January, you would think that the entire nation is one receptacle echoing the chant, 'mandir, mandir, mandir'.
Watch the news on any evening and you will find variations of the theme. Saturday evening saw at least eight channels chattering about a temple in Ayodhya at the same time. NDTV India debated the issue on Hum Log; Zee News asked, 'Has the date for Ram Mandir arrived?'; India TV followed in the footprints of Ram at Chitrakoot; News 24 posed the rhetorical question, 'Isn't India ready for the Ram temple?'; participants on Prime News wanted the government to introduce a bill to enable the building of the temple.
---
Also read: BJP will hand Ayodhya victim card to every Hindu voter ahead of 2019 elections
---
By then, BJP's Ram Madhav had already said that delay in hearing the title suit for the land had left many Hindus 'anxious' – a comment that played across news channels all Saturday. His remarks, and those by the RSS on the Supreme Court order, were '#Mandir1992Reminder', according to Times Now. Did it carry the hint of a threat too? Hmmm.
Meanwhile, on the Sunday Debate with Arnab, 93 per cent of those 'polled' by Republic asked for an early resolution to the dispute – a blameless demand that everyone could agree to. If that is all there was to it.
Ah, but there is a rider to the reminder: as Saturday's Hindi news channel debates clearly indicate, the demand is not merely for a speedy end to the Ayodhya case in the Supreme Court but that a temple be built there. The underlying narrative in the cacophony of views is that 'mandir wahin (Bharat Samachar), at any cost' and that the government must bring in a bill to build it, if necessary.
Speaking of costs, Mirror Now rightly asked, 'Statues or development?' as the 'chorus' grows for more statues.
---
Also read: Even if Statue of Unity becomes as famous as Taj Mahal, we may need 120 years to break even
---
So many demands, so much chatter can take your breath away, which, if you live in Delhi, is not an unusual condition to be in – what with the atmosphere looking like it has definitely seen better, clearer days. The media has been unrelenting on the issue of 'pollution' and news channels like NDTV 24×7 positively delight in tracking just how 'very poor' the air is in the Capital.
CNN News 18 said it best: the economy 'breathes easy' and is 'booming', but we are 'breathless in Delhi' – as opposed to Sleepless in Seattle?
There is so much dancing and singing on the entertainment channels that it's a wonder more people are not breathless: from Indian Idol (Sony) and Sa Re Ga Ma Pa (Zee) to India's Got Talent (Colors), the talent shows are reaching a climax near Diwali. They are quite the most entertaining programmes on air, both watchable and enjoyable to listen to.
They have infected the TV serials too where there's always a song and dance about something and nothing. There have been weddings, engagements and dance 'items' on RadhaKrishn (Star Bharat), Kumkum Bhagya (Zee) Muskaan (Star Bharat), Kasautii Zindagi Kay ( Star Plus), Naagin 3 (Colors) and Ishq Mein Marjawan (Colors) – phew!
Meanwhile, madam Komolika has swung into view as the hapless Anurag makes puppy eyes at Prerna without the gumption to declare his love for her (Kasautii…). This Komolika is so 'beautiful', according to many of those who saw her for the first time at the Basu household, that they were swept off their feet. When she sways before us, the world swoons too – watch the vamp in action as she goes after Anurag – and Prerna.
---
Also read: Sorry Shashi Tharoor, you can't give a clean chit to L.K. Advani in Ayodhya violence
---
Television serials delight in pitting women against women, in particular the mother-in-law at odds with the daughter-in-law (Nimki Mukhiya, Star Bharat). An unusual twist to this tale is Guddan (Zee) where the step mother-in-law is all of 20, married to the 40-something father of three (wicked) daughters who trouble her to no end.
It ought to worry all of us that the portrayal of women continues to be so loaded and negative: #MeToo has not visited the sets of TV serials – maybe it's time it did.
Kudos to Zee Café for the latest season of House of Cards, and Colors Infinity for New Amsterdam with Anupam Kher – he gave up FTII for this one, so let's see if it is worth it.
The author is vice dean, Jindal School of Journalism and Communication.
Get the PrintEssential to make sense of the day's key developments