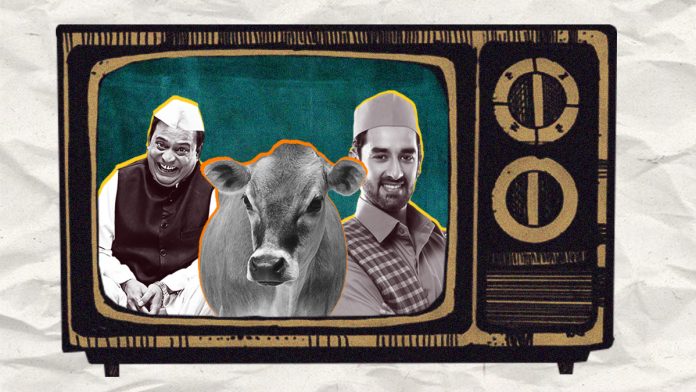 Text Size:
Everything Hindu made the cut.
Television news in 2018 obsessed over new chief ministers HD Kumaraswamy, Ashok Gehlot and Kamal Nath, but entertainment shows harked back to Mahabharat or the Battle of Hydaspes 326 BC (Porus). Yes, you read that right—326 BC.
Here's a delicious thought-provoking trend to chew on: when over 50 per cent of the Indian population is below 25 years, television entertainment rehashes the past to remain relevant. All this as streaming services like Netflix, Amazon Prime, Hotstar, AltBalaji, etc offer edgy, contemporary alternatives—Sacred Games, Mirzapur, Ghoul, Breathe and the openly erotic, Gandii Baat.
2018 was a myth
From gotra to gaay and everything Hindu in between making news more than ever before this year, TV entertainment turned to that ever reliable cash cow, the epic. The year 2018 saw at least seven series, including reruns of Mahabharat and Devon ka Dev Mahadev. Lord Ganesha, his life and wonders have been celebrated fulsomely—think Sankat Mochan Mahabali—no doubt inspiring politicians including UP CM Yogi Adityanath to include Mahabali in his political lexicon.
Radha Krishn and Karsangini, offshoot of the Mahabharat, are successful new arrivals. And, such is the resonance of myth and religion, that protagonists are now named Radhey and Krishna, not Rahul or Raj (Krishna Chali London, Star Plus).
---
Also read: When it comes to family, if only Karan Johar and Narendra Modi saw eye to eye
---
A historical sweep
As TV news increasingly frames the national narrative in terms of India's military might, and shows like Patriot, India First celebrate the armed forces, TV series looked to history for heroes in Porus, 21, Sarfarosh, Maharana Pratap, Prithvi Vallabh, Dastan-E- and Chandrashekhar.
Historical authenticity was often sacrificed for lavish productions (Porus, reportedly, cost Rs 500 million) as larger-than-life Indian rulers, bronzed, beautiful and bulging muscles, faced off with their cruder, foreign opponents: in 21, Sarfarosh Saragarhi they look positively pre-historic.
Witch hunts
Move over epics and historical, the daayans and reptiles have invaded the box. Naagin 3, Nazar, Vish Ya Amrit Sitara, Qayamat Ki Raat, other creatures of the night and computer wizardry, snake up the ladder of success ahead of all other shows. That says something about the viewers' interest in the supernatural.
---
Also read: How to torture a bahu: My mom's very real struggle without Bengali TV serials
---
Serial survivors
But the family hasn't gone away either. It can't, in India. The most popular soaps like Kum Kum Bhagya, Kundali Bhagya, Yeh Hai Mohobbatein, Yeh Rishta Kya Kehlata Hai have hop, skipped and jumped many years, introduced many new twists. But they continue to be faithful to the joint family formula where everyone from grand-mom to grandson tries to live happily ever after, but even if they don't, they remain together. Young people may have replaced the saas-bahu as main characters but otherwise it is business as usual even if Guddan Tumse Na Ho Payega tries to subvert the plot by pitting a young stepmother-in-law against three youthful stepdaughters-in-law.
 (Real) Crime Pays
Crime Patrol and Savdhaan India reflect contemporary India better than other shows. Based on true incidents, they expose our seamier side, especially when it comes to crimes against women. These well-produced shows enjoy high viewership ratings. Meanwhile, the weekly CID, on the air since 1998 crossed 1,500 episodes in October. Don't ask why it worked, but it did: ACP Pradyuman & Co. has acquired epic status.
---
Also read: In pre-Netflix world, CID and two pegs of Bournvita is how we grew up
---
India's Got (Too Much) Talent
There's a real song and dance on TV with over a dozen talent shows spread across the year. The category just got tougher with new variations like Karan Johar-Rohit Shetty's India's Next Superstars and India ke Mast Kalandar, a rival to India's Got Talent. They join old favourites Sa Re Ga Ma Pa, Indian Idol, Dance India Dance, etcetera. Good time pass, these weekend shows pull at the heartstring with sobbing families and stories of triumph over adversity.
Ditto KBC, which celebrated the common man with Amitabh Bachchan. He wore extraordinary floral jackets, a neat beard and humility on his sleeve. That's more than can be said for Salman Khan Dus Ka Dum and Bigg Boss: both are selfie promos for the star. Nobody, even those who watch it, understand why they do: this tenth season, Bigg Boss had fewer celebrities, and more of cricketer Sreesanth than you may want to see.
Good show
The choice falls on an unlikely candidate, a political satire: No, not The Week That Wasn't but a parivar, no less: Har Shaakh Par Ullu Baitha Hai. Chaitu Lal becomes the chief minister of Ulta Pradesh (UP, right?) and his sprawling family moves into power alongside him. Their motto? 'Promise what benefits them and do what benefits us'. In each episode, they find new ways to prosper, outwit their opponents, and deceive the public. It's topical, contemporary, zany, using recent political developments to drive the plot; cow worship, corruption, loan waivers, etc.
Poor showing
At its February launch, the new channel, Discovery Jeet banked on Baba Ramdev and the tide of patriotic-military fervour sweeping across the box, if not the country, since the 2016 'surgical strikes', to offer alternative entertainment. Alas, Swami Ramdev—Ek Sangharsh was more a paean to Ramdev's prowess than a biography of his extraordinary rise and rise. But 21, Sarfarosh was a brave but ponderous effort to recall the Sikh regiment fighting off the marauding Afghan tribes in 1897. Once those two shows sank, Jeet went down with them. Now, it has turned into a dubbed Discovery channel with baby contests, Toddlers and Tiaras.
---
Also read: Indian military's surgical strikes unit should come with a 'handle with care' tag
---
Poor Showing II
Jai Kanhaiya Lal Ki: A bawarchi-like Rajesh Khanna comes up against the most spoilt girl on the planet, and wins her over. Then they are killed. Odd.
Yawn show
A few viewers may disagree but the most boring show of the year is the lovely-looking Porus (Sony). Ostensibly about Porus, the Pauravas ruler, and Alexander the Great, who defeated the former in 326 BC, it took a long, leisurely and lingering subaltern gaze at the lush flora fauna, the exquisite palace settings, the ornately dressed protagonists and the six-pack chests of Porus and his men versus the grey-eyed blonde Alexander. Problem? The focus on body parts rather than battle scenes.
A special mention
Meanwhile, Taarak Mehta Ka Oolta Chasma still sees the world upside down, 2,700+ episodes after it began in 2008.
Get the PrintEssential to make sense of the day's key developments