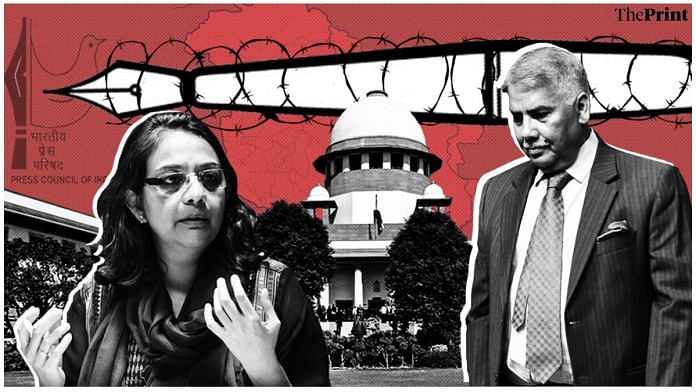 Text Size:
The Press Council of India has supported the restrictions on communication imposed by the Narendra Modi government in Jammu and Kashmir "in the interest of integrity and sovereignty of the nation". It filed an affidavit against a writ petition by a journalist asking for the ban to be lifted.
ThePrint asks: Should Press Council violate its charter & back J&K restrictions citing national interest?
---
Kashmir was an ideal opportunity for Press Council of India to showcase its virtues but it failed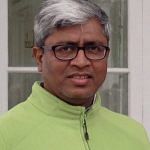 Ashutosh
Author and former AAP spokesperson
These are troubled times for Indian media. It is in a serious crisis given the national debate on Modi government's clampdown on press freedom, especially in Jammu and Kashmir. A narrative is built in the garb of nationalism, which then restricts and controls every debate meant to encourage freedom and autonomy of thoughts, setting off a vicious cycle — bulldozing and blocking ideas and asphyxiating innovations. Every thought process has to pass through the test of patriotism now.
The credibility of the press has dropped to new lows and people are finding it difficult to trust the press.
Press Council of India (PCI) was created with a mandate to help the press remain reverent in the eyes of every Indian, argumentative, logical, courageous and also challenge the government with firm conviction whenever needed.
Kashmir was an ideal opportunity for the PCI to showcase its virtues as an institution and fight for the cause of free press. But, to our horror, it has decided to plead against the basic values fundamental for the existence of democracy in the country. PCI chairman Justice Chandramauli Kumar Prasad's action is arbitrary, dictatorial and hints at the larger design to turn free press into a caged parrot — a parrot that toes the line of the government.

We must question the wisdom of having a retired Supreme Court judge as the chairman of an institution whose basic premise is to fight for the freedom of the press. It's time for the media fraternity to rise for its own cause or get ready for collective suicide.
---
Also read: I got my mother out. But my best friend, a Kashmiri Pandit, hasn't heard from hers
---
PCI took upon itself to focus on restrictions and not look at 'reasonableness' of those restrictions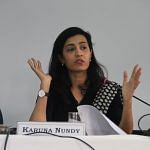 Karuna Nundy
Advocate, Supreme Court of India
The Press Council of India is a statutory body whose mandate is to champion press freedom. In this case, it has voluntarily stood up to speak in favour of the opposite – restrictions on the press.
Article 19 of the Indian Constitution mentions reasonable restrictions. But the PCI has taken upon itself to focus on restrictions, and not look at the 'reasonableness' of those restrictions in terms of the constitutional minimum.
There was no need for the Press Council to actively try to limit media freedom by intervening in a writ petition that has sought freedom for the Kashmiri media. The PCI is required to at least do its basic duty and stand with media.
In fact, other members of the Press Council have said quite clearly that the chairman filed the affidavit independently, without taking the institution's consent, and thus violated the council's rules. The Press Council rules require the members to deliberate before arriving at any decision.
---
PCI always stands for press freedom & should investigate role of media players aiding terror ecosystem in J&K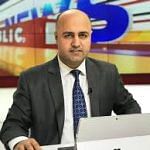 Aditya Raj Kaul
Strategic Affairs & Internal Security Editor, BTVI Live
When I was reporting from Kashmir for a week after the abrogation of Article 370, I did not see any restrictions imposed on the media apart from the usual internet and phone blackout or the identity verification required at police check-posts, which was applicable to everyone in the region. In fact, the department of information technology provided a media centre at the Sarovar Hotel with computer and internet access, where I often saw fellow Kashmiri journalists.
Every journalist with an experience of working in a conflict zone has hardly a few minutes of internet access to file a story or dispatch one. The Press Council of India has always stood for the freedom of the press and should investigate if some elements are deliberately provoking violence in Kashmir by giving an unrealistic picture of chaos, mayhem and agitation.
The years 2008, 2010 and 2016 have seen a lot of violence, casualties and media restrictions in Kashmir. We have also seen some editors and journalists under investigation by the Jammu and Kashmir police and the National Investigation Agency in connection with larger terror funding cases. The PCI should investigate the role of certain media players in Kashmir for aiding a terror ecosystem.
For instance, The Times of India journalist Saleem Pandit has often faced threats for his reportage. The Press Council should stand by such voices with conviction.
---
Press Council of India supporting curbs in J&K is sad but hardly surprising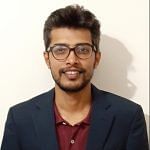 Satya Prasoon
Lawyer
The Press Council of India, a statutory body formed to uphold press freedom, taking a stand in support of the information blackout in Jammu and Kashmir is sad, but hardly surprising. The PCI's position is not just an expression of support to the government but a legal imprimatur by a statutory body. The jackboot diplomacy on Kashmir with the spectacle of preventive detentions, curfew and information blackout seems complete with democratic backsliding of independent institutions in India.
The people affected are not being provided a safety valve to express themselves, let alone the freedom to dissent, while the PCI is busy cheerleading. The claim of restricting speech "in the interest of integrity and sovereignty" is a shoddy legal defence. In the current case, "in interest of" is meant to ratify the regulatory excesses of the State. It assumes that the government was thinking in "interest of people" even if its actions were anti-people. The free speech jurisprudence cares less about the intent and more about consequences on the ground and unless it can be shown that the measures are rational, they should be struck down.
In the end, irrespective of where one stands on the Article 370 debate, the processes adopted by the government are what determine the polity we are becoming. If constitutional closure is sealed by tyranny of numbers with little debate and discussion — by using emergency provisions and clogging the safety valves of democracy from press freedom to information blackout — then haven't we become a namesake democracy? A democracy with cyclical elections offers little freedom between elections. One limb of this is the conforming voices of independent institutions ceding space unilaterally when confronted by a government armed with a massive mandate. And the most depressing realisation has been that the suffocation of dissenting voices is being licenced by the silence of the courts in delaying the hearing of preventive detention challenges.
---
Also read: Press Council censures The Indian Express & Loksatta for 'putting words' in RSS chief's mouth
---
Some members of Press Council themselves disagree with chairperson's decision to support media ban in Kashmir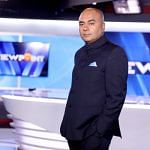 Bhupendra Chaubey
Executive Editor, CNN-News18
The Press Council chairman's decision to go to the Supreme Court supporting the ban on media coverage is completely uncalled for. I believe that the members of the Press Council themselves disagree with this decision and are asking for it to be recalled. The PCI chairperson shouldn't have taken this decision.
I agree that this move by the Modi government is a new move, it's a new trajectory. Without a doubt we need some time to figure out how this move will play out. However, it's not the job of the PCI chairperson to support this complete ban on media coverage.
The truth is that there is some amount of media coverage happening. It's not that reporters aren't going to the Valley. They are able to file dispatches. But how is it that the foreign media is presenting a completely different story from what the Indian media is showing? How is it that they have access to information that we don't?
At this stage, we should stick to information. I don't think there is any need whatsoever for anyone to be editorialising or moving from facts to opinion for now.
The situation is not normal, it is tense. The governor himself is saying this. By all means, we must report what is happening and not turn our backs on ground reality.
---
Difficult to argue backing media restrictions in Kashmir would fall within scope of principles laid out by PCI for itself

Smitha Krishna Prasad
Associate Director, Centre for Communication Governance, National Law University Delhi
Access to the internet is today recognised as a basic human right, and an integral part of freedom of speech and expression endorsed by international human rights bodies as well as most democracies. The form of communication shutdown that we've seen in Jammu and Kashmir over the past few weeks is unprecedented, with little to no information about the legal provisions and constitutionally tenable reasons under which such steps were taken.
While there is, of course, a national security concern, and such concerns are grounds for reasonable restrictions to freedom of speech, a look at the role that the Press Council of India sees itself playing in promoting freedom of speech and expression would be helpful. The Press Council of India states that these are some of its many functions: first, to safeguard against arbitrary restrictions on freedom of the press by the government, and help the press maintain its independence, and second, to ensure that the media adheres to established norms of journalistic ethics and conduct.
However, shutting down of communications and curbing ability of the press to function is an almost complete restriction to speech. There is no opportunity being given to the press to report within the parameters of ethical journalism. In this case, there appears to be a presumption that all reporting coming from a certain geographical area will be in violation of these journalistic standards, and cause a security threat. It is difficult to argue that backing such actions would fall within the scope of the principles laid out by the Press Council of India for itself.
---
Does PCI believe that restrictions on communication—and on media—will help the true picture in Kashmir emerge?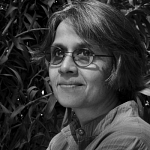 Shailaja Bajpai
Editor (Media) and Editorial Skill Development, ThePrint
The Press Council of India's request to the Supreme Court to allow it to assist it in deciding a petition by Kashmir Times seeking to end communication restrictions in Jammu and Kashmir is a remarkable volte-face, farcical if it wasn't so serious.
This is a complete reversal of roles — the PCI's purpose is to safeguard freedom of expression "unfettered and unhindered by any authority". However, in this intervention it seems to suggest that "free and fair reporting" is antithetical to "the interest of the integrity and sovereignty of the nation".
It is baffling why the PCI should feel it necessary to intervene in this manner: First, reasonable restrictions on press freedom already exist under Article 19 (2) of the Constitution and require no further reiteration. Second, it is the government's paramount duty to protect the country's sovereignty and integrity. The media's primary duty is to freely and fairly report the news. To conflate the two and demand that the media bear the responsibilities of the government, is by definition, wrong.
The "national interest" is treacherous ground, seen differently and from often conflicting points of view—who better than the media to reflect these different points of view?
Third, the presumption that an independent media will not report objectively or with a sense of responsibility, keeping in mind "national interest", is to add insult to injury. The Press Council of India should be the first one to defend the media, and not question it.
Let us inverse the argument: does the PCI believe that restrictions on communication—and therefore on the media—will help the true picture in Kashmir emerge?
---
By Taran Deol and Revathi Krishnan
Subscribe to our channels on YouTube & Telegram
Why news media is in crisis & How you can fix it
India needs free, fair, non-hyphenated and questioning journalism even more as it faces multiple crises.
But the news media is in a crisis of its own. There have been brutal layoffs and pay-cuts. The best of journalism is shrinking, yielding to crude prime-time spectacle.
ThePrint has the finest young reporters, columnists and editors working for it. Sustaining journalism of this quality needs smart and thinking people like you to pay for it. Whether you live in India or overseas, you can do it here.