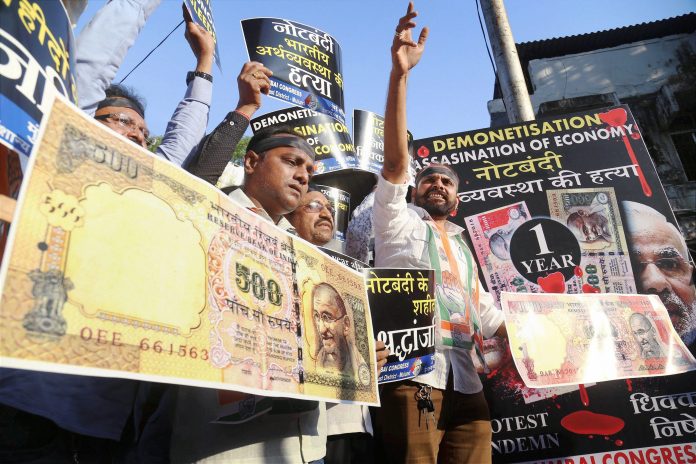 Text Size:
Exactly a year ago, Prime Minister Narendra Modi announced an ambitious but enormously disruptive decision to invalidate Rs 1000 and Rs 500 notes, ostensibly to combat corruption, counterfeiting and terror funding. Demonetisation triggered public panic, slowed manufacturing, sent workers home and affected economic growth.
The RBI said in August that 99 per cent of the cash was returned. But the move forced citizens to adopt digitisation at an unprecedented pace, in a country where 80 per cent of transactions were conducted in cash. And it helped the BJP win the election in UP.
What has India gained and lost from demonetisation and what are the lessons learnt?
On 8 November, 2016 the Prime Minister announced on television that 86 per cent of the money in circulation in the Indian economy stood demonetised. With a grand flourish that could have only rivaled a 'Tuglaqi firman' (and I can claim copyright to this phrase as I coined it on Twitter to describe this whimsical diktat) he announced that his government had scrapped the 500 and 1,000 rupee notes effective from the stoke of the midnight hour.
The Prime Minister laid out three objectives for demonetisation — it would curb black money, weed out counterfeit currency and circumscribe terror financing. Before we examine as to how the government fared on these three benchmarks that it elaborated as the rationale for its foible, there are still unanswered questions about the legality of the entire exercise and even the process followed to arrive at the decision.
Legality aside even on the three objectives that the NDA/BJP had propounded as the raison d'être for demonetisation the government has come up short. One year later, we know that 99 per cent or even more of the scrapped notes of Rs 14,86,000 crore have come back into the banking system. Though the government now claims that 3 lakh crores worth of deposits are under scrutiny but the fate of that exercise would be tied up in legal processes for decades to come. It demonstrates that currency swap or notebadli was not the way to unearth black money.
That in turn dovetails into the next objective, namely weeding out counterfeit currency. In response to a question in the Lok Sabha, the government claimed that according to the data available with NCRB, 1.57 lakh Fake Indian Currency Notes (FICN) having a face-value of Rs 11.24 crore have been reported by states/UTs for the period between the 9 November 2016 and 14 July 2017. It begs a question, was it worth making the whole nation stand in serpentines queues for months on an end to unearth only Rs 11.24 crore of counterfeit currency?
---
Here are other sharp perspectives on demonetisation:
Here are other sharp perspectives on demonetisation:
Radhika Pandey, consultant, NIPFP
Milan Vaishnav, senior fellow, Carnegie Endowment for International Peace
T.S.R. Subramanian, former cabinet secretary
Ritika Mankar Mukherjee, senior economist, Ambit Capital
Arun Kumar, retired professor, JNU
Pranab Dhal Samanta: editor, ThePrint
Syed Zafar Islam: BJP spokesperson for political and economic affairs
---
The third objective that the Prime Minister delineated was proscribing terror financing. It is premised on a preceding postulate that assumes that before 8 November 2016, the government had a correct estimate of the quantum of money being funnelled to terrorist organisations. This is a complete non-sequitur for if the government was aware as to how much money was flowing to which terrorist entity from which source, then questions would be raised and legitimate ones as to what steps did the government initiate to check it?
By every yardstick demonetisation was a blunder of gargantuan proportions.
Manish Tewari was a former Union minister and is the current national spokesperson, Congress; and a Distinguished Senior Fellow, Atlantic Council 
Get the PrintEssential to make sense of the day's key developments