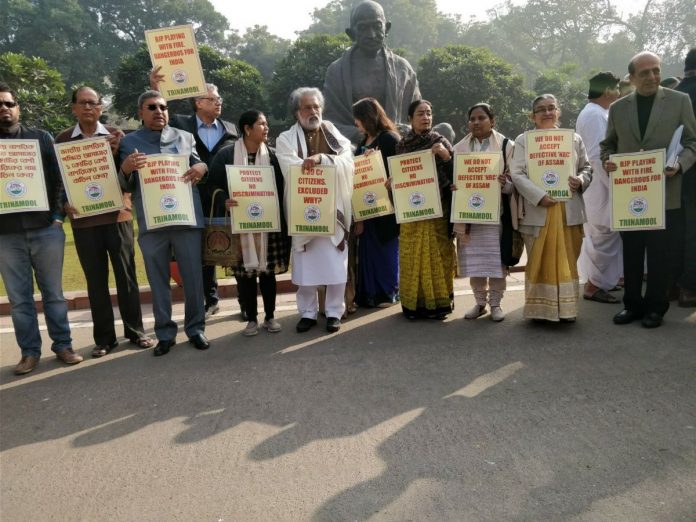 Text Size:
Mamata Banerjee recently alleged BJP govt was trying to drive out ethnic Bengalis, but even those whose names are missing from first draft aren't worried.
Guwahati: The updation of the National Register of Citizens (NRC) in Assam has become contentious not only because it seeks to identify "illegal Bangladeshi immigrants", but also because it has underlined the schism between the linguistic minority – the Bengalis of Assam – and the ethnic Assamese. West Bengal Chief Minister Mamata Banerjee recently alleged that the BJP government in Assam is "hatching a conspiracy" to drive out Bengalis by "excluding" their names from the first draft.
Assam has a history of bitterness between Assamese and Bengali inhabitants of Assam, and Banerjee's statement is a reflection of these tensions. Her fears, however, don't find much resonance among the Bengalis in Assam. Several may not have found their names in the first draft of the NRC published on 31 December, but confident that their paperwork is in place, aren't particularly worried about being excluded.
Many ethnic Bengalis migrated to Assam from present-day Bangladesh long before 1971, when it was still apart of Pakistan, while some even moved to Assam during Partition. But officials say it becomes difficult to ascertain who migrated to Assam after 24 March 1971 – the cut-off date for the NRC – which is why the NRC will help.
Most of the inhabitants of the Lal Ganesh area of Guwahati are those of Bengali origin, many of whose names have not made the first list. But, as 45-year-old shopkeeper Shyam Saha puts it: "I was born here. My father migrated from what is now Bangladesh in the early 1960s. I have given all my papers, including legacy data of 1961. Though none of my five family members' names have appeared yet, I see no reason to worry. I have all documents in place."
Assertion of identity
Some, meanwhile, find the NRC updation as a way to establish their Indian, and also Assamese, identity.
"We are 100 per cent Indians. But doubts are created about our identity only because we speak Bengali and because of the influx of those from Bangladesh illegally after 1971. The NRC will help clear those doubts forever, once our names appear in the list," says Anand Choudhury of Jyotikuchi, another area dominated by people of Bengali origin.
Nimaya Das of Lal Ganesh agrees: "I look at myself as an Assamese Bengali. These two aren't contradictory. I have three members in my family and our names haven't come in the list yet. But I am as Assamese as it can get; there is no reason why we won't find our names in the list. We are, after all, Indians — my grandfather moved to Assam during partition. We have given our refugee papers issued then."
Debdeep Das of Udalbara says: "We moved here in 1957 from Bangladesh. We have given legacy data of 1966. My brother's name has appeared, but not that of other family members. But we know verification takes time. We have no fear."
He adds that if for some reason their names don't appear, he "will go to court and get justice".
Kamala Dey says: "We moved in 1954 from Pakistan. We have a court sanctioned refugee card issued to my grandfather then. Three generations of us are settled here. How can there be any doubt about us being Assamese? We speak both Bengali and Assamese. Naturally, we will all find our names even if they haven't come yet."
Check out My543, our comprehensive report card of all Lok Sabha MPs.