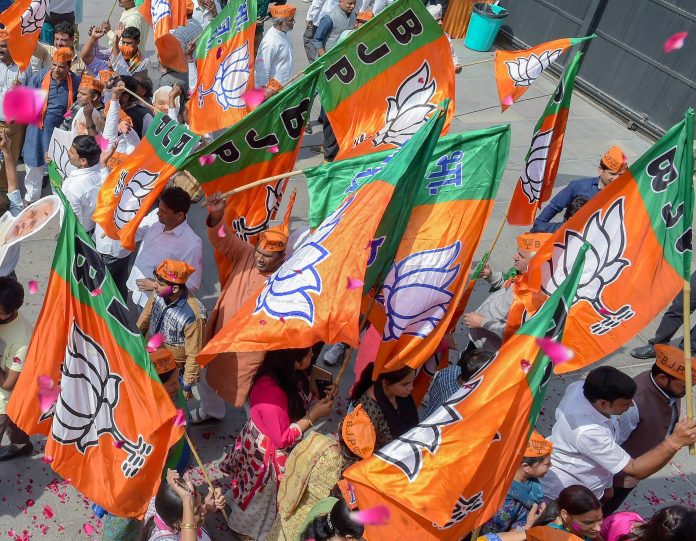 Text Size:
Chendupatla Janga Reddy, who defeated Narasimha Rao in 1984, says Amit Shah never talks to him, while A.K. Patel would rather not comment on BJP as it is now.
New Delhi: The two MPs who opened the BJP's account in the Lok Sabha in its maiden parliamentary polls in 1984 have fallen by the wayside as the saffron party makes great strides under the stewardship of Prime Minister Narendra Modi and party president Amit Shah.
One, A.K. Patel, 88, has since resigned from the party, while the other, Chendupatla Janga Reddy, 82, has been desperately and unsuccessfully seeking his rehabilitation in a Raj Bhavan or the Rajya Sabha.
---
Also read: Woman BJP thought was 'family-oriented' to an Atal aide — meet the lesser-known governors
---
Reddy, who defeated former Prime Minister P.V. Narasimha Rao from the Hanamkonda Lok Sabha seat in undivided Andhra in 1984, was at the party headquarters in New Delhi last Friday to pay his last respects to former Prime Minister Atal Bihari Vajpayee.
"I have met Modiji twice and was asked to meet Amit Shahji. I told them I am available for the Rajya Sabha or governorship… Amit Shahji baat hi nahi karte (Shah doesn't talk to me)… So what could I have done? I came back," he told ThePrint.
Reddy said he had a "mentor" in 'yugpurush' Vajpayee, whom he also credits with his fluency in Hindi.
"I had problem with shuddh Hindi… So, when I prepared to speak on Ram Janmbhoomi in the House, it was Atal and (L.K.) Advaniji who corrected my speech. Atalji used to tell me that I should speak good Hindi," said the BJP leader, who was also elected as an MLA of the Bharatiya Jana Sangh in 1967.
Reddy, a permanent invitee to the BJP state executive, added that the party seldom paid heed to their advice now.
"We speak our mind, but no one listens. I had told everyone that we should contest alone in Andhra and Telangana and not strengthen the regional parties like earlier," said Reddy, a reference to the BJP's erstwhile alliance with the Telugu Desam Party (TDP) and speculation about efforts to forge a coalition in Telangana.
Even so, he wishes the party well. "This is not a good time to go against the party. This government must stay till Kashmir is an issue of contention with Pakistan. Otherwise, we will be nowhere."
---
Also read: Why the BJP will count the number of temples and ashrams in your locality
---
"BJP ki sarkar rehna chahiye Kashmir ke liye (BJP government must stay for Kashmir)," added Reddy, the son of a Communist.
'Let us not comment on the difference'
Patel won the 1984 Lok Sabha poll from Mehsana in Gujarat and later became a junior minister in the Vajpayee government.
A five-term MP and an MLA for 12 years, he resigned from the party a few years ago. He also served as the Gujarat chief of BJP predecessor Bharatiya Jana Sangh and later BJP itself.
Believed to be close to former Gujarat chief minister Keshubhai Patel – the former BJP leader who resigned from the party to float his own — the former Mehsana MP was suspended in 2007 for "anti-party" activities".
He quit subsequently as differences persisted with the party's state leadership.
There was a tinge of disappointment in his tone when asked about differences in the party as it was under Vajpayee's leadership and as it is now.
"Let's not comment on the difference. The picture has changed. He was a superman who managed everything around him well. People rightly called him Ajaatshatru," said Reddy, the son of a Communist father. "In today's BJP, there is nothing to comment on," he added.
From interviews to news reports, catch ThePrint live in action on our YouTube channel. Subscribe here .