Party also set to discuss ways to court Dalits; latest meeting expected to be last before 2019 polls.
Shah claims arguments holding two sets of polls against the federal structure of the country are baseless.
Maharashtra governor C. Vidyasagar Rao and CAG Rajiv Mehrishi tipped to be N.N. Vohra's succcessors.
Having played most of their cards, Modi-Shah are searching for a new one. That is why an effort is being made to polarise the voters.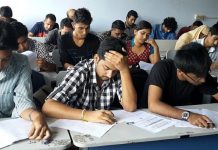 A selection of the best news reports, analysis and opinions published by ThePrint this week.
BJP president Amit Shah says TMC chief against NRC for 'vote-bank' politics, calls upon people to 'uproot' the government.
Sources say Amit Shah convinced Nitish Kumar to seek votes from Shiv Sena and BJD, without which they wouldn't have won.
An independent Lokpal inquiry could have ended the Rafale controversy.
The party president is already making himself the voice of the government through the Rajya Sabha.