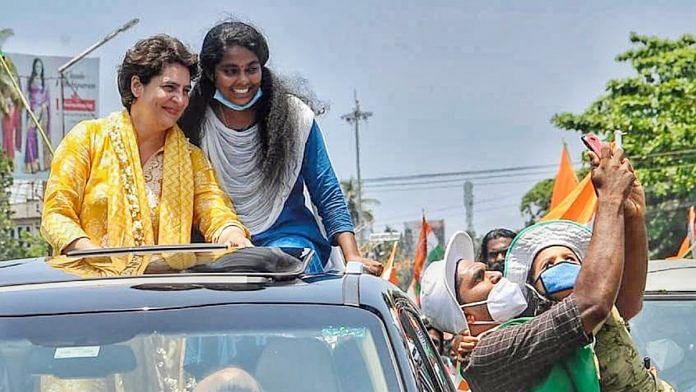 Text Size:
New Delhi: Congress general secretary Priyanka Gandhi Vadra delivered over a dozen speeches, and held a number of rallies and road shows across Assam and Kerala before she was forced to halt her campaign due to exposure to coronavirus last week.
Until then, though, she dug her heels into the assembly polls campaigns, which took her beyond Uttar Pradesh for the first time. 
Both Kerala and Assam finished voting on 6 April during the ongoing assembly elections for five states and UT. 
Over the last few weeks, Priyanka's campaigning style — easy-going, vibrant but also soft — has been under the lens. While it appeared largely similar to her brother Rahul Gandhi's style, some analysts noted subtle differences in her approach.
---
Also read: Miliband to Burns — validation by foreigners gives Rahul Gandhi a kick but hurts his politics
---
She connects easily, say Congress leaders
Dressed in crisp sarees and kurtas, wearing a smile, she visited people's homes to share a meal, or the tea gardens in Assam to plucks leaves, only to share a laugh with labourers and say: "I enjoyed it, but I know how difficult it is for you to do it everyday."
Like her brother, Priyanka was also seen mingling with the local residents more, whether it was in joining the traditional folk dance performance in Assam or video calling Rahul and talking to kids from the orphanage having Easter lunch with him in Kerala.
Connecting with common people comes naturally to Priyanka, say Congress leaders in Kerala and Assam.
"She connects and adapts very well to her surroundings. She is good in a mega rally, as well as while talking to hundreds of tea workers. She can talk to individuals also and can even communicate with a child very easily. She is versatile and very spontaneous," said Sushmita Dev, national Congress spokesperson and former Silchar MP.
Ramesh Chennithala, leader of opposition in Kerala, said her campaigning has created a momentum in Kerala, which is going to help the party in a "big way".
"Both Rahul Gandhi and Priyanka Gandhi's programmes attracted lakhs of people. Priyanka, who came to Kerala for campaigning for the first time, was very vibrant and active during her campaigning. Since she came for the first time, there was a lot of enthusiasm," said Chennithala.
Priyanka also visited the Kamakhya temple in Guwahati and Attukal temple in Kerala, following her brother's footsteps in returning to 'soft-Hindutva', as many label the approach.
'Just photo-ops'
The BJP, however, called these mere "photo ops" by the siblings. Speaking to ThePrint, BJP leader and Silchar MP Rajdeep Roy noted Priyanka's visit to the tea gardens, saying this was not the right time to pluck the leaves.
"It's done twice a year, but doing so just before the campaigning shows that they are just visitors in their own country. People of Assam are very offended by these types of photo ops. Coming for a day and hugging one poor person, they have been doing this since the days of Indira Gandhi and Rajiv Gandhi. People are used to all these gimmicks and they associate these with the Gandhi parivar," he said.
But Sanjay Kumar, co-director of Lokniti, a research programme at the Centre for the Study of Developing Societies (CSDS), disagreed with this assessment. 
"There is an aura created around the Gandhi family that these are big people, they belong to a very big family, were born with silver spoons in their mouths and are holding power from generations. How do you come out of this shield? They are trying hard to mingle with the common people as far as possible to give them a sense that they are one among them," said Kumar.
---
Also read: 'Not cows to be milked' — Muslims in Bengal, Kerala, Assam are now assertive, want recognition
---
Local sentiments and appeal to women — her speeches
In her speeches across the two states, Priyanka tried to invoke the local sentiments by highlighting several regional elements.
In Assam, she began her addresses with three chants of "joi aai akhom" (glory to mother Assam) wearing a gamusa. And, like Prime Minister Narendra Modi or Home Minister Amit Shah, she also mentioned local heroes such as Srimant Sankara Dev, and quoted Bhupen Hazarika's "ami akhomiya nohoi dukhiya" (We are Assamese, we are not poor).
Her speeches in the state revolved around the anti-CAA movement in Assam and the Assam Accord, along with promises for Rs 365 per day wage for tea labourers and five lakh government jobs, which are part of the Congress manifesto. 
In Kerala, after PM Modi quoted the Bible, she responded: "I suppose this was because the elections in Kerala are around the corner… Because I didn't hear a single word about the sisters who were harassed in Jhansi."
Priyanka also sought to appeal to women voters across the two states. During a rally in Assam, she told a largely female crowd: "You are my sisters. So, please take a decision carefully for your future." 
Commenting on a sexist remark by an LDF leader in Kerala, she declared from the stage: "You don't tell us what to wear and whom to love".
---
Also read: On Modi's Judas jibe, Pinarayi Vijayan says everyone knows who has played the role of Judas
---
How Priyanka is slightly different from Rahul
Political analysts believe that while Priyanka and Rahul Gandhi's campaigning styles are largely similar, some differences in approach still exist.
While Rahul is seen a bit more aggressive in his speeches, Priyanka tends to use a softer touch and sarcasm. Priyanka is also seen among the common people more.
"Both of them use more or less the same technique with a little difference — they want to be seen as one amongst the common people. However, Priyanka Gandhi does it more often than Rahul Gandhi is doing these days," says CSDS' Sanjay Kumar.
"Compared to Rahul, she is far more indulgent. She strikes instant rapport, dresses up for the occasion. If asked within the party, I think more Congresspersons would go for Priyanka," said political analyst Rasheed Kidwai, who is the author of books like 24 Akbar Road and Sonia – A Biography.
"But it is electoral success that defines everything, you may be a very effective campaigner with a charismatic personality, but if it does not translate into electoral votes, then you are considered a failure," he added.
"The outcome of these elections is going to be a challenge in front of Priyanka Gandhi. She was seen as someone with the ability to make Congress win. People drew resemblance with Indira Gandhi, her oratory style is very different from her brother. She has that punch, she ticks all the boxes," Kidwai said.
"Yet, for instance, in Kerala if the UDF alliance is not able to topple the Left government, they will be seen as a failure because there is no silver medal in politics," he added.
According to Kumar, Rahul has been campaigning for the party for years now, but Priyanka joined later, so there is a certain element of newness which appeals to people.
"Another factor is her gender, she is soft-spoken, mingles with people of all genders easily. People would also not be more aggressive with you if you are a woman. Thus, it helps in establishing a better connection with the masses…" he added.
A close aide of the Gandhi family and a former associate of Rahul Gandhi, however, described the campaigning style of the siblings as "North Pole and South Pole".
"Even candidates in Assam and Kerala also started asking for more programmes of Priyanka Gandhi. It has been a phenomenon since 2007-08 that she has been connecting well with people right from her time in Rae Bareli. She is a natural, but Rahul has been trying since 2004 but hasn't been successful," the aide said on condition of anonymity.
"For example, on Easter, he visited a temple in Kerala which has a significant Christian population. In politics you have to take everything into consideration, and you are not fighting a weak opposition," the aide said.
He added that Priyanka's style hasn't changed much since her early days in UP. "If she meets a woman, she will talk about how she cooks food for her family. This is her way to establish a rapport. You're not a politician if you can't connect well."
---
Also read: Time and tide on the Malabar coast : Let Rahul Gandhi swim, we will vote for Pinarayi Vijayan
---
Subscribe to our channels on YouTube & Telegram
Why news media is in crisis & How you can fix it
India needs free, fair, non-hyphenated and questioning journalism even more as it faces multiple crises.
But the news media is in a crisis of its own. There have been brutal layoffs and pay-cuts. The best of journalism is shrinking, yielding to crude prime-time spectacle.
ThePrint has the finest young reporters, columnists and editors working for it. Sustaining journalism of this quality needs smart and thinking people like you to pay for it. Whether you live in India or overseas, you can do it here.