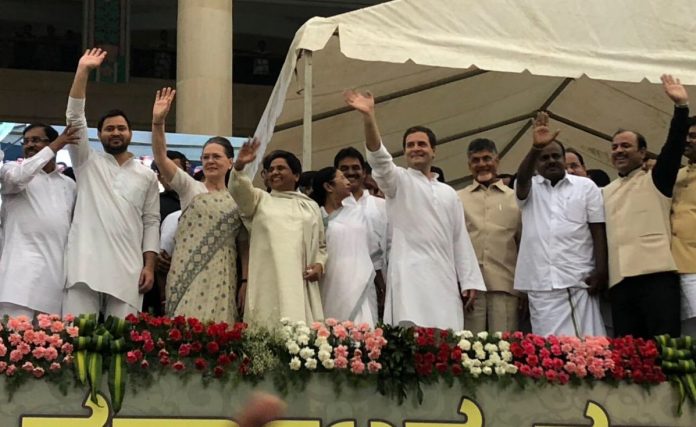 Text Size:
Regional leaders, from Sharad Pawar to Mayawati and Mamata, share stage with the Gandhis at swearing-in ceremony, welcome Naidu and Kejriwal 'under the tent'.
Bengaluru: Karnataka Chief Minister H.D. Kumaraswamy's swearing-in ceremony Wednesday virtually turned into a soft launch of an inchoate anti-BJP federal front, with leaders of a dozen national and regional parties attending it in a show of togetherness.
As if to buttress how women power would be central to the formation and goal of the mahagathbandhan or grand alliance, former Congress president Sonia Gandhi, former Uttar Pradesh Chief Minister Mayawati and West Bengal Chief Minister Mamata Banerjee were the star attraction at the ceremony as the three women leaders hugged one another and waved to the cheering crowd. The warmth in their relationship was evident as Sonia and Mayawati held each other's hands for several minutes while they talked.
The cloudy sky and intermittent rain seemed to have contributed to the congeniality and warmth that permeated through the tents put up outside Vidhan Souda or the state assembly where Governor Vajubhai Vala administered the oath of office to Kumaraswamy and Deputy Chief Minister G Parameshwar.
Addressing a press conference later, Kumaraswamy said the coalition in Karnataka will be a "model to the entire country". "Let's stop the Modi juggernaut… in 2019, there will be a major change in the country. They (leaders of different parties) have come here to send a message to the country, not to protect this government," he said.
Although most of the other leaders present — Sharad Pawar (NCP), Sitaram Yechury (CPI-M), Sharad Yadav (Loktantrik Janata Dal), Ajit Singh (RLD), Tejashwi Yadav (RJD), D. Raja (CPI), and Akhilesh Yadav (SP), among others — were the familiar faces involved in attempts to cobble up a mahagathbandhan, there were two new entrants under the tents this time: Andhra Pradesh Chief Minister Chandrababu Naidu and his Delhi counterpart Arvind Kejriwal. Understandably, they looked guarded and didn't mingle much with the rest.
Even as Kumaraswamy was taking oath, Rahul Gandhi was engaged in a serious discussion with Pawar, an indication of the role the NCP chief has been playing in bringing non-BJP parties together.
The visible bonhomie among leaders showed their readiness to gloss over the political and ideological dichotomies to form a joint front to take on the Narendra Modi-led BJP in 2019. Survival instinct seemed to bind this disparate group of national and regional leaders as they explored ways to challenge the saffron party that has shown rapacious tendencies since Modi's advent at the national scene late 2013.
It was on the third anniversary of the NDA government in May 2017 when then Congress chief Sonia Gandhi initiated her outreach to potential and prospective allies for 2019, inviting 17 opposition parties to a luncheon meeting in New Delhi.
The stated agenda was to discuss the Presidential election but, in fact, the erstwhile UPA chairperson had made her first move towards the formation of an anti-BJP front. In March 2018, she invited 20 parties over dinner at her 10, Janpath residence. The purpose was to "meet and bond", Rahul Gandhi had said then.
Four parties that were conspicuous by their absence during dinner diplomacy were the Telugu Desam Party (TDP), which had withdrawn its ministers from the NDA government, the Telangana Rashtra Samiti (TRS), the Biju Janata Dal (BJD), and the Aam Admi Party (AAP). The TDP and the AAP were represented at Kumaraswamy's oath-taking ceremony on Wednesday.
The BJD that has been maintaining equi-distance from both the BJP and the Congress — its two main rivals in the state— stayed away from Wednesday's event in Bengaluru. TRS chief and Telangana Chief Minister K Chandrashekhar Rao visited Bengaluru to extend his good wishes to Kumaraswamy on Tuesday but didn't attend the swearing-in ceremony on Wednesday as he had prior engagements.
Read Global Pulse for a sampler of the big international stories, and why they matter.