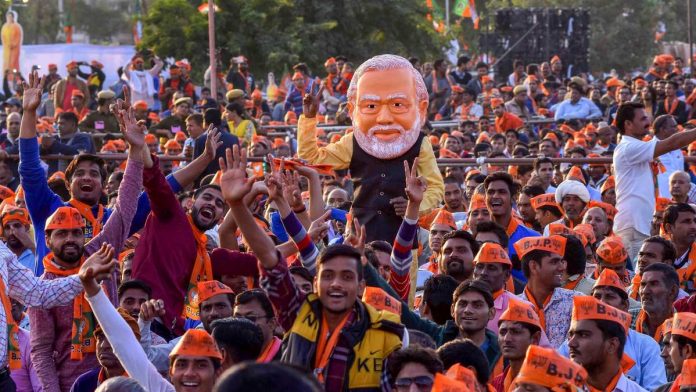 Text Size:
While BJP CMs talked about vikas and pro-poor schemes, big guns such as Amit Shah and Yogi Adityanath pandered to their hardcore Hindutva voter base.
New Delhi: The intense campaign for the five state assemblies that ended Wednesday evening gave a perfect glimpse into what the menu of BJP's plan for the grand 2019 election may look like — a mixed bowl of development, welfare, anti-Congress-ism, topped with a heavy dose of Hindutva and national security.
In the run-up to the state assembly polls, the top national as well as state leaders of the BJP chose a mixed strategy of pushing forth a vikas (development) face, talking about its pro-poor leanings, as well as adopting a shrill Hindutva line.
This, meanwhile, was divided neatly — letting the incumbent chief ministers talk about development and what they have achieved on that count, while bringing out the big guns such as party president Amit Shah and Uttar Pradesh Chief Minister Yogi Adityanath to pander to their hardcore Hindutva voter base and cadres.
Prime Minister Narendra Modi started off with a strong development line as he began his campaign for this leg of polls with Chhattisgarh that voted the first, but lapsed into a high-pitched nationalism stance towards the end in Rajasthan, interspersed by a biting attack on Congress, its leadership and its legacy.
The chief ministers
BJP's three chief ministers — Shivraj Singh Chouhan in Madhya Pradesh, Raman Singh in Chhattisgarh and Vasundhara Raje in Rajasthan — who are defending their tenures and battling anti-incumbency, stuck to talking about their achievements so far and promises if voted back.
Chouhan, fondly called mamaji in the state, used his speeches and interactions to highlight his government's initiatives for the youth, women as well as laid great emphasis on how he had transformed infrastructure availability in his state.
For instance, to cater to the aspirations of the youth, Chouhan talked about providing jobs to 7.5 lakh youth in the coming year and 10 lakh jobs in next year as well as of a separate fund of Rs 100 crore to provide funds to start-ups.
He also talked about women-centric schemes — the Ladli Laxmi Yojana, distribution of cycles to girls and the Kanya Vivah Scheme. And most importantly, he talked about the improvement in power supply and roads under his government, contrasting it with the previous Digvijaya Singh-led Congress regime.
Raman Singh, known as the 'silent performer' in his party, also focused on growth and welfare. His speeches were replete with talks of development and good governance, of what his government did for farmers, tribals and the poor, of his initiative to provide subsidised rice to the poor, and of BJP-led Central government's steps such as rural housing and gas cylinders for poor households.
"Unlike the Congress, which only deceived the poor and the farmers, we worked for the development of Chhattisgarh," he claimed at a rally. At another, in the Maoist-affected belt, he said, "Dantewada was once known as a backward and Naxal-affected district but now has a new identity."
Raje, meanwhile, whose government is the most unpopular of the three, also stuck to the vikas theme. Sushasan (good governance), tarakki (progress) and women's empowerment were some of her favourite words.
The Rajasthan CM used her campaign to talk about the loan waivers her government gave to farmers, as well as achievements in education, information technology and employment generation.
---
Also read: Vasundhara Raje's bid to turn from 'maharani' to 'sevadarni' is too little, too late
---
The rabble-rousers
While the respective state CMs chose to focus on progress and reform, the BJP had its own warriors to aggressively peddle its Hindutva agenda — primarily Shah and Adityanath.
Sample this: Shah took up the theme of "identifying and throwing out each Bangladeshi infiltrators" in most of his campaign speeches across all states, even referring to them as "termites". He consistently also talked of giving citizenship to illegal Hindu immigrants.
Never one to shy away from making provocative statements around religion, Shah at a rally in Telangana said, "The Congress party in its manifesto promised to provide free electricity to masjids and churches but not for the temples. Quota for Urdu teachers will be decided as well.
"Both TRS and Congress are engaged in minority appeasement," Shah added.
The truth, however, was that Congress had promised free power to all places of worship, including temples.
Adityanath, meanwhile, played his part, raising the pitch even further. "If BJP comes to power in Telangana then BJP will work for renaming Karimnagar to 'Karipuram' and respect your sentiments," he said at a rally.
"If Hyderabad has to be transformed into Bhagyanagar then I call upon you to support BJP to form the government," he said at another rally in Telangana.
In yet another instance of an aggressive stand around the issue of religion, Adityanath took on senior Congress leader from Madhya Pradesh Kamal Nath for a video that allegedly showed him asking Muslim leaders to ensure 90 per cent votes for the Congress from the minority community.
"Kamal Nath ji aap ko yeh Ali mubarak, hamare liye Bajrangbali paryaapt honge (Kamal Nath ji, you keep your Ali, for us Bajrangbali is enough)," he said at a poll rally in Bhopal.
---
Also read: In alliance with Congress, Naidu seems to be finally emerging from NTR's shadow
---
Modi — the mixed bag
While the other leaders seemed to follow specific strategies, the PM took to a mixed approach. In his rallies in Madhya Pradesh, for instance, he talked about the BJP government's work, while attacking the Congress.
"People of the country now want to vote in the name of development and not in the name of caste or religion. Voters are watching. The previous government in the state has fooled the people," he said at a rally in Madhya Pradesh.
"Opposition parties are upset that how this present government is working hard for the development of the country, either in the education sector, building toilets, working for farmers among others," he said at another rally.
Modi also talked about his government's welfare initiatives such as Ujjwala, rural electrification and 'housing for all'.
In Chhattisgarh, Modi made a strong development pitch, talking about the Raman Singh government's achievements as well as strong stance against Naxalism. Claiming development was the BJP's" first priority", Modi spoke of the 'Sabka Saath, Sabka Vikas' slogan. In Rajasthan too, the PM talked of nari shakti and vikas but in the state where the party is perhaps fighting its toughest battle, Modi could not resist the urge to making the campaign shrill.
At a rally in Sikar earlier this week, the PM said: "When the surgical strikes took place, the entire country was filled with pride. But it seemed Congress went into mourning, they are not proud that our soldiers defeated our enemies."
Further escalating the nationalistic-fervour pitch, Modi made the crowds chant 'Bharat mata ki jai' 10 times at a rally in, claiming Congress president Rahul Gandhi had issued a 'fatwa' against him raising this chant.
Meanwhile, pointed attacks on the Congress party, its leadership and its legacy were regular features of Modi's speeches and the extradition of alleged middleman in AgustaWestland scam Christian Michel Tuesday gave the PM yet another weapon, besides his favourite namdaar versus kamdaar (the entitled versus the hard worker) jibe.
"I want to challenge them, let some good leader of Congress outside of the family become the party president for 5 years, then I will say that Nehru ji really created a truly democratic system there," Modi said at a rally in Madhya Pradesh, picking up the issue of dynasty in the Congress.
He also took on the Gandhi family over the National Herald case.
What, however, is to be noted is how Modi's pitch turned shrill and aggressive mostly in Rajasthan — the state where the BJP government and its CM are massively unpopular.
No set mission
What stood out, meanwhile, was the absence of any overt mention of a set target by the BJP in any of these states, or of winning a certain number of the total five states — something it has done in the past.
Ahead of the 2014 Lok Sabha polls, for instance, the BJP had set a 'mission 272+' target. It has a 'mission 350' for the 2019 polls. In the 2017 assembly polls in Gujarat, Shah had set a target of winning 150 of the 182 seats.
---
Also read: BJP's two-pronged poll approach — Vikas in manifesto, Hindutva in campaigns
---
Check out My543, our comprehensive report card of all Lok Sabha MPs.