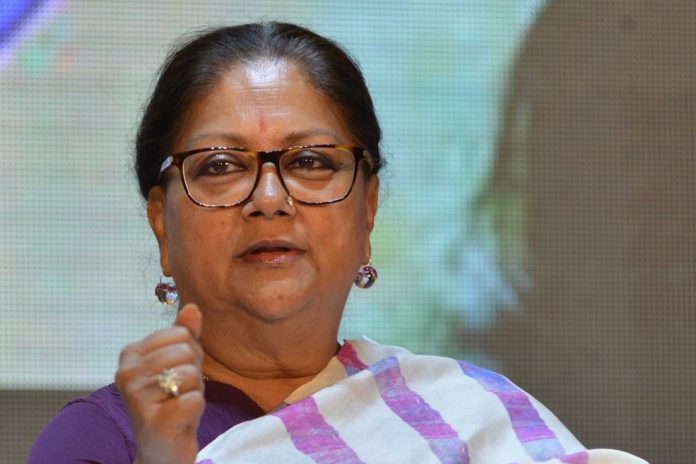 Text Size:
Rajasthan CM Vasundhara Raje's new identity is unlikely to pass muster in an election in which 'maharani' and her alleged conceit have become buzzwords.
Jaipur: Rajasthan Chief Minister Vasundhara Raje has given herself a new name — 'sevadarni' or someone who serves — a la Prime Minister Narendra Modi's self-description as 'pradhan sevak' or prime servant.
"I am a sevadarni, not maharani," said the chief minister on the campaign trail Sunday, responding to the opposition Congress' portrayal of her as a queen who has no connect with the people.
Raje was born into the Scindia family, the erstwhile rulers of Gwalior, and married into the erstwhile royal Jat family of Dholpur.
Her attempt to shed her royalty tag Sunday may have come a wee bit late. One factor that is common to all narratives about anti-incumbency against the BJP government in Rajasthan is her "arrogance", which is attributed to her blue blood.
"Usmein raja-maharaja ki boo hai (she stinks of royalty). She has no time to meet the aam aadmi," said Hajari Lal Gurjar, an elderly farmer of Bhojpura village in Sikrai constituency, about 60 km east of Jaipur.
Fellow villagers puffing from a common hookah nodded in agreement. They were not very happy with the Congress candidate in Sikrai, but would vote for her nonetheless because "our focus is on Jaipur". People across regions in Rajasthan express similar sentiments.
Not many are convinced
Raje has been citing her public contact programmes — Gaurav Yatra, Jan Samvad, and Sarkar Aapke Dwaar — to counter allegations of ruling the state like a maharani. But not many are convinced.
"She didn't give us time to meet even once in the past five years," social activist Aruna Roy told ThePrint.
Unlike her predecessor Ashok Gehlot, who was very accessible to people and would meet them at his residence every morning, Raje has remained inaccessible to them, and even to legislators, bureaucrats and party leaders.
"I haven't faced this problem but yes, some others have. The access control has been too much this time," a principal secretary-ranked government official told ThePrint.
There is nobody in the party who can claim to have Raje's ear, said a BJP leader. Citing her "obsession with total control", he pointed out that the state BJP didn't have a general secretary (organisation) — usually drawn from the Rashtriya Swayamsevak Sangh to ensure coordination between the Sangh and its ideological protégé, the BJP — in Rajasthan for about eight years until 2017.
She had never had a good equation with the RSS, which grew worse after she cleared the demolition of temples — 300 of them, according to opposition leaders — for the Jaipur Metro.
"It's not that she doesn't try. Don't forget the way she connected with the people through her Parivartan Yatra in 2003. She secured a majority in the assembly for the BJP for the first time in Rajasthan's history, something even Bhairon Singh Shekhawat couldn't ever achieve. Even in her second term, she tried to reach out to people. But somehow her maharani image doesn't leave her," said a Congress leader.
Somehow, Raje couldn't help it. In one of the videos doing the rounds on WhatsApp, she is seen going to people after her speeches and shaking hands with them. "Why should I vote (for you)? My children are sitting at home without a job," said an old woman. The chief minister just pulled her hand from hers and walked away. It's common knowledge in villages that Raje stays in "five-star hotels" when she is on tour, unlike Gehlot, who stayed in government circuit houses.
It's this impression of the chief minister that is held responsible when people complain about lack of water, unemployment, much lower price of their produce in mandis than what was announced as minimum support price (MSP), inflated power bills, menace of abandoned cows, harassment by policemen on roads, and so on.
---
Also read: Vasundhara Raje's struggle to get Muslim loyalist a BJP ticket holds a message for 2019
---
Things were different in this term
Those sympathetic to Raje claim that she did put in a lot of effort in her second term.
"She really worked hard this time. There was some element of truth in the '8pm, no CM' (8PM is a whisky brand) slogan in her first term, but she changed in the second. I met her several times after 11 pm," claimed a senior police officer.
This slogan reverberates in Rajasthan villages even today. But there is not much Raje can do about it. What do you do when you are typecast and don't have many loyal followers on the ground to counter the propaganda of your political adversaries?
Raje would know better. In 2003, under Pramod Mahajan's guidance, the BJP had started a slogan: "Gehlot aayega, akaal aayega, Gehlot jayega, akaal jayega (drought will come if Gehlot comes, drought will go if Gehlot goes)." It found strong resonance in rural areas, even though Gehlot's regime was known for effective drought relief management.
Alienated BJP's core support base
Political observers in Rajasthan believe that it's her arrogance that has alienated the communities who were the principal support base of the BJP. As a scion of the Maratha Scindia clan, Raje commanded the support of the Rajput community. But they are on a war path today.
While her decision to act independent of Shekhawat had not gone down well with the community, their alienation started in 2014 when she was seen as instrumental in denying a party ticket to former external affairs minister Jaswant Singh. His son Manvendra is contesting against her on a Congress ticket in Jhalrapatan this time.
Then there was the alleged fake encounter case against Anandpal Singh, a Ravana Rajput named in over 35 cases of murder and other crimes. His family refused to cremate the body for 20 days, demanding a CBI inquiry, even as many Rajput organisations resorted to violent agitations.
Raje wouldn't yield to any pressure tactic. It was only after a month that the state government wrote to the Centre for a CBI inquiry. Anandpal's daughter is now campaigning against the BJP.
When BJP national president Amit Shah wanted to appoint Gajendra Singh Shekhawat the state BJP president, Raje put her foot down. Shah had to relent after several weeks, but it again upset the Rajputs.
"She becomes obdurate — more so if there is any resistance or pressure. People interpret this personality trait as the arrogance of a queen," says a veteran journalist in Jaipur.
Raje's other self-proclaimed identities — "Jat ki bahu (daughter-in-law of a Jat)" and "Gurjar ki samdhan" (Raje's daughter-in-law is a Gurjar) — also don't seem to ring many bells any longer. Disenchanted with her regime, sections of Jats are returning to either the Congress fold or looking at Hanuman Beniwal, a fiery Jat leader who has floated his own outfit, as their benefactor.
---
Also read: Jats are the latest headache for Rajasthan CM Vasundhara Raje
---
With Sachin Pilot emerging as a contender for the chief minister's post in the event of a Congress victory, Gurjars may not be greatly inclined towards their 'samdhan' either.
Her multiple identities in a state with complex caste dynamics contributed significantly to her mass base in the past. Her new identity of 'sevadarni' is unlikely to pass muster in an election in which 'maharani' and her alleged conceit have become buzzwords.
Get the PrintEssential to make sense of the day's key developments