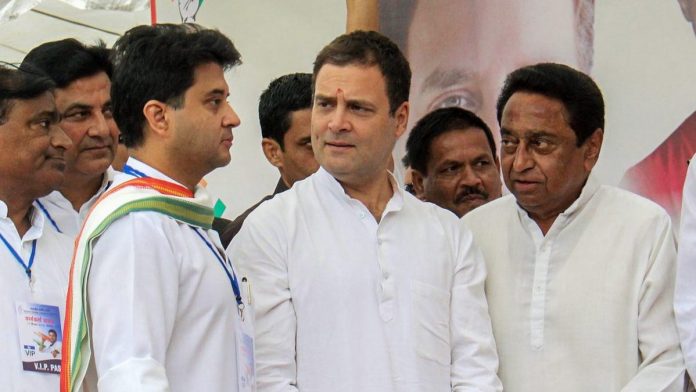 Text Size:
Waiting in the wings for 15 years to unseat the BJP, Congress presently seems to be falling just short of making this election all about itself.
Gwalior/Mandsaur: The 28-November election in Madhya Pradesh is tailor-made for the Congress.
An unmissable 15-year anti-incumbency sentiment against the Shivraj Singh Chouhan-led Bharatiya Janata Party (BJP) government, massive farmer anger, unrest in the business community over Centre's policies like demonetisation and Goods and Services Tax (GST) rollout, and general voter fatigue — factors that should have been enough for any opposition to latch on to and create a decisive wave in its favour.
Yet, even though "badlaav (change)" is a favoured term among voters here, something is holding the Congress back.
The party, which has been waiting in the wings for over a decade and a half to unseat the BJP, at least at this point, seems to be falling just short of making this election all about itself — not just a tilt towards change but a decisive desire for the Congress.
Nationally since 2014, Congress has been hitting one low point after another, with a plethora of factors responsible for its abysmal state of affairs. In Madhya Pradesh, when it has much going in its favour given the many vulnerabilities of the BJP government, several of these similar factors may have now come to define the Congress. Its own raw nerves are barely hidden from voters across the state either.
---
Also Read: By demonising RSS in Madhya Pradesh, Congress is only helping BJP
---
Leadership
Leadership is a question that haunts the Congress ever so often now. The party has many leaders in the state — primarily Pradesh Congress Committee chief Kamal Nath and the youth face Jyotiraditya Scindia.
The party, however, has chosen not to declare either of them as its chief ministerial candidate, which many voters believe has prevented a consolidation in its favour.
"It has been 15 years of one government, so nobody minds a change. But the problem is if we vote for Congress, we don't even know whom we are voting for," says Shakun Kushwaha, a 22-year old voter in Raisen.
"Is it Kamal Nath, Scindia or Digvijiya Singh? If we don't know whom, then we might think twice. A lot of voters who want Congress might be discouraged thinking at least we know Chouhan is BJP's face and there will be no surprises there," adds Kushwaha.
This belief that Congress could have perhaps been better placed had it put up a face to directly counter Chouhan runs across voters of different generations, regions and political affiliations.
"Had they declared a CM face, it would have been very easy for them to win this election," says octogenarian Jabarsingh Sharma of Gohad in Bhind.
The Congress, however, was bound by concerns of unrest among supporters of its senior leaders if one were to be named as the face. What this has meant though is that each of these leaders is operating within their regions of influence and power, preventing one from becoming the undisputed face of the Congress with a pan-state appeal, behind whom the whole party could rally and ask for votes.
Sanjiv Kumar Gupta, a farmer in Malanpur in Bhind, points out the same. "Scindia is restricted to Guna, Gwalior and other places in the Gwalior-Chambal region. Kamal Nath is limited to his Chhindwara and adjoining areas."
"This means there is no one face that can define the Congress across the state, and no one leader who is leading the campaign in all of Madhya Pradesh. I can see this drawback even though this time, I support Congress and want a change in regime," adds Gupta.
The factionalism factor
The intra-party rivalry within the Congress — a question that haunts it in various states — has been a major disappointment for the party in Madhya Pradesh.
Gutbaazi, or factionalism, is indeed something the voter has not missed either.
"There is a leadership crisis in the Congress both at the central and state level. But more importantly, on one hand it says it is a united party, and yet, there is factionalism," says Govardhan Tiwari of Bhind.
"We can't see any unity. That is clear even from the distribution of tickets, even in that there has been infighting. You can see the impact of this — things could have been much better for the Congress if not for such factional feuds," adds Tiwari.
The party, however, believes this infighting has been contained to a great extent.
"Today, every soldier of the Congress, whichever leader she/he may be aligned with, wants the party to be in power. They think the leadership question can be sorted out later," says a Congress leader in Gwalior who did not wish to be identified.
"It's now been 15 years and they are restless to be in power and get something at least," says the leader.
"The workers and leaders are all now working in their respective regions. It isn't that factionalism is over, but the desire to be in power has overshadowed it," adds the leader.
Not a 'credible' alternative
Some, meanwhile, do not even see the Congress as a viable alternative.
"How is the Congress any alternative? What have they done in the past? Both nationally and in different states, the Congress is barely seen as a choice," says Mohan Singh, a farmer in Behpur, Mandsaur.
Congress workers, meanwhile, do agree that while there may be a widespread desire for change, it may not necessarily reflect a desire to bring the Congress in.
"Our leaders believe that this entire chorus for change means it is a chorus to bring in the Congress. It is an assumption that everybody tired with the BJP will vote for us," says a party worker, involved with the campaign and research, in Gwalior on condition of anonymity.
"Some may not turn up to vote, some may vote for NOTA and in regions with a third option, some may go for that. We have to ensure we get these voters to not just want the BJP out, but also see the Congress as the obvious alternative," says the worker.
"The voters might not favour the BJP but that doesn't make them favourable to us. We have to work hard in this last stretch to ensure we are seen as a credible option," adds the worker.
---
Also Read: Shivraj Chouhan's Madhya Pradesh shows the more the Indian farmer grows, the angrier he is.
---
The Digvijaya baggage
Congress leader Digvijiya Singh was Madhya Pradesh chief minister for a decade — 1993-2003.
Fifteen years have passed since, but Singh continues to haunt the Congress, proving that an anti-incumbency sentiment can come back to hurt you even if you are not the incumbent.
"Why is the Congress carrying the burden called Digvijiya Singh, I fail to understand. If the Congress had distanced itself from him, it would have helped it a lot," says Tiwari.
"The dissatisfaction with his rule is still fresh and people talk about it," he says.
Mahesh Patidar, a farmer in agitation-epicentre Mandsaur, still recalls the difficulties he faced under Singh's rule.
"The biggest boon for us has been regular electricity supply under the BJP rule. That is a huge advantage," says Patidar.
"In Digvijay Singh's time, we had so many power cuts and load shedding that we were disillusioned. He gave us nothing at all," he says.
Congress workers, meanwhile, say Singh still continues to operate "silently through his networks", which often goes against the party's interests.
"He has been an organisation man and no other Congress leader in MP has a network as deep and widespread as him. He still works silently through them," says a senior party worker in Bhopal.
"He has sleeper cells across many villages and through them, he remains active. This can hurt the Congress," adds the Bhopal worker.
"Singh is deliberately being asked to speak less. If he is heard or seen, it irks people. So he is being made to stay away from the centre of the campaign," says the party leader in Gwalior quoted above.
The absence of an organisation
The biggest advantage of the BJP is its tentacled network, which coupled with the Rashtriya Swayamsevak Sangh (RSS), gives it an organisation that can reach far and wide, down to each voter.
The party's organisation pyramid — at the state, district, booth and cluster level — is hard for the Congress to match. This is particularly debilitating for the party in certain regions where reaching out to each voter could be crucial.
For instance, in Jhabua, a tribal dominated district, party workers say the Congress does feel the pinch and is relying merely on criticising the Chouhan government and cashing in on the unhappiness with BJP's rule. However, the BJP, through its organisation, is managing a voter outreach of a massive scale that is helpful in tribal areas.
Congress is trying to fill in the gap through its affiliates like the Seva Dal, the Youth Congress, the National Students Union of India (NSUI) and the Mahila Congress, but party leaders admit these are no match for BJP and RSS networks.
---
Also Read: BJP & Congress don't want to field Muslims in Madhya Pradesh. Muslims say they understand 
---
The disadvantage 
The one unmistakable disadvantage the Congress has, which even its supporters don't deny, is what voters see as a non-competition between Congress president Rahul Gandhi and Prime Minister Narendra Modi. Given there is no declared chief ministerial face for Congress, some voters look at it as a Gandhi versus Modi question.
More importantly, even though the state leadership is the dominant factor for BJP in this election, a popular national leader helps add a bonus point, which the Congress misses out on.
The chorus for bringing "badlaav" should have been a resounding cry for Congress in the state. One might argue that a call for change in a bipolar state like Madhya Pradesh anyway means a desire to see the other party.
However, Congress is still not the buzzword despite BJP's massive disadvantage. The line between a vote against the government versus a vote for the alternative is thin, but can be critical in a super-competitive electoral polity.
"Waqt hai badlaav ka (It's time for a change)" is the smartly coined Congress slogan. Will the party succeed in making it an emphatic "Waqt hai Congress ka"?
Get the PrintEssential to make sense of the day's key developments