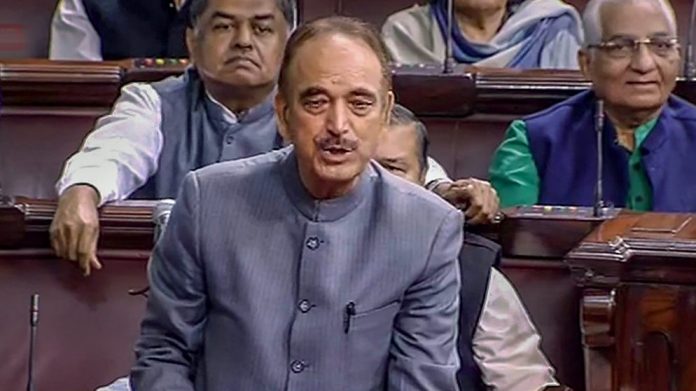 Text Size:
New Delhi: Jammu and Kashmir Congress leaders are irked with party President Rahul Gandhi for "sidelining" the former chief minister and senior leader Ghulam Nabi Azad from the state committees formed for the Lok Sabha elections.
Gandhi had recently constituted different committees ahead of the polls where precedence has been given to Congress president G. A. Mir, former union minister Saifuddin Soz and former MP Tariq Hamid Karra.
In response, the state Congress passed a resolution Saturday demanding that Azad, who is also the Leader of Opposition in the Rajya Sabha and AICC general secretary, be given the full charge of handling the party's election in J&K. Former legislators, vice-presidents, general secretaries are part of this resolution.
"Azad sahab is a national leader but he is also the face of Congress in the state. It is unfortunate that he (Azad) was placed on fourth position in these committees," Vice President of state Congress and former MLC, G. N. Monga, told ThePrint. "All the senior leader have unanimously requested the AICC president to look into the matter."
Monga added that there has been no response from Delhi so far.
The state Congress has argued that the top party leaders must keep in view Azad's "experience and developmental" work done during his tenure. Azad was the chief minister during the PDP-Congress coalition government that fell apart when the PDP withdrew support over the Amarnath Land row in 2008.
"He (Azad) kept the entire Congress leaders united under his control in the state," Monga said. "He delivered on all fronts mainly the developmental projects which were taken up then."
---
Also read: Ghulam Nabi Azad is wrong, mass appeal matters & not religion: Congress leaders
---
Azad disassociates himself from panels
On his part, Azad has dissociated himself from the state committees.  "I'm already a member of several such committees at the national level and was surprised to see inclusion of my name in these state level committees," told a local daily. "I have not been consulted for this inclusion thus I cease to be a part of these committees."
A party insider who works closely with him, however, said Azad does not want to talk about the issue publicly.
"I do not know about Azad sahab's grievance. My idea is he enjoys a good status at the top," former union minister Soz told ThePrint. "I think whosoever is given a role he/she has to do it."
"I was informed on phone that I am part of so and so committee," Soz added.  "If I am in campaign that means I am relevant."
Check out My543, our comprehensive report card of all Lok Sabha MPs.