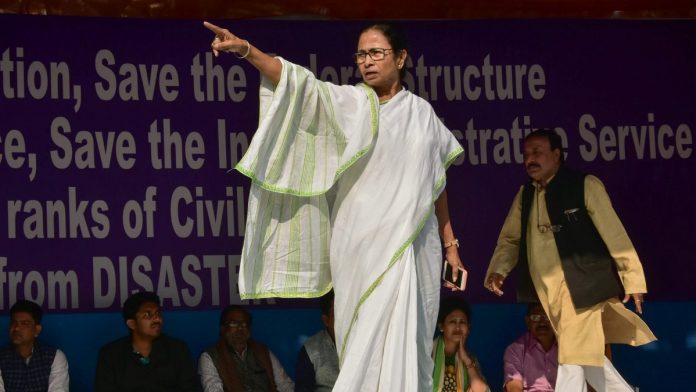 Text Size:
Front Page
West Bengal chief minister Mamata Banerjee dharna politics that ended Tuesday evening after the Supreme Court order on the Central Bureau of Investigation (CBI) controversy, make the headlines for the third day in a row.
Most newspapers treat the developments as impartially as the top court was in its ruling. However, The Times of India and The Telegraph clearly identify a villain and a winner.
TOI, in "SC: CBI can quiz Kol top cop in Shillong, but not arrest him. Delhi & Didi claim win," writes the verdict puts "an end to the West Bengal government's aggressive resistance" to the CBI. It cites Mamata Di's "massive mobilization" of state police to detain CBI officers and lay "siege" to its office.
TOI also censures her in its edit, "Loss of Face" (See Opinion).
In "Wham! How to give it back," The Telegraph declares Banerjee the sole winner for one reason: she "has positioned herself as a national trendsetter who struck back with ferocity" against Prime Minister Narendra Modi.
Hindustan Times plays it straight, simply reporting the SC verdict "easing a standoff between the two law enforcement agencies."
Exclusives
The Indian Express and TOI have exclusives today from UP.
Express reports on page 1: "VHP springs surprise: No Ayodhya temple agitation for 4 months." It quotes Alok Kumar, the international working president, to say the VHP will drop the issue for now because it will "become a petty electoral issue and get involved into politics."
Just a week ago, the Modi government had moved the Supreme Court requesting land "around" the disputed site be returned to its rightful owners — one of them, a VHP associated foundation.
"This reduces pressure on the BJP government and lowers the heat ahead of the polls," Express concludes in its 'Explained' box.
TOI's exclusive is more disingenuous. In "UP govt to drop cases against 100 accused in Muzaffarnagar riots," the bare-bones report does not mention the names of the accused or that they are Hindu. That information is buried on page 21, under a vague, if not misleading headline that reads "BJP MP: SIT cleared the rich, slapped cases on poor".
It merely notes that before the Uttar Pradesh government recommendation, "BJP MP Sanjiv Balyan had met CM Yogi Adityanath in Lucknow, last year, urging him to withdraw cases lodged against Hindus."
Cows and NRC
Congress's invocation of the National Security Act against three accused of cow slaughter is "echoing what its predecessor — the BJP government — did over the last 15 years," writes Express. TOI adds that it is "perhaps the first time a Congress government has done so."
In other big news, the top court rebuked the Modi government for trying to "destroy" the NRC process. The Centre moved the Supreme Court for an extension on the NRC deadline, due to the impending national polls. "The court observed that the government seemed hell-bent on stalling the work," writes TOI, and refused to budge from the 31 July deadline.
Opinion
The Kolkata standoff dominates editorial comment, this morning.
The most interesting is HT's "The police aren't a private army" on the "thriving nexus between IPS officers and netas…" The infighting within CBI, and the tussle between the agency and Mamata Banerjee "have thrown up an unsettling fact: the close association many India Police Service officers …have with their political masters."
Demands of "police reforms to insulate the force from external pressures," aside, "the real reforms… has to start from the civil servants themselves", writes HT.
TOI concludes that Mamata suffered "Loss of Face" with her "ill-conceived dharna." It criticises "her own repressive conduct" while being "a champion of democracy and constitutional propriety…" by citing her refusal to allow Yogi Adityanath's helicopter landing permission — "her dharna politics is also deeply flawed."
"Enough politics has been played and people are not fooled," TOI concludes.
The Hindu in "Unedifying episode" lauds the top court's role in "its ostensibly even handed intervention…" to de-escalate "political tensions, at least for now." The decision allowed the Bharatiya Janata Party (BJP) and Trinamool Congress (TMC) to claim "moral victory" — even if Mamata was "forced to climb down."
The Hindu is clear that Mamata's behaviour "was shocking and inexcusable.. (and) speaks poorly of her political maturity."
Prime Time
For the third evening, most news channels, English and Hindi, focused on various aspects of the political drama in West Bengal.
To relieve the monotony, Congress replaced the TMC as a topic of discussion on some channels: Times Now went after it on disenchantment within the National Students Union of India (NSUI), Harvest TV spoke to Milind Deora on discontent in the Maharashtra Congress and CNN News18 looked at Priyanka Gandhi Vadra's first 48 hours since she returned to India.
But it was still Mamata's evening.
On Republic Bharat anchor Arnab Goswami held a 7 pm discussion on "Kya Didi ki dadagiri par laga ankush?"
"Mamata Banerjee talks like 'gali ka gunda.' When police tries to catch her… she throws stones at the police," observed BJP leader Shrikant Sharma, rudely.
Political analyst Vishal Sharma wondered, "What gives Mamata Banerjee the right to stop Prime Minister's rally in Bengal?"
In an unusual moment, the Communist Party of India (CPI), that opposes Mamata in Bengal, appeared to come out in support of her: "BJP has tried to frame a police officer as a criminal," said CPI leader Amir Haider Zaidi.
Aaj Tak anchor Anjana Om Kashyap discussed Uttar Pradesh chief minister Yogi Adityanath's rally in Purulia, West Bengal. He had travelled there by road from Jharkhand after the Mamata government refused landing permission to his helicopter.
Congress spokesperson Sanjay Nirupam was critical of him: "If Yogi believes in being a sadhu, then he should leave his post as the (chief minister) and stop being involved in politics. He has spread a lot of fire."
To which Bengal BJP leader Roopa Ganguly, promptly, retorted, "It is easy to blame, Nirupam ji. West Bengal has only seen politics of violence in the last 70 years — it is a time that a new political party comes to power in Bengal."
TMC supporter Monojit Mondal was sarcastic: "There is no tax imposed (on) dreaming… or (using) foul language — BJP should continue doing that. I respect Yogi ji, he is a sanyasi aadmi, it is normal for him to go by road. Why should he fly?"
India Today and a C-Voter survey found that BJP's vote share in Bengal had jumped from 17 per cent to 32 per cent by cutting into the Left's vote share.
However, TMC's leader Kakoli Ghosh Dastidar put up a brave face: "People of West Bengal will definitely choose Mamata Banerjee. There is an unholy alliance between Left and BJP."
Tweets of the day
मुझे अत्यंत दुःख है कि हमारा बंगाल, आज ममता बनर्जी जी और उनकी सरकार की अराजकता और गुंडागर्दी से पीड़ित है। अब समय है कि बंगाल को एक सशक्त लोकतांत्रिक आंदोलन के माध्यम से संविधान की रक्षा हेतु इस सरकार से मुक्त किया जाय।

— Yogi Adityanath (@myogiadityanath) February 5, 2019
More importantly those who have lent support to the West Bengal Dharna are those who are battling serious allegations of economic improprieties, criminal misconduct and even corruption. Can "New India" be ever run by this Kleptocrat's Club?

— Arun Jaitley (@arunjaitley) February 5, 2019
Check out My543, our comprehensive report card of all Lok Sabha MPs.