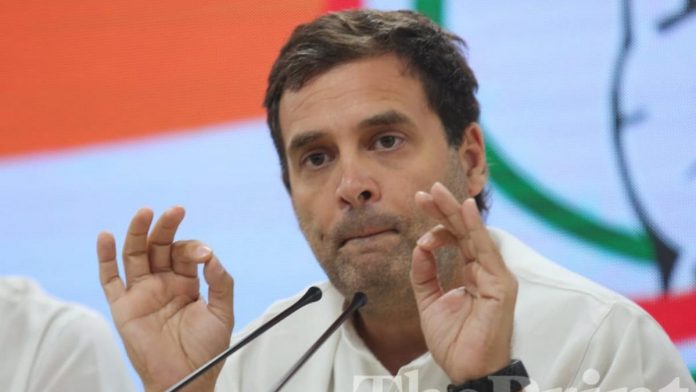 Text Size:
Front Page
Monday's big news story is Hindustan Times' simple headline: "Rahul to contest from Amethi and Wayanad."
While The Indian Express and The Times of India highlight the move as Congress's "southern outreach", The Hindu leads with "Left unhappy as Congress says Rahul will contest Wayanad too".
"The Left parties were cut to the quick and asked the Congress to spell out whether its primary target in this election was the BJP or the Left," adds The Hindu.
HT says the decision prompted "…the Bharatiya Janata Party (BJP) to call the decision an "escape" from his traditional seat".
"The party said the move was intended to strike a chord with south India," explains TOI, making sure to add "TOI had predicted that Rahul would contest from Wayanad in its edition dated March 24…The decision to pick a seat with a significant number of Christian and Muslim voters was also seen as a signal to minorities".
Express, provides a contextual analysis — it notes that Rahul is "following the footsteps" of his grandmother Indira Gandhi and mother Sonia Gandhi, both of whom contested from seats in the north and south. "Rahul's decision, in line with the Gandhis looking South when in crisis, appears to be a bid to make a larger political statement — that, unlike his prime challenger, Narendra Modi, he is not confining himself to the North," it writes.
However, in 'Explained', it says, "…the Congress move has also exposed faultlines in the Opposition camp. The decision may also leave the party on the defensive in UP, where it has ambitiously fielded Priyanka Gandhi Vadra to regain lost fortunes."
Also, it's April Fools' Day – is that why Express publishes its last 'Calendar' page first, today?
Exclusive
TOI's page 1 lead is an exclusive interview with finance minister Arun Jaitley: "When ex-RBI guvs get political, it hurts cause of autonomy: FM"
In response to a question on former RBI governor Raghuram Rajan voicing doubts about the GDP data, he says: "He is a very brilliant man but after getting into the political thicket, if you make statements, then I will take it as more political than economic".
The interview continues on page 8, and switches to a Q&A format. TOI's questions are largely about the Opposition, almost inviting criticism — among the questions asked are, "You have called Rahul's minimum income guarantee plan a bluff. Why?", "How do you look at the fact that a former RBI governor is being consulted by a political party?", and "What is your impression of Priyanka Gandhi?"
Chowkidar
HT and Express front page the PM's "Main bhi Chowkidar" rally, where he said, "Country needs chowkidars not kings" (HT). Addressing a crowd of "Bharatiya Janata Party (BJP) workers, farmers, traders and watchmen, the PM said he has tried to deliver on the promise of punishing those accused of corruption, but he needed more time to bring them to justice", writes the report.
Express chooses a far more dramatic statement for its headline: "Pakistan will die its own death, leave it, let's move ahead: PM."
Express and Hindu also report "Lynching accused seen at BJP rally" addressed by Uttar Pradesh chief minister Yogi Adityanath where he said, "SP govt tried to curb our emotions" following the lynching of Mohammed Akhlaq in 2015 (Express).
Prime Time
Prime Minister Narendra Modi and Congress president Rahul Gandhi were the talk of TV news, most of Sunday.
There were also interviews galore, with BJP president Amit Shah and Uttar Pradesh chief minister Yogi Adityanath leading the way.
Rahul Gandhi's decision to contest the Wayanad Lok Sabha seat, along with Amethi, made him a newsmaker while the PM's speech at the BJP's 'Main Bhi Chowkidar' event was telecast live across Hindi and English news TV.
Republic TV spent much of Sunday replaying anchor Arnab Goswami's Friday interview with the PM. Goswami, then, discussed the interview in his 'Sunday Debate'.
He informed viewers that Modi told him BJP would win the Lok Sabha elections by a two-thirds majority — Congress would never be able to form a government, again.
Research Scientist Anand Ranganathan took a potshot at Congress: "After the former Air Force Chief's statement that post-26/11, it was ready to bomb Pak's terror launchpads but the Congress government didn't give its nod — nothing more needs to be said."
"On every issue, Congress is on the same page as Pakistan, and the people will never forgive them," added journalist and author Madhu Kishwar.
Times Now anchor Athar Khan focused on Gandhi's Kerala gamble.
Political commentator Sanjeev Srivastava said the move had "two elements": one to "energise" the Congress in the South. The second was worries about Amethi. Srivastava felt these were needless: "Rahul has been going to Amethi every month. I personally think he is winning from Amethi."
News X also debated Gandhi's moves to Wayanad. Communist Party of India (Marxist)'s Suneet Chopra thought the move "served the interests of the BJP".
BJP's Sudhanshu Trivedi said the CPI-Congress spat on Gandhi's choice of Wayanad revealed the "inherent contradictions in the alliance".
There's no agenda to revive the Congress (in the south), it's about "reviving Rahul Gandhi", he added tartly.
News India 18 and CNN News 18 saw Rahul Joshi interview Amit Shah at its "Jai Hind Samman Awards" for the families of the soldiers who died during the Pulwama, Pathankot and Uri terrorist attacks.
When asked if BJP exploited communal politics, Shah countered, "If you call gau raksha communal then what would you call Gandhi ji?"
Will the Ram Mandir will be built, Joshi inquired. "Ram Mandir should be built at the earliest…but our stand is clear — we don't consider the site to be disputed," Shah replied.
On China's veto at the UNSC against declaring Masood Azhar an international terrorist, Shah repeated the current BJP line: that was a "gift" to China presented on a "thali" by then prime minister (Jawaharlal Nehru).
On India News UP chief minister Adityanath claimed the "mahagathbandhan" had lost steam in UP, "hawa nikal gaya" — caste politics and family parties no longer worked, he claimed.
He was equally scornful of Priyanka Gandhi Vadra's possible challenge in eastern UP: "Mrs Vadra" as he called her, had but one issue: "Modi, Modi, Modi".
Tweet of the day
Today, there are 22 Lakh job vacancies in Government.

We will have these vacancies filled by 31st March, 2020.

Devolution of funds from the Center to each State Govt for healthcare, education etc. will be linked to these vacant positions being filled.

— Rahul Gandhi (@RahulGandhi) March 31, 2019
Get the PrintEssential to make sense of the day's key developments