Text Size:
James Si-Cheg Chao was an ambitious and enterprising young man who left his temporary home in Taiwan in 1958 to seek his fortune in the United States. He had studied at the Shanghai Jiao Tong University along with the future mayor of Shanghai and general secretary of the Chinese Communist Party (CCP), Jiang Zemin – who, incidentally, went on to become the president of China between 1993 and 2003. James Chao kept in touch with Jiang after he left China and the two would meet frequently. After Chao formed his Foremost Group, which dealt with shipping, among other things, in 1964, he ordered two ships to be built in Shanghai when Jiang was mayor of the city.
James Chao became an all-American philanthrope and, therefore, an eminently acceptable Chinese American. Soon the Foremost group was chartering its ships to Chinese giants like Cosco and Sino-Trans. Elaine Chao, James Chao's oldest daughter, married Senator Mitch McConnell in February 1993, who is currently the US Senate majority leader. Shortly after their marriage, McConnell and Elaine called on Jiang Zemin in Beijing, accompanied by James Chao. Elaine went on to become George W. Bush's labour secretary and is now President Donald Trump's transport secretary.
In 2008, the couple received a sum between US$ 5 to 25 million from James Chao, according to a New York Times report dated 16 September 2019. It also disclosed that the Foremost Group had received hundreds of millions of dollars as loans from a Chinese government bank to help build ships that the company purchased from government-owned shipyards in China. As transport secretary, it was alleged that Elaine enabled her family's shipping company to transport raw materials from US and Canada to China.
The plot thickens. Soon after Donald Trump was elected president, Elaine's younger sister, Angela, who was CEO of Foremost Group, was appointed to the board of directors at the Bank of China. This was Angela's second major assignment in China. Along with her father, she was also a member of the board of China State Shipbuilding Corporation, the country's largest defence contractor. No one apparently even raised an eyebrow in the US that the Senate majority leader's sister-in-law was on the board of a major business rival of the country, not to mention the fact that she was also a board member of China's national bank. This naturally provided superb access to the Chinese and the CCP for its influence operations (Robert Spalding, Stealth War: How China Took Over While America's Elite Slept).
There are other stories too – of how Robert Hunter Biden, the son of the former vice president, Joe Biden, travelled with his father on Air Force Two to China in December 2013, where he struck a private deal to establish a US$ 1 billion investment fund with a company called Bohai Harvest RST, which had the support of the Chinese government. The Chinese in effect gave the American vice president's son a 'gift' of US$ 1 billion dollars. It is impossible to assume that Biden would see anything remotely evil about China. Considering that Biden is currently ahead of Trump in the run-up to the forthcoming elections, should he win the presidency, the US-China relationship could alter.
---
Also read: US' decoupling from China has begun. Modi govt must work to minimise India's losses
---
'A Love of Gain'
Communist China has perfected the art of influencing people and making them do what is best for the country. It has done this through subterfuge, financial tie-ups, bribery, blackmail and much more. The scale of its operations in subverting American and other Western leaders and businesses is so vast and profound that China is actually viewed as a benefactor and saviour of the West – not its mortal enemy. It is on this narrative, so assiduously and consciously cultivated, that its success rests. The COVID-19 global pandemic will surely dent this narrative, but it is too early to say whether it will succeed in discrediting it entirely. Besides, older civilizations have deep roots, great resilience and unwavering momentum once they start on a particular
path.
---
Also read: Hitting China's soft power where it hurts. Pushback against TikTok, Confucius centres rise
---
Soft Power Play
China exerted its soft power by abandoning the usual export of ideology and substituting it instead with building strategic partnerships with neighbours. It also followed the British and American examples of opening its educational institutions to students from its periphery. It may be difficult to quantify the exact benefits from this education, but it did serve the purpose of getting across China's points of view, and creating awareness and empathy about its society, culture, history and politics. This was an influence builder, but perhaps only to a limited extent – unlike what America and Britain obtained from offering education to the young from other countries. China's rise as a military and economic power was impressive and, by the end of the twentieth century, it was clear that China would be challenging the US for global supremacy.
It, however, needed a strategy which would counterbalance its image as a hard military and political power. It needed soft power – something that is derived from culture, which makes a country attractive enough to others to want to emulate its political values.
The ability of the country to abide by them at home and abroad is an important aspect of this image. Its policies need to be realistic and legitimate as a model figure of authority. This is the kind of image that the US and the West have been able to project historically. China's charm offensive in Latin America and Africa, regardless of any moral compunctions about the nature of the states it was dealing with, succeeded to a limited extent. Europe, the US, India and Japan remained sceptical of such overtures.
The Beijing Olympics of 2008 and the Shanghai Expo of 2009 were mega successes as exhibitions of the country's soft power. But China's human rights record was sordid enough. Its crackdown on activists and the jailing of Nobel Peace Prize laureate Liu Xiaobo after the award had been announced did not help its image. An infuriated China retaliated by banning the import of salmon from Norway, which achieved nothing for it either.
Like most autocratic regimes, Chinese leaders presume that the main method of exercising or promoting soft power is through state institutions. They mistake government propaganda for soft power in this age of information overload. Xinhua and the China Central Television are no rivals to Reuters, AFP, CNN or BBC. Weibo cannot match the global reach of Facebook or Twitter; all it can do is to restrict outside information and influence from coming into China. But the country's voice outside its borders remains brittle, wooden and largely unintelligible. The West, on the other hand, built its soft power early in the twentieth century, when there were few rivals. It consolidated its narrative by co-opting the private sector, civil society and individuals in building its image abroad.
Beijing does not have a Hollywood that has a universal reach. It does not have the English language. The absence of these two does not restrict the growth of technological, military and economic power, but it does limit China's profile and influence. It is encouraging people in other Asian countries to learn Mandarin as their second language – especially where languages like Japanese, Korean and Vietnamese may have something more in common with Mandarin than with English. Try as China might, though, Mandarin is hardly likely to replace English as the global language.
Espionage for technology and information warfare, or political warfare as it is also known, have been the two main priorities of Chinese intelligence. Political warfare is meant to shape perceptions and the way people, at home and abroad, think of China. Commenting on the American ability to exert its soft power in the context of the CIA's notorious interrogation techniques, the Chinese government's mouthpiece, Global Times, said on 11 December 2014 that the US was 'able to spin such wicked acts as prisoner abuse to become a positive through mobilizing pro-US forces worldwide'. It went on to say that this was a result of US soft power, which was positioned at the centre of the global order, and that this gave them 'incomparable abilities in controlling resources and discourse power'.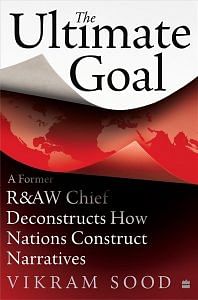 This excerpt of The Ultimate Goal: A Former R&AW Chief Deconstructs How Nations And Intelligence Agencies Construct Narratives has been published with special permission from Harper Collins.
Subscribe to our channels on YouTube & Telegram
Why news media is in crisis & How you can fix it
India needs free, fair, non-hyphenated and questioning journalism even more as it faces multiple crises.
But the news media is in a crisis of its own. There have been brutal layoffs and pay-cuts. The best of journalism is shrinking, yielding to crude prime-time spectacle.
ThePrint has the finest young reporters, columnists and editors working for it. Sustaining journalism of this quality needs smart and thinking people like you to pay for it. Whether you live in India or overseas, you can do it here.