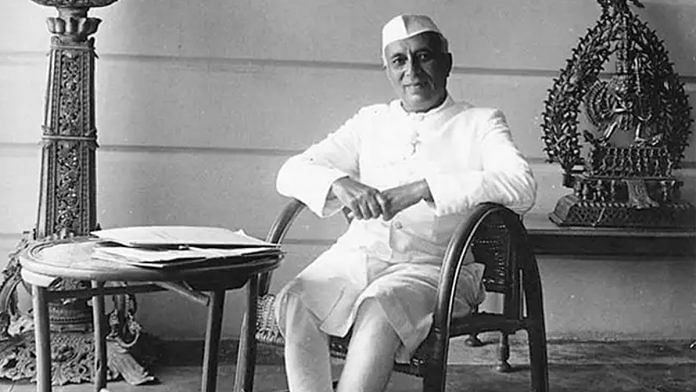 Text Size:
Imagine Jawaharlal Nehru sitting down for a tell-all TV studio interview, answering direct questions about his personal life and the policies of his government. Wouldn't it be fun to know what India's first prime minister thought of his able comrades like C. Rajagopalachari, Sardar Patel, Maulana Azad and Subhash Chandra Bose's leaning toward Hitler?
Well, a lesser-known book consisting of 19 interviews that Nehru gave between October 1958 and October 1960 can satisfy such curiosities. The interviewer, Ramnarayan Chaudhary, was no journalist. He was a veteran Gandhian from Rajasthan, which is probably why Nehru opened up to him and gave candid answers.
Rajaji's distance from Congress
When he was asked about C. Rajagopalachari, the last Governor General of India who happened to be in opposition at the time of the interview, Nehru replied: "He is much praised throughout the history of Congress. But he was never in the Congress entirely. I mean, he was away from the Congress world." (Panditji-Potane Vishe, edited by Ramnarayan Chaudhary and translated by Karimbhai Vora, Navajivan Trust, Ahmedabad, 2013. Page 58).
Nehru recollected Rajagopalachari, popularly known as Rajaji, acting in such a way "that would weaken the movement… So, despite appreciation for his intelligence and ability, he never came in to the Congress, to the Congress atmosphere, or belonged to the Congress masses fully." He added that "(Rajagopalachari) was an old timer in the Congress. Yet for one reason or the other, he could never become the Congress president." When asked about Rajaji's best quality, Nehru said, "It was his intelligence, which was sharp. What was not-so-positive in his qualities was also a result of the same intelligence." (Page 59)
---
Also read: Gandhi loved Sardar Patel's humour: 'He makes me laugh till I can laugh no more'
---
Patel's style of working, Azad's intellect
Nehru spoke highly of Sardar Vallabhbhai Patel's working style. According to him, "Sardar's whole life was a symbol of his thoughts, his ability and his working capability… He was a stern and strict disciplinarian." (Page 57)
Nehru drew an interesting parallel between his and Sardar Patel's style of functioning. "You just compare how Congress worked in Gujarat and in UP (Uttar Pradesh). He created a solid organization in Gujarat where there was not much flexibility. It had its strength and weakness too, that popped up later… No one person had control (over Congress) in UP. At least 10 to 12 persons were there and all of them were equal…They kept on changing. Not like Gujarat and Bengal where a single person was there for ten years… In UP, there was space for opposing one another and open discussions. But when it came to implementation, all came together. This had its weaknesses and strengths both." (Page 57-58)
"Maulana Azad was just one year elder to me. But he was so much respected for his scholarship that he was considered an elder right from the beginning." After praising India's first education minister Azad's sharp intelligence, Nehru drew attention to an interesting trait of his personality. "He was afraid of crowds and would keep away from the hustle. We had to forcibly take him along… He had one issue. He was so occupied with his own matters that people couldn't reach him easily. He would meet people nicely, but he wouldn't open up and form close bonds." (Page 55-56)
---
Also read: Gandhi never celebrated his birthdays, but made an exception on his 75th. For Kasturba
---
Netaji's leaning towards Hitler's Germany
"It is a known fact that Subhashbabu was a brave man," Nehru said about 'Netaji' Subhash Chandra Bose. "His mind was full of thoughts about India's independence. Sometimes our thoughts did not match. But it hardly mattered at that time." According to Nehru, "to leave Gandhi was equivalent to leaving politics in India. If we had quarrel with him (Gandhi), we could argue… Gandhi was such a necessity of India that it could not be fulfilled by any other person. So one had to stay with him anyway… But Subhashbabu did not find it necessary to act according to his advice. This was the difference between our thoughts. Also, he leaned a bit towards Hitler's Germany at that time and I was fiercely opposed to it.' (Page 56-57)
Madan Mohan Malaviya, a stalwart of moderate politics and an early champion of non-violent Hindutva who was posthumously awarded Bharatn Ratna in the first year of Narendra Modi government's rule in 2014, was a local hero for Nehru. "I had respect for him right from my younger days in Allahabad…Whenever we were confused or agitated before Gandhiji's arrival in India, we would rush to him and would urge him to do something… My education was foreign, my background was different, and he was different. Yet I respected him much. He was always a link between Moderates and Extremists. His feelings pushed him on one side and his ideology pushed him on the other. He was one of those leaders who shaped Congress in its initial phase. He was there till the end, though he was never into Gandhi's Congress entirely. Yet, he never left it either." (Page 60)
---
Also read: The many plots to kill Jawaharlal Nehru from 1948 to 1955
---
Lajpat Rai's politics ahead of its time
Similarly, Nehru had great things to say about Lala Lajpat Rai, who had turned hostile towards Motilal Nehru because his politics later on became communal. "I did not have close association with him," Nehru recalled. "But he was perhaps first among older generation leaders who stressed on two things: his attention was somewhat drawn towards labour issue i.e. economical issues and he was all for awakening the women folk. Many took up those causes later on but it was not present among the leaders of the previous generation." (Page 55)
Ramnarayan Chaudhary conducted this series of interviews for All India Radio, but according to a report, noted filmmaker Shyam Benegal could not find those tapes while making a documentary on Jawaharlal Nehru in the 1980s. He was told by the authorities that the materials had been "borrowed but never returned". (Benegal's film Nehru was released in 1983.) Navajivan Prakashan Mandir, Ahmedabad, published the transcripts provided by Chaudhary in 1961. The book in Hindi was later translated into Gujarati by Karimbhai Vora and published by the Navajivan Trust in 1963.
There are many books about conversations with Nehru. But Chaudhary's book stands out for its intimacy between the subject and the interviewer. Chaudhary clarifies in the preface of the book that he considers Nehru his leader in all public affairs – "except those in which his (Nehru's) views differ from those of Gandhi's." (Page VI)
The author is a senior columnist and writer based in Ahmedabad. Views are personal.
Subscribe to our channels on YouTube & Telegram
Why news media is in crisis & How you can fix it
India needs free, fair, non-hyphenated and questioning journalism even more as it faces multiple crises.
But the news media is in a crisis of its own. There have been brutal layoffs and pay-cuts. The best of journalism is shrinking, yielding to crude prime-time spectacle.
ThePrint has the finest young reporters, columnists and editors working for it. Sustaining journalism of this quality needs smart and thinking people like you to pay for it. Whether you live in India or overseas, you can do it here.