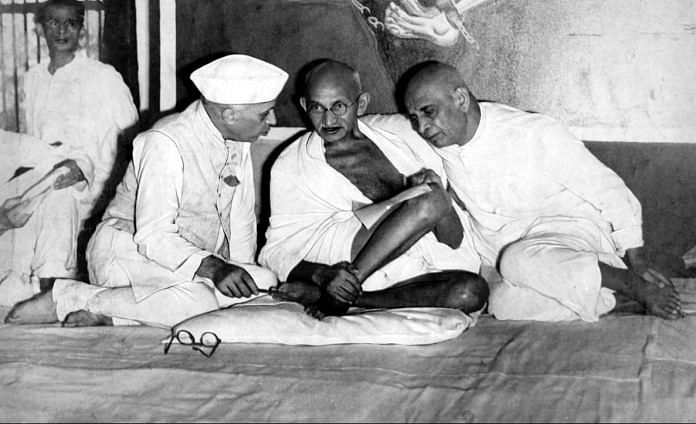 Text Size:
Sardar Vallabhbhai Patel was known as a tough taskmaster, 'Iron Man' and unifier of India. Baburao Patel, editor of the famous monthly Film India, who described him as the best mapmaker India had, also called him 'The Congress Sphinx' (October 1942, Film India).
What was not widely known, at least outside Gujarat, was Sardar Patel's sense of humour and satire. His comments and jibes had the distinct flavour of Charotar, a rich agricultural region in the Kheda district of Gujarat, known later as the birthplace of Amul.
Sardar Patel's words were biting and unsparing when not outright hilarious and rustic. Even during his school days, his Gujarati teacher taunted him for opting out of Sanskrit and preferring Gujarati as an additional subject. "Every Hindu student in this country should learn Sanskrit," the teacher had said. But Sardar Patel was not one to be cowed down. He replied to his Gujarati teacher: "Sir, you would have been sitting at home if all the students had taken Sanskrit". (Patel: A Life, Rajmohan Gandhi, Ahmedabad. 1999. Page 11.)
---
Also read: Gandhi is a Mahatma, I am not, said Sardar Patel
---
Chaff among wheat
Patel had disdain for unending intellectual discussions. Even though he was a barrister from London, he would introduce himself as an illiterate or 'fourth standard pass' in many of his speeches, stressing more on concrete work than on education.
Just two months before Gandhi's famous Dandi March in 1930, Sardar Patel was invited to address a gathering of graduates at Gujarat Vidyapith, established by Gandhi himself. He wondered aloud: "Why have you chosen an illiterate like me as president of the gathering?" He described himself as "chaff among wheat" in such programmes.
He summarily dismissed "bookish education" and stressed on character development. "You will get many such people [with bookish education] just sitting idle at Gujarat Club [where he used to pass time as a lawyer] and you can easily hire them," he said. To underline his point, he narrated an incident: "I know of a man who became a scholar of Sanskrit at Kashi and sat at a dyeing shop. But what can he do there with his Sanskrit? You can't make bills in Sanskrit. Now he has dumped himself at Mumbai." (Sardar Vallabhbhainaan Bhashano, Ed: Narhari Parikh, Uttamchand Shah, Ahmedabad, 1949. Page 220-222.)
---
Also read: The political dynasty nobody is talking about: Sardar Patel's
---
Of buffaloes and tigers
Sardar Patel used forceful language and satirical expression generously in his public speeches to mobilise and charge people. He was at his best during the Bardoli Satyagraha in 1928, which earned him the popular title of 'Sardar'. When local government officials started confiscating buffaloes and other properties of farmers for non-payment of tax, Sardar Patel told them: "The temper of government has risen. Let iron be hot. Hammer has to remain cold. Else it would harm itself." Referring to a tax collector, he said, "Your local confiscator is a Brahmin. He wakes up at 4 in the morning, but instead of remembering God, he remembers buffaloes these days…. Government servants complain about the noise made by buffaloes [while confiscating them]. Why don't they bring out a notification for buffaloes that they should not make noise? They ask whether we are careless about our [confiscated] buffaloes. My answer is, yes, we are. We think our buffaloes have acquired Government plague."
At the end of one of the meetings, grunts of buffaloes were heard. Sardar Patel instantly told reporters to report that even buffaloes made speeches. "If you still don't understand what kind of rule is this, listen to these buffaloes. They say, it is the rule from which justice has eloped hiding its face." (Sardar Vallabhbhainaan Bhashano, Ed: Narhari Parikh, Uttamchand Shah, Ahmedabad, 1949. Page 159)
His pet name for the confiscators was "buffalo-eating tiger".
After securing victory in Borsad Satyagraha in 1924, Patel told the locals, "When we make you fight with the government, you shower much love on us. But the real test of your love will be when I make you fight with your own limitations…. Government is maya [illusion], a castle in the air, a bubble of water. It burst as soon as we identify it. But we have blindfolds on our eyes. So, we haven't known it in its real form'. (Sardar Vallabhbhainaan Bhashano, Ed: Narhari Parikh, Uttamchand Shah, Ahmedabad, 1949. Page 103)
---
Also read: In defending Jawaharlal Nehru, Congress loses Sardar Patel to BJP
---
Jokes with Gandhi
Gandhi was fond of Sardar Patel's humour. He was one of those few contemporaries who could joke with and joke about Gandhi. There were many light exchanges between them during their association of more than three decades. Their stay together at Yerawada Prison provided some special moments. They were joined by close confidante Mahadev Desai in the jail.
As Patel's biographer Rajmohan Gandhi has noted: "This Boswell had two Johnsons." (Patel: A Life, Rajmohan Gandhi, Ahmedabad. 1999. Page 214.) Mahadev Desai's diary of that period is full of small anecdotes on Sardar's humour. Gandhi had a habit of adding a pinch of soda to almost everything in those days. It became one of Sardar Patel's stock comments. Whenever a difficulty arose during their jail stay, Sardar would say: "Add a pinch of soda and all will be well."
Gandhi used to receive letters of all sorts, especially seeking guidance in 'problems' such as, "How can a man weighing three maunds avoid crushing ants when he walks on this earth?" Sardar would be quick to reply: "Tell him to walk with his feet on his head." (Patel: A Life, Rajmohan Gandhi, Ahmedabad. 1999. Page 217-218)
While reading an English book, Gandhi got stuck at the meaning of the phrase "British Bible". Sardar Patel quipped: "What else can be a British Bible? Pound, Shilling and Pence." To Gandhi's surprise, the same meaning was written in the book. Replying to Srinivasa Sastri's enquiry whether solitude led to depression, Gandhi wrote this about Sardar Patel's company: "His jokes make me laugh until I can laugh no more, not once but several times a day." (Patel: A Life, Rajmohan Gandhi, Ahmedabad. 1999. Page 218.)
The author is a senior columnist and writer based in Ahmedabad. Views are personal.
Subscribe to our channels on YouTube & Telegram
Why news media is in crisis & How you can fix it
India needs free, fair, non-hyphenated and questioning journalism even more as it faces multiple crises.
But the news media is in a crisis of its own. There have been brutal layoffs and pay-cuts. The best of journalism is shrinking, yielding to crude prime-time spectacle.
ThePrint has the finest young reporters, columnists and editors working for it. Sustaining journalism of this quality needs smart and thinking people like you to pay for it. Whether you live in India or overseas, you can do it here.