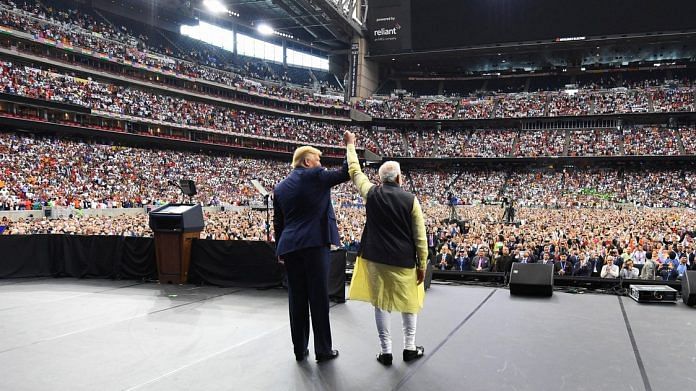 Text Size:
The leader of the world's oldest democracy will pay a visit to the world's largest democracy next week. This will be President Donald J. Trump's first official visit to India, reciprocating a visit by India's Prime Minister Narendra Modi to the United States in September 2019.
Looked at superficially, the upcoming two-day visit should be an opportune moment to jump-start the US-India relationship, which has languished since the high watermark of the nuclear accord agreed in 2008 in the waning days of the George W. Bush presidency. Relations were cordial during the eight years of the Barack Obama presidency, including a visit by Obama in January 2015 as the guest of honour at India's Republic Day celebrations and an address by Modi to a joint session of the US Congress in June 2016. However, no major accords comparable to the nuclear deal were struck during this period.
In theory, relations ought to have improved with the ascent of Trump to the presidency, who ostensibly has much more in common ideologically with the nationalist Modi than the liberal internationalist Obama ever did. Trump's attempt to cut a rising China down to size should also have played well for a democratic India which has been seen in the US as a counterweight to China.  But how have matters actually played out?
---
Also read: No trade deal with US during Trump visit as India doesn't want to rush into one
---
India is one of the countries that was hit by Trump's steel and aluminum tariffs in March 2018. India followed suit with retaliatory tariffs in June 2019 which targeted iconic American products such as apples from Washington state. This followed a March 2019 decision by the US to revoke India's preferential access to the US market under the World Trade Organization's Generalized System of Preferences (GSP). That decision in turn was the result of an ill-advised Indian policy of capping the prices of medical devices, including stents, which adversely affected the US industry. To make matters worse, Indian authorities did not allow US medical equipment manufacturers to exit the Indian market following the price caps, leading to large losses for these firms. As a consequence, AdvaMed, the medical device manufacturers' trade association, then lobbied the US administration aggressively to revoke India's GSP status.
The trade dispute between the two countries has worsened, with most recently the United States Trade Representative removing India from the list of developing countries who are entitled to benefit from US tariff preferences when it comes to countervailing duties. The determination was based on the fact that India is a G-20 member and accounts for at least 0.5 per cent of global trade. This makes it highly unlikely the US will reverse India's ineligibility for the GSP, which is normally given only to developing economies.
The USTR's recent decision couldn't be more poorly timed from the Indian point of view, coming as it does just before the President's visit. Nor have Indian authorities done themselves any favours by their incoherent response to the loss of GSP. The initial response of the Indian Commerce Minister, Piyush Goyal, was to dismiss the US action as irrelevant, since India, a rising economic power, didn't need this special treatment. His remarks echoed that of the Commerce Secretary (India's top trade bureaucrat), Anup Wadhawan, who likewise had dismissed any possible detrimental impact of the US decision. However, when the reality that the loss of GSP would significantly impact the Indian economy, which was already heading into a severe downturn, hit home, initially obstinate Indian officials then quickly did an about-face and petitioned the US to restore GSP.
The Indian flip flop on the GSP could not but have been noticed by President Trump and USTR Robert Lighthizer. The latter, in fact, canceled a scheduled visit to India to coincide with the President's visit — making it even less likely that any trade accord could be reached between the two countries during Trump's upcoming visit.
---
Also read: Will the spectacle of Trump visit without a trade deal boost India-US ties?
---
The harsh reality that Indian officials woke up to, too late in the game, is how unequal the two partners are. In 2018, the US was India's largest export destination at 16 per cent of total exports, and second-largest source of imports after China at 6.3% of total imports. By contrast, in 2019, India accounted for a measly 2.09% of US exports and 2.30% of total US imports. Clearly, the US holds all the cards in the bilateral trade relationship, something Trump and Lighthizer fully understand and can exploit in their negotiations with dithering Indian officials.
The recently agreed Phase 1 US-China trade agreement reflects the reality that China has far greater clout negotiating with the US than most other countries. This stems from the huge imbalance in the two countries' trade and the dependence of the US market on cheap imports from China, as well as US reliance on China as a source of cheap capital to finance the huge US current account deficit. India simply has no comparable levers with which to negotiate with the US, and therefore there is no reason for Trump or Lighthizer to make any but token concessions in negotiations with India.
The superficial similarity of Trump and Modi as conservative nationalists disguises the much greater and far more significant difference: Trump is a free market capitalist who has cut regulations and improved the doing business climate in the US, while Modi as an economic nationalist has done exactly the opposite in India, worsening the regulatory burden on firms and doing nothing to lessen the outsized role of the government, including government-owned businesses, in the overall economy.
There is also a key difference between Trump's strategic use of tariffs to pry open foreign markets and India's knee-jerk recourse to protectionism to shield an inefficient domestic industry from foreign competition. India's return to import substitution after more than a quarter-century of trade liberalization represents a fundamental shift in economic policy in India away from a move toward free-market capitalism and back toward government interference in the economy.
By contrast, Trump's selective and targeted use of tariffs has won important concessions from trading partners as different as China and Canada. Meanwhile, the much anticipated "mini trade deal" between the US and India, if it even occurs, would at best restore India's GSP access to the US market in return for a range of concessions to the US on a modest range of products from chicken legs to large engine Harley Davidson motorcycles. This is not the stuff of major trade deals. Compare this to the Chinese commitment to spend $200 billion on a long list of US products: everything from airplanes to agriculture to pharmaceuticals and oil and natural gas. There is simply no comparison between the economic clout of China and India, nor is India tightly wound into global value chains (GVCs) to which China remains absolutely central.
---
Also read: When Modi says Namaste to a Republican Trump, he shouldn't forget Democrats matter too
---
The truth is that Trump's upcoming visit to India has more to do with the Hindu-American diaspora than it has to do with any trade deal, large or small, and even less to do with India's premature assertions to have arrived on the world stage. As Trump heads into his bid to be re-elected this fall, Hindu-Americans are an important constituency for Trump to court. Meanwhile, photo opportunities of Modi with the most powerful person in the world will be useful for his image at home. The optics will be good for both leaders as each will seek political benefit from domestic constituencies.
But none of this can disguise how frayed the bilateral relationship has become nor how unequal the two partners are. It is telling that Indian officials' constant refrain concerns increased US restrictions on H1B work visas, which are a lifeline for an Indian economy unable to gainfully employ many of these skilled individuals at home.
The fact is, that to register seriously with Trump, or any future US leader, India will have to get its domestic economic house in order. That must precede any expansion of the "strategic" security and defense relationship. Grandstanding in speeches and on social media by the Modi government and its acolytes is correctly seen in Washington, DC as the hollow rhetoric that it is. Sustained double-digit growth is the best calling card for an economy that aspires to be at the high table on the world stage. After all, when the landmark nuclear accord was signed, India was rightly seen as a rising economic power. Twelve years later, that promise remains largely unfulfilled.
Rupa Subramanya is an economist and researcher based between India and Canada. The article was first published by South Asia Programme At Hudson Institute. Views are personal.
Subscribe to our channels on YouTube & Telegram
Why news media is in crisis & How you can fix it
India needs free, fair, non-hyphenated and questioning journalism even more as it faces multiple crises.
But the news media is in a crisis of its own. There have been brutal layoffs and pay-cuts. The best of journalism is shrinking, yielding to crude prime-time spectacle.
ThePrint has the finest young reporters, columnists and editors working for it. Sustaining journalism of this quality needs smart and thinking people like you to pay for it. Whether you live in India or overseas, you can do it here.