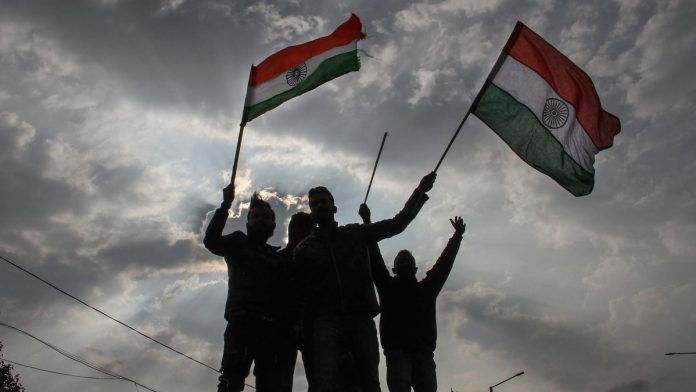 Text Size:
Pakistan has long become accustomed to using its various terrorist organisations as tools of foreign policy to murder Indians with the impunity afforded by its nuclear umbrella. Pakistan-sponsored terrorist attacks developed a familiar rhythm since the overt nuclearisation of the subcontinent in May 1998.
The attack would take place and the international community would galvanise largely to press India to use restraint. The usual bromides would follow encouraging Pakistan to refrain from letting its territory be used by terrorist groups. Pakistan would succeed in the narrow sense that the jejune international media would usher forth false equivalencies by discussing in ahistorical generalities the "India-Pakistan dispute". Pakistan would succeed in foisting Kashmir again into the news cycle. Pakistan's permanent representative to the United Nations would unfailingly make historically false claims with little resistance. Papers of record would predictably carry editorials calling for restraint and essentially rubbishing India's right to self-defence while failing to hold Pakistan to account for using terrorism as a tool of foreign policy. Within a few weeks, the event would fall out of the news cycle. Indians would bury or cremate their dead, and the world would move on having escaped narrowly the next crisis in South Asia.
---
Also read: India has called Pakistan's nuclear bluff again, but Modi cannot become complacent
---
Consequently, Pakistan has never really borne the cost of its behaviour and thus concluded that its policies of terror afforded the expected benefits at virtually no cost. While there is no "Naya Pakistan", after 26 February 2019 it seems that there is a "Naya India."
When Pakistan allegedly authorised the Jaish-e-Mohammed (JeM) suicide attack on the CRPF convoy at Pulwama, it likely had several distal and proximate goals. First, in recent years, both the Islamic State and Al Qaeda India Subcontinent have sought to co-opt the Kashmir project. Pakistan surely wanted to re-exert control over its Kashmir project.
Second, Jaish-e-Mohammed along with the Afghan Taliban have been the principal rehabilitation vehicles through which Pakistan has been able to re-orient fighters from the Pakistani Taliban who share the Deobandi orientation of Jaish-e-Mohammed. (In fact, fighters previously associated with Jaish-e-Mohammed defected from the group to join the Pakistani Taliban.)
Third, Pakistan needed Narendra Modi's electoral win for several reasons. Pakistan's deep state has a lot of internal problems to manage. The Pashtun Tahafuz Movement (PTM) has shaken the deep state. Unlike the Baloch, whom it can murder with few consequences, Pashtuns are actually more over-represented in the army than the Punjabis. The deep state cannot murder its way out of the PTM crisis as it can in Balochistan. To consolidate public support for its atrocities, it needs a scary neighbour. Frankly speaking, the Congress doesn't conjure up the existential threats like the BJP does.
---
Also read: India and Pakistan at the brink, foreign policy heads into the unknown in South Asia
---
Pakistan surely assumed that if there were to be a response to Pulwama, it would be perhaps like Uri. Pakistan also likely assumed that the United States would help shield it from the consequences of its outrages because President Donald Trump is depending upon Pakistan to provide him some modicum of a fig leaf to facilitate withdrawal from Afghanistan. Trump has a fetishistic insistence upon fulfilling his campaign promises irrespective of how ill-informed, foolish or dangerous they may be.
But Pakistan got it all wrong. India did not respond as predicted. In fact, it dispatched twelve Mirage 2000s across the LoC and into Pakistani territory to drop ordinance on training facilities associated with Jaish-e-Mohammed in Balakot, which is in Khyber Pakhtunkhwa. So far, there is no evidence that the Indian aircraft encountered Pakistani anti-air defences throughout the sorties despite Pakistani claims to the contrary.
Pakistan's response has been telling. The ISPR, the official mouthpiece of the Pakistan military, claimed that Indian jets were 'forced' by Pakistan armed forces to drop their ordinance prematurely resulting in no damage. Nonetheless, it promised a befitting reply. This is probably a sign that Pakistan is seeking a path to de-escalation as it did after the Uri attack. The international community has also squarely blamed Pakistan for terror. Even China has not offered Pakistan words of encouragement for the simple reason that while China wants to encourage Pakistani adventurism, it does not want war. China has never offered Pakistan support during any of the wars it started with India and it won't start now. The United States, however, has been curiously absent likely because of its negotiations with Pakistan and the Taliban.
---
Also read: Balakot is the first time one nuclear power has used air strikes on another's territory
---
There is little doubt that Indians will no longer be satisfied with "strategic restraint" after incidents like Pulwama. Indian millennials have been raised in a post-Kargil media environment. Kargil was India's first televised war. Prior to Kargil, few beyond north India cared about developments in far away Kashmir. The media coverage of the casualties, of bodies being returned to their homes for cremation, and nonstop reportage from Kashmir helped to create a national narrative about Pakistani predation. Indian millennials are fed up with Pakistan. A Rubicon has been crossed. While there is nothing Naya about Pakistan today, there is a Naya India.
C. Christine Fair is the author of Fighting to the End: The Pakistan Army's Way of War and In Their Own Words: Understanding the Lashkar-e-Tayyaba.
Check out My543, our comprehensive report card of all Lok Sabha MPs.