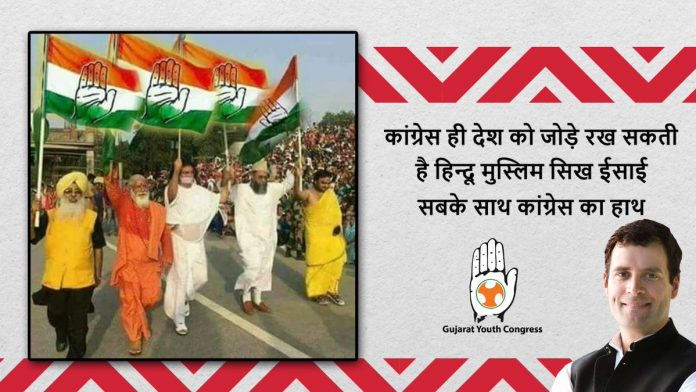 Text Size:
New Delhi: To consolidate the secular image of the Congress, the party's youth wing in Gujarat has shared a photoshopped image on Facebook and Twitter.
The image shows a Muslim, a sadhu, a Sikh, a Jain saint and another spiritual leader carrying the Congress party flag. It is accompanied with a picture of Congress president Rahul Gandhi and a message: "Only Congress can unite the country, Hindus, Muslims, Sikhs and Christians — Congress is with everyone."
The post on Twitter has 68 likes and 29 retweets, and 64 likes on Facebook. The image was posted on Twitter on 9 April, while on Facebook it was uploaded on 10 April.
कांग्रेस ही देश को जोड़े रख सकती है हिन्दू मुस्लिम सिख ईसाई सबके साथ कांग्रेस का हाथ |#RahulForBehtarBharat #AbHogaNYAY pic.twitter.com/yIp4Lz6rHr

— Gujarat Youth Congress (@IYCGujarat) April 10, 2019
The original picture was clicked at a Republic Day parade event at Wagah Border in Amritsar in 2018 where inter-faith leaders — Acharya Lokesh Muni, Swami Dipankar, Sushil Goswami, Dr Imam Ilyasi and Paramjit Singh Chandhok — had carried the Indian flag, which was replaced with the Congress flag in the photoshopped image.
Interfaith leaders marching together on Indian #RepublicDay  at India-Pakistan Border to show peace, bonding and solidarity to humanity and brotherhood. @SushmaSwaraj @MEAIndia @InterfaithWorld @Munilokesh @imamilyasi @swamidipankar #India #Pakistan pic.twitter.com/vawe79I6q0

— DR. IMAM UMER ILYASI (@imamilyasi) January 26, 2018
---
Also read: Rebel AAP leader Alka Lamba sees empty chairs at a BJP rally that wasn't
---
Not the first time
This is, however, not the first time that a political party has used this picture to promote itself as a secular organisation.
Last year, the picture was photoshopped and used by former Samajwadi Party (SP) legislator Meera Deepak Yadav. The accompanying text read: "Sab samaj ki hai pukaar, Meera Deepak Yadav ab ki baar. (Everyone is calling for another term for Meera Deepak Yadav)".
वाघा बॉर्डर पर हम धर्मगुरु हाथों में राष्ट्रीय ध्वज लिए चले थे।@yadavakhilesh भैया आपके किसी नेता ने Photoshop से हमारे हाथों में तिरंगे को आपकी पार्टी का झंडा बना दिया।ये दुखद है गिरते राजनैतिक स्तर के लिए और असहनीय है मेरी पार्टी निरपेक्ष छवि के लिए तुरंत कार्यवाही करें pic.twitter.com/veklc03k79

— Swami Dipankar (@swamidipankar) November 11, 2018
The photshopped image was exposed by Swami Dipankar.
"We went for an event at the Wagah border…our image has been photoshopped to display the SP flag," Dipankar had tweeted last year. "It is saddening to see the low level of politics, and it is important for the party to restore its image by investigating the matter."
Acharya Lokesh Muni had also shared a video of the Republic Day event, and urged the police and the administration to take immediate action.
वाघा बोर्डर पर @Munilokesh @imamilyasi @goswamisushilji @swamidipankar व #ParamjitSinghChandhok के हाथों में राष्ट्रीय ध्वज के फोटो के साथ छेड़छाड़ कर एक दल का झण्डा हमारे हाथों में लगा दिया इससे हमारी पार्टी निरपेक्ष छवि को ठेस पहुँची है पुलिस प्रशासन तुरन्त कार्यवाही करें @ANI pic.twitter.com/Wac9cai9AZ

— Acharya Lokesh Muni (@Munilokesh) November 13, 2018
In collaboration with SM Hoaxslayer.
Check out My543, our comprehensive report card of all Lok Sabha MPs.