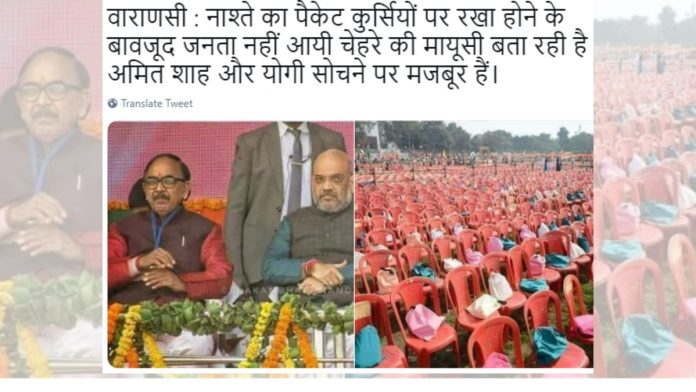 Text Size:
New Delhi: Aam Aadmi Party (AAP)'s rebel MLA Alka Lamba Monday shared an old photograph of empty chairs at a Bharatiya Janata Party (BJP) rally.
The original caption of the tweet, posted by a Twitter user named Krishna Mohan Sharma (@KMSharmaINC), who identifies himself as a member of Congress's National Students Union of India, said, "Varanasi: Despite putting packets of breakfast on the chairs, the crowds did not come. The faces of Amit Shah and Yogi reveal their helplessness."
वाराणसी : नाश्ते का पैकेट कुर्सियों पर रखा होने के बावजूद जनता नहीं आयी चेहरे की मायूसी बता रही है अमित शाह और योगी सोचने पर मजबूर हैं। pic.twitter.com/QBwdE93V8z

— Krishna Mohan Sharma (@KMsharmaINC) April 1, 2019
Lamba retweeted Sharma's post to her 183,000 followers on the microblogging site as a snub to the ruling party. The post has been retweeted over 800 times and has gathered over 2,400 likes.
The BJP has been rallying all over the country, particularly in Uttar Pradesh where it hopes to win a landslide victory again.
---
Also read: Subramanian Swamy wants you to believe Nirav Modi paid Congress Rs 98 cr, but he's wrong
---
Original picture
However, the photo Lamba retweeted late on 1 April, is an old one.
The BJP has organised several "Maha rallies" so far as part of its general elections campaign. While the tweet makes it appear as if the pictures were clicked at one of the many recent rallies organised by the ruling party, the photos are actually from 20 January 2018.
The pictures were taken at a youth rally organised by the BJP at Mahatma Gandhi Kashi Vidyapith University in Varanasi, where Shah and Uttar Pradesh Chief Minister Yogi Adityanath urged the students to join the ruling party. Other photographs from the January 2018 rally showed a fairly reasonable crowd in support.
The BJP chief and UP chief minister haven't shared the stage at any public event in the last few days.
When reached for comment, Lamba defended the Twitter post.
"Have I put any date? No. I haven't put a date, and I didn't say that it was today or yesterday, so it's fine," Lamba told ThePrint.
---
Also read: Congress leader misquotes BJP leader in rally video to criticise party's 'violent mentality'
---
In collaboration with @SMHoaxSlayer 
Check out My543, our comprehensive report card of all Lok Sabha MPs.