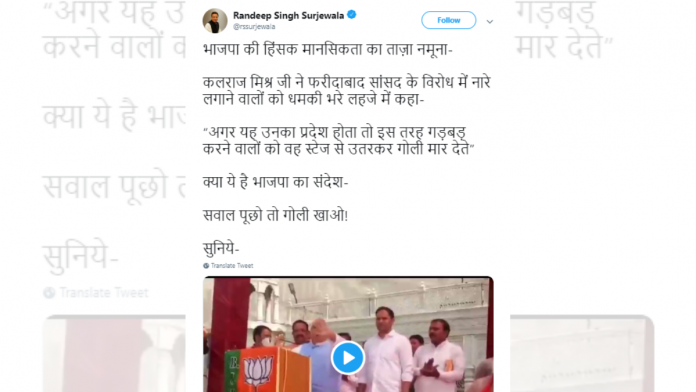 Text Size:
New Delhi: Congress MLA Randeep Surjewala posted a video on Twitter and wrongly quoted BJP leader Kalraj Mishra to take a jibe at the saffron party's "violent mentality".
Surjewala posted the video in which Mishra was seen addressing a rally in Faridabad on Sunday. Surjewala quoted Mishra as saying, "You are ruining Modi's reputation. If it was my state, I would've got down from the stage and shot the troublemakers".
The "troublemakers" Mishra was referring to were those raising slogans at the rally against BJP's Faridabad MP Krishan Pal Gurjar. Mishra, who is the BJP's in-charge in Haryana for Lok Sabha elections, was campaigning for Gurjar Sunday.
Surjewala, who is also the Congress' communications in-charge, wrote on Twitter: "Fresh example of the BJP's violent mentality. Kalraj Mishraji threatened people who raised slogans against Faridabad MP."
He further wrote: "Is this the message of the BJP that you will be shot for asking questions?"
---
Also read: Viral image of clean Ganga under Modi govt is actually a photo from 2012
---
भाजपा की हिंसक मानसिकता का ताज़ा नमूना-

कलराज मिश्र जी ने फरीदाबाद सांसद के विरोध में नारे लगाने वालों को धमकी भरे लहजे में कहा-

"अगर यह उनका प्रदेश होता तो इस तरह गड़बड़ करने वालों को वह स्टेज से उतरकर गोली मार देते"

क्या ये है भाजपा का संदेश-

सवाल पूछो तो गोली खाओ!

सुनिये- pic.twitter.com/JV480z1gMk

— Randeep Singh Surjewala (@rssurjewala) March 24, 2019
The post has over 2,400 retweets and 6,400 likes. Based on Surjewala's video, some media organisations wrote about Mishra's "shocking" remarks, and even quoted him.
But, later Mishra shared a video in which it could be clearly heard what he had actually said — "If this was my state, I would have got down from the stage and spoken to the workers".
"Surjewala ji, stop fooling the public and play the role of a responsible citizen", he tweeted.
कांग्रेस का जनता को मूर्ख बनाने का ताज़ा नमूना

सूरजेवाला जी ऐसी ओछी हरकत आपको शोभा नही देती,जिम्मेदार नागरिक का कर्तव्य निभाएं और जनता को बेवकूफ बनाना बंद करें@rssurjewala सुनिये क्या कहा था

"अगर मेरा प्रदेश होता तो मैं अभी नीचे उतर के वही बात करता" pic.twitter.com/wIESnNchVJ

— चौकीदार कलराज मिश्र (Kalraj Mishra) (@KalrajMishra) March 24, 2019
The Sunday rally
Mishra was speaking at one of the many 'Vijay Sankalp' rallies organised by the BJP as part of its Lok Sabha election campaign. However, much to the party's embarrassment, some BJP workers began protesting at the rally against MP Gurjar, demanding that he should not be given a ticket from the seat again.
---
Also read: RJD posts Karachi railway track picture to blunt BJP's claims of cleaning up Ganga
---
In collaboration with @SMHoaxSlayer 
Check out My543, our comprehensive report card of all Lok Sabha MPs.