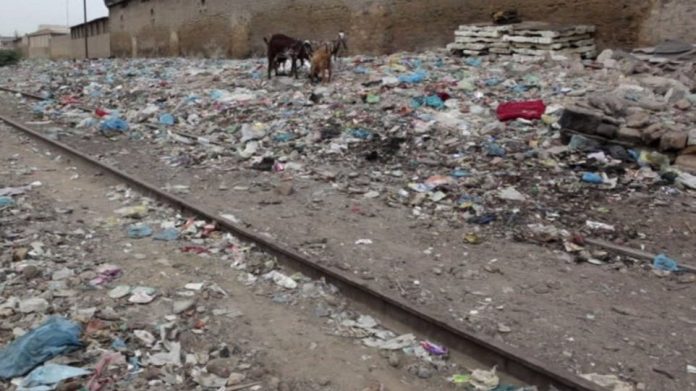 Text Size:
New Delhi: To discredit the BJP's claims of cleaning up the Ganga, the RJD put up a picture on Twitter of a filthy railway track in Pakistan's Karachi, to give the impression of a dirty Ganga ghat.
दागदार मोदी को अधिक चुनाव प्रचार की ज़रूरत नहीं पड़ती है, गोदी मीडिया का मुँह काले धन से भर दो, चुनाव प्रचार हो जाता है!

एक ज्यादा ही तेज चैनल कह रहा है कि मोदी के आने से घाट चकाचक हो गए हैं! आप भी देख लीजिए! pic.twitter.com/Hy3FiscOfM

— Rashtriya Janata Dal (@RJDforIndia) March 21, 2019
There were four pictures posted together. Moving clockwise in the picture, the image of people washing their clothes along the banks of the unnamed river is actually a Shutterstock picture from February 2015 or before. The second image could not be verified. The third picture is a photo from July 2015, and the fourth picture is that of a 2013 railway track in Karachi, Pakistan.
The caption of the tweet reads, "Tainted Modi doesn't need advertising for the elections because the media is fed with black money and it does his bidding. One channel was saying that since Modi has come to power, the ghats have become clean. See it for yourself,"
The picture, which was also shared by RJD leader Tejashwi Yadav, went viral. The shared tweet has over 1,600 retweets and 7,000 likes.
Yadav captioned the post, "When it comes to discussing issues, the spoon-fed media is unable to do it #DiscussIssuesNotModi".
मुद्दों पर बात करने में तो गोदी मीडिया का गला सुख जाता है। #मोदी_नहीं_मुद्दे_पे_आइये https://t.co/JHms2LurtI

— Tejashwi Yadav (@yadavtejashwi) March 21, 2019
---
Also read: Viral image of clean Ganga under Modi govt is actually a photo from 2012
---
Ganga — a bone of contention
The 'Namami Gange' initiative is a flagship project of the Narendra Modi government, which promises to clean the river by 2020. The project has, however, drawn flak for being ineffective, with opposition parties using it to target the BJP.
In collaboration with SM HoaxSlayer
Check out My543, our comprehensive report card of all Lok Sabha MPs.