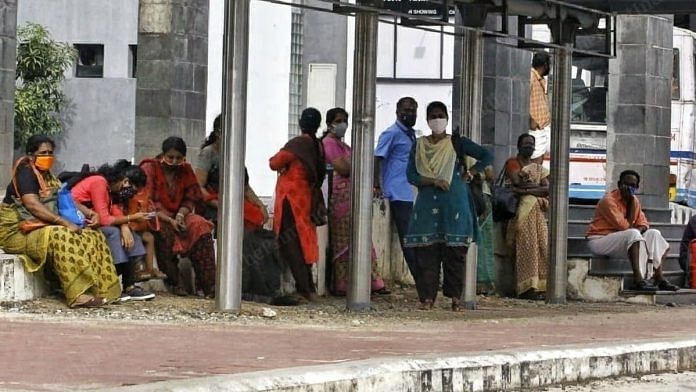 Text Size:
Thiruvananthapuram/Pathanamthitta/Marthandam: Kerala is now far from the state that was feted for its iron-fisted control over Covid-19. Nowhere is this more visible than at the interstate checkpost in Kaliyakkavilai bordering Tamil Nadu, and the Kerala State Road Transport Corporation bus terminal in Thiruvananthapuram.
In Kaliyakkavilai, there is no checking of people coming into the state in cars and buses. Ironically, the Kanyakumari administration on the other side of the border has set up a booth, scrutinising and, if required, checking incoming visitors to Tamil Nadu. But the way into Kerala is way too smooth for comfort.
At around 1.30 pm on 9 October, when ThePrint reached the border, there was not one Kerala government official at the checkpost, not even a policeman. The visit to Marthandam in Tamil Nadu from Kerala, and the return through one of the numerous roads into the state, were unchecked. This happened despite the fact that a rule in Kerala mandates interstate travellers to quarantine for 14 days if the visit is for over eight days.
The Kerala administration therefore has no record of people driving in through this border, which also sees a lot of transporter trucks coming into the state capital with supplies, fish, etc.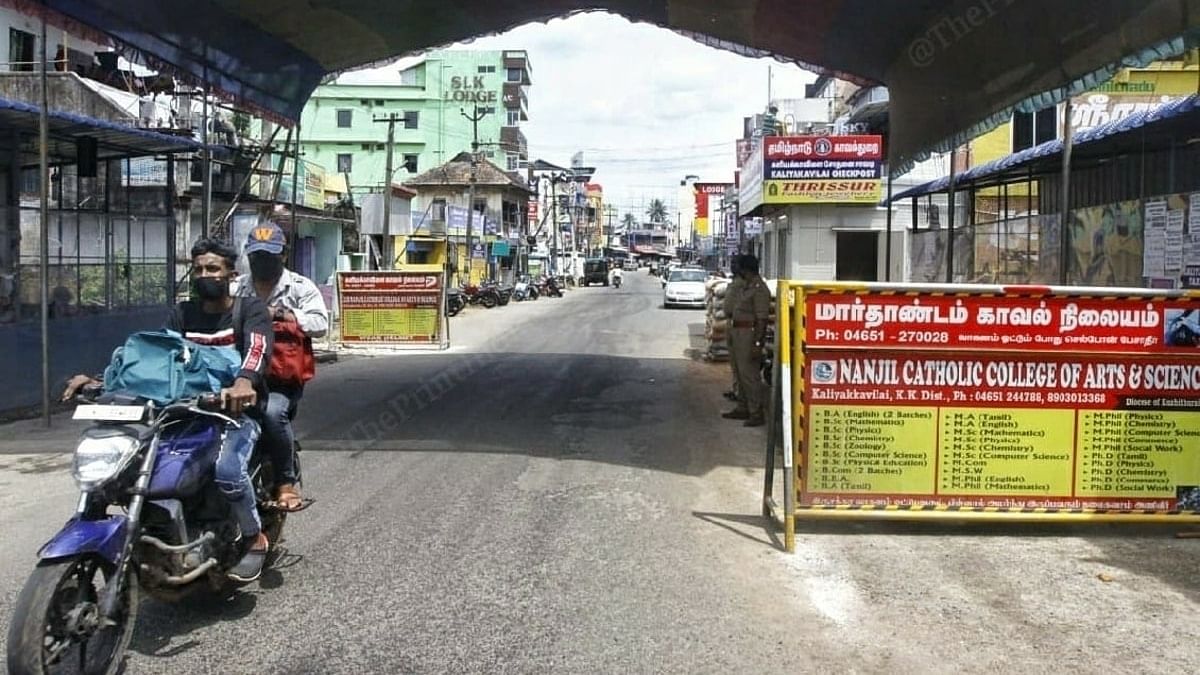 However, the Kanyakumari district administration has set up a kiosk on its side and a policeman posted to intercept all vehicles driving into the state.
Shiva Ganapathy, a teacher posted at the kiosk, explained that every person entering Kanyakumari needs to be tested for Covid. "On an average day, we test 50-70 people at a nearby school that we have taken over," he said.
Ganapathy showed the detailed record keeping in place so that visitors are traceable, with separate kiosks for people coming from abroad and those that will pass through to other districts of the state.
The scene at the Thiruvananthapuram bus station was similar — a free-for-all. Although far from busy, the terminal that caters to traffic from within the state and also neighbouring cities in Tamil Nadu such as Kanyakumari, Madurai and Nagercoil, doesn't even have a thermal scanner. Two listless policemen sit and watch as people file past. There is a requirement for an e-pass for people entering the state but at the bus station, nobody checks, unlike at the airport where there is a strict vigil.
Meanwhile, the Thiruvananthapuram railway station, which is just a stone's throw away, is conducting strict thermal screening both for outgoing and incoming passengers.
Kerala Health Minister K.K. Shailaja was taken aback when told about the laxity at the border. "I will examine this, I will tell the chief minister. This is not supposed to happen," she said after enquiring about the trip to Marthandam and the screening by Tamil Nadu.
Her concern was not misplaced because the overwhelming government narrative in Kerala this 'second Covid season' has been that the surge in cases has come due to unlocking and pressure to open up at a time when both its neighbours, Karnataka and Tamil Nadu, are among the top five high-burden states.
Just minutes before she was informed about the border, Shailaja had told ThePrint: "During unlock, we opened everything, the transmission rate increased… Also neighbouring states of Tamil Nadu and Karnataka have become hotpots for the virus. So many people enter from TN to Kerala they are going up and down…trucks came from TN."
Kerala Chief Secretary Dr Vishwas Mehta too said the state had wanted to open on its own terms — allow only people with Covid-negative certificates to enter the state — but could not. "There was a lot of pressure on us," he said.
---
Also read: 2 parameters will decide India's Covid vaccine priority — risk of exposure & of severe disease
---
Govt dropped the ball on institutional quarantine
In the first phase of the pandemic between 30 January and 3 May, Kerala reported 499 cases and two deaths.
On Saturday, the state reported 11,755 cases, taking its total to 2,79,855, of which 95,918 are active cases. There have been 978 deaths so far with the case fatality rate standing at 0.35 per cent against a national average of 1.54 per cent.
As the numbers are rising, the state government has come under criticism from multiple sides, among them the state chapter of the Indian Medical Association (IMA), an apex lobby of doctors, which has accused the government of sidelining experts and handing over the charge to civil servants and police.
The association is also at loggerheads with the government about other issues including salary cuts for doctors and some instances of alleged negligence by doctors. Thiruvananthapuram, meanwhile, is just out of a doctors' strike.
Dr Samuel Koshy, an IMA vice president and doctor at the Moulana Hospital in Malappuram, said, "The first phase we did wonderfully, all Covid protocols were strictly followed. But in the second phase, as we opened up and migrants came in, we had advised the government to confine everyone in institutional quarantine. But the government succumbed to political pressures and passed orders for home quarantine. That was a mistake."
He added, "Moreover, there is community transmission in some areas… The expert committee formed by the government has no representation from IMA. It is full of bureaucrats… there are some doctors but overall the government has neglected our advice."
The association, Koshy said, has been writing periodic letters to the government to point out the changes that need to be made in the Covid strategy but the words have fallen on deaf ears.
He also pointed out that following the state's decision to implement salary cuts in view of the reduced revenue generation because of the lockdown, a junior doctor who entered government employment at a salary of Rs 42,000 is now getting only Rs 27,000.
Koshy, however, clarified that the state is not underreporting deaths as has been alleged.
"There may be some delay in tallying the numbers but we do not have any objections on that count. We are, we would say, among the best performers on that," he said.
A government official told ThePrint on condition of anonymity that a government panel had suggested that deaths in people with comorbidities should be tallied separately but, so far, that has not happened.
---
Also read: AYUSH scientists slam IMA for calling their systems 'unscientific', question HCQ & remdesivir
---
Low seroprevalence
Kerala may also be paying the 'price' of having managed the first phase extremely well.
According to the results of the seroprevalence survey done by the Indian Council of Medical Research (ICMR) in August, while about 6.6 per cent of India had been exposed to the SARS-CoV2, the figure in Kerala was just 0.8 per cent. So the state's vulnerability is way higher now. After exceptional compliance in the first phase, patience is also running low in the state, both among doctors and the public.
Pathanamthitta saw three superspreader events since March — including a much-reported incident where three persons landed from Covid-ravaged Italy and went on a socialising spree, visiting relatives and public places.
Despite that aberration, District Collector P.B. Nooh said, compliance was very good in the first phase. "When we asked them to stay inside their homes, they responded very well even though the concept was new to them. But how long can we ask them to stay back? The majority are going out for livelihoods."
He added, "Once we started asking them, they started questioning us back 'how will we live'… eventually had to open up for social activity. Even for NREGA people who are going out in large numbers turned positive… 150 migrants turned positive. Even social and cultural activities, how long can you stop that? People are actually sick sitting inside. That is possibly the reason for increase in cases."
Nooh added that he too spent an hour in a coffee shop in Thiruvalla a couple of days ago "even though I was fully aware of the risks".
The Pathanamthitta municipality had been under complete lockdown for one and a half months from July after a superspreader event resulted in 450 cases across almost all panchayats.
That fatigue is partly the reason why Kerala now has two campaigns ongoing — one is the 'Break the Chain', which yielded rich results early on, and the other is the 'SMS' campaign, which calls upon people to use soaps, masks and maintain social distancing, rather than ask them to stay inside. But Section 144 is in place throughout the state.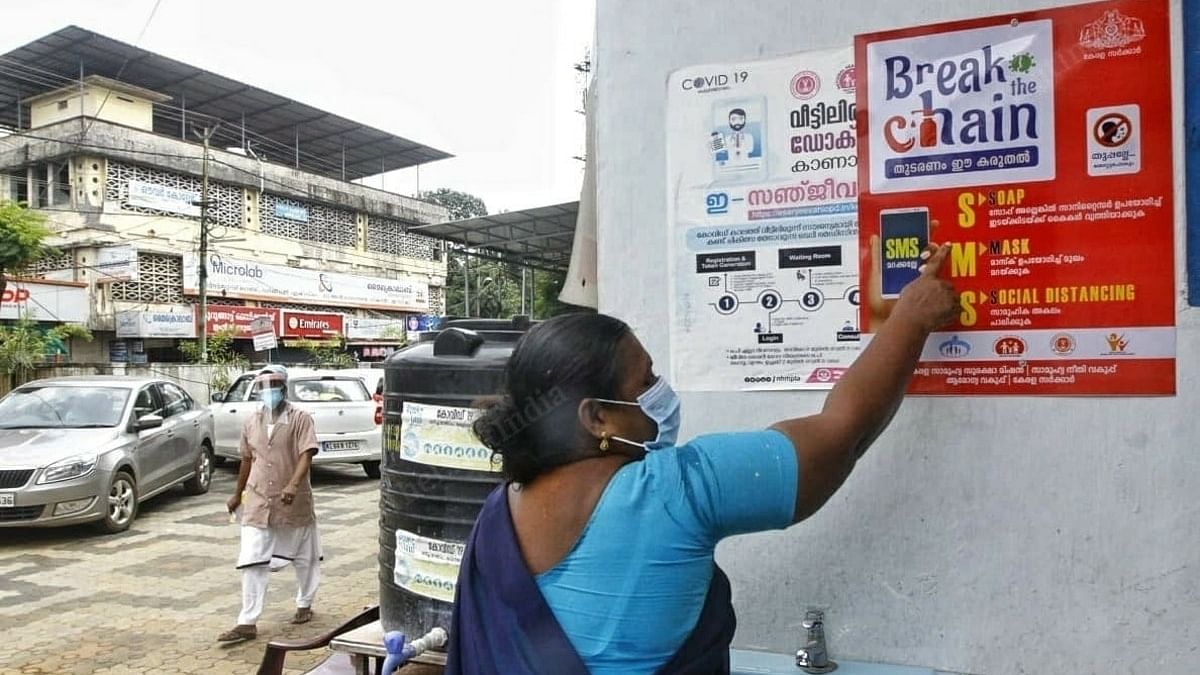 The long fight is taking its toll, admitted Chief Secretary Mehta. Asked about the doctors' unrest, he said: "They are getting tired. With numbers spiralling up, they feel that they are not being given attention. There are a lot of financial problems. We had to cut salaries instead of giving higher pay to work. If you give them full salaries there's a problem, police are also working, volunteers are working without money… everybody is tiring."
There is now more angst among doctors about an order doing away with the earlier practice of seven-day quarantine after 10 days of duty.
Usually, before the quarantine period, doctors were tested and allowed to go home only if negative. Dr Sooraj V.S., posted at a second line treatment centre in Ernakulam, said, "We will see how to go about it (work without quarantine). Obviously we cannot expose our families to the infection."
---
Also read: Difference in Delhi Covid toll again, govt has 895 fewer deaths than civic bodies' numbers
---
Kasaragod model, undone
In April, the Government of India had showcased the Covid containment model in Kasaragod, a district at the northern tip of Kerala on the Arabian Sea coast, as one of the successful examples in the country.
In Kerala government's daily Covid report now, Kasaragod appears in red — it is one of the hotspots in the state with a test positivity rate of 20 per cent against a state average of 13 per cent and the national average of a little over 8 per cent. Currently, the district has 4,510 active cases.
"I think unlocking is the biggest reason. We have coastal areas where people are going out for fishing, there are a lot of migrant labourers. The test positivity is very high there. We are doing a lot of awareness campaigns there but you have to also understand that Kasaragod does not have a tertiary care centre. For that we are dependent on Kannur which is a one and half to two hours drive. Even then we have just had 61 deaths so far," said District Collector Sajith Babu.
He is not unduly worried about the test positivity rate. "It is very easy to bring that down. If we test in the eastern and central parts it will automatically come down. But we want to catch the cases, that is why we are testing more in the coastal areas," he said.
However, though his district has its limitations in terms of health infrastructure, the bed occupancies are still within acceptable limits, he said.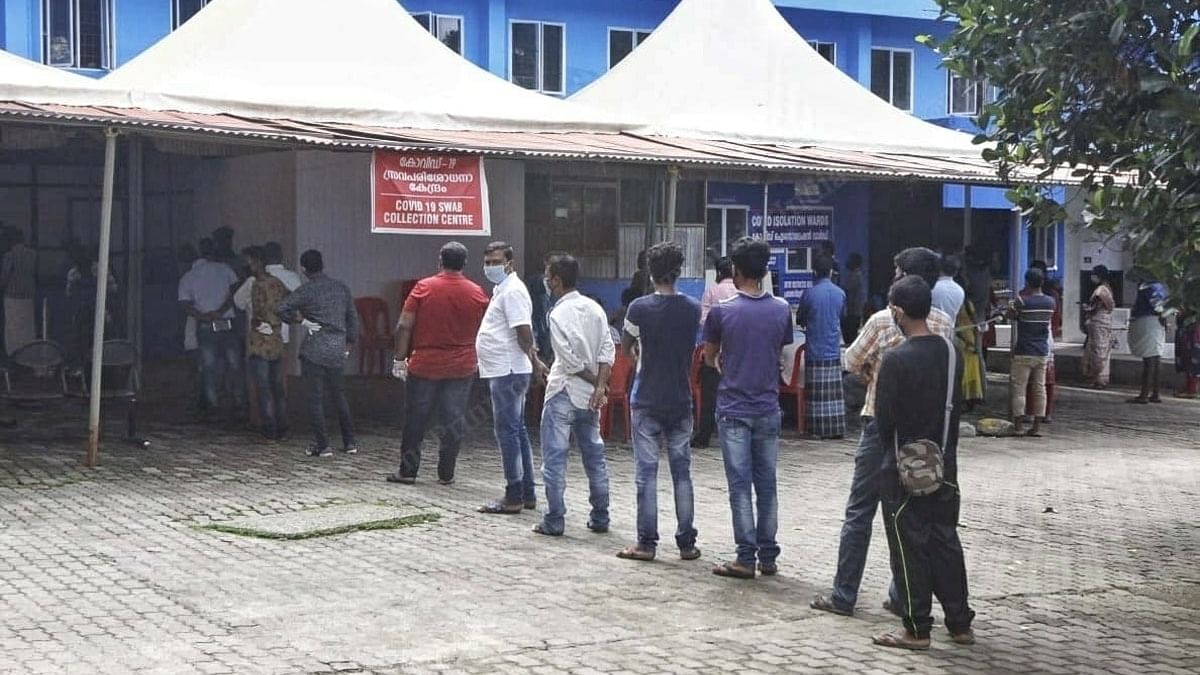 The status report for 10 October showed that 53 per cent beds in the first line centres, 34 per cent in the second line centres and 79 per cent in the district hospital that has been made into a Covid hospital, are vacant.
Checking at the borders has stopped because it is "not possible", he said. "We only check whether the person is registered in the Covid Jagrutha portal. We do not have a system of e-passes either because there is a court order against it."
ThePrint couldn't verify the existence of such an order but there is a facility on the same portal for generating e-passes for short- and long-term visitors.
---
Also read: Being outdoors doesn't mean you're safe from Covid
---
Reliance on antigen tests
Another issue for Kerala is that its current strategy relies heavily on rapid antigen tests. Just about 14 per cent of its daily tests use the RT-PCR method that is the gold standard of testing. The delay in RT-PCR results is something the state cannot afford. It would much rather live with the risk of false negatives in the rapid tests.
"If you have to deal with large numbers, you need antigen tests. There is a risk of false negatives but it's okay. If the person is positive he will try to exercise restraint, in a literate society he will isolate himself," said Chief Secretary Mehta.
That is partly why, Dr Abey Sushan, the district programme manager for the National Health Mission in Pathanamthitta, said the present Covid numbers are a part of the "iceberg phenomenon".
"The cases detected are a small fraction of the actual number. That is why we have now moved from contact tracing to sentinel surveillance under which we are testing all highly exposed people such as business people, drivers, etc using antigen tests," he said.
To deal with the dipping compliance levels, the government has now roped in gazetted officers across all departments to act as sectoral magistrates, with powers to fine violators of masking and social distancing norms, and the prohibitory orders in place.
Kasaragod has roped in about 800 school teachers under the MAASH (Masters Against Anti-Social Human) programme to spread awareness about masks, social distancing, etc. The word 'maash' in Malayalam means teacher.
Rural urban continuum
Moreover, a unique character of the state, with Malayalis' love of big beautiful villas with lots of open space, has meant that there is no real demarcation between the rural and urban areas.
Population density is almost uniform throughout, with incessant construction work and massive shops selling construction materials spread on both sides of highways throughout the state.
Dr Mohammed Asheel, executive director of the Social Security Mission and member of the health minister's core Covid team, said, "The rural urban continuum is a unique character of Kerala. We have a population density of 859 per square kilometre against a national average of 467. It is almost uniformly crowded."
The building spree has meant rampant takeover of farmlands making Kerala completely dependent on neighbours for essential supplies — what Health Minister Shailaja calls "consumerist state".
It is also epidemiologically vulnerable with the incidence of diabetes among women in Kerala standing at 13.5 per cent, according to the National Family Health Survey IV, and at 19.4 per cent among men against a national average of 8.6 per cent in women and 11.9 per cent in men. Diabetes is a comorbidity that can make Covid outcomes worse.
Kerala earned the tag of "corona slayer" earlier, but it is now contending with the highest growth rate of Covid in India. There is little doubt, at least within the government, that the graph is set to rise for some time to come and the going may get difficult if daily numbers cross 20,000, according to top sources.
But for now, the state is drawing solace from its low death rate, and reaping the benefits of a health system that perhaps is the most mature in the country. But it will be seen if it can withstand the test of a pandemic. The Covid battle for Kerala may have only just begun.
---
Also read: Command centre, Uber-like ambulance service — how Kerala's Ernakulam has kept Covid toll low
---
Subscribe to our channels on YouTube & Telegram
Why news media is in crisis & How you can fix it
India needs free, fair, non-hyphenated and questioning journalism even more as it faces multiple crises.
But the news media is in a crisis of its own. There have been brutal layoffs and pay-cuts. The best of journalism is shrinking, yielding to crude prime-time spectacle.
ThePrint has the finest young reporters, columnists and editors working for it. Sustaining journalism of this quality needs smart and thinking people like you to pay for it. Whether you live in India or overseas, you can do it here.