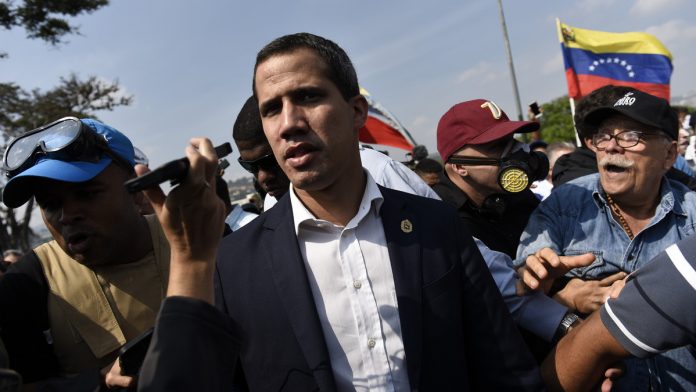 Text Size:
Opposition leader Juan Guaido claims military support
The ongoing Venezuelan crisis saw a major escalation Tuesday. The main opposition leader Juan Guaido released a video in which he stood with some military men and asked citizens to hit the streets and march against the "brutal regime".
The video showed Guaido stand with some men in uniform, as he declared that he had the support of country's brave military.
"The National Armed Forces have taken the correct decision… they are guaranteed to be on the right side of history," said Guaido.
But, military continues to back President Maduro
Guaido's claims about military support, however, didn't turn out to be exactly correct as soon after President Nicolás Maduro was seen in a televised video in which all the top military generals were sitting next to him. It is quite evident that as of now, the military continues to support the Maduro regime.
"Will launch criminal prosecutions for the serious crimes that have been committed against the constitution, the rule of law and the right to peace," said Maduro.
Escalation of violence
Guaido's calls for a coup led to violent clashes between the armed forces and his supporters. At one point, a military vehicle was seen to be driving into the protesters.
According to Venezuelan BBC correspondent Guillermo Olmo, this was the most violent episode in recent Venezuelan crisis.
The clashes resulted in 69 people being injured and two with bullet injuries, according to Venezuelan health officials.
America's claims
While the crisis played out in Venezuela, the American administration alleged that Maduro was ready to escape to Cuba, fearing the growing unrest.
In an interview to the CNN, the US Secretary of State Mike Pompeo said, "They had an airplane on the tarmac. He was ready to leave this morning [Tuesday], as we understand it. Russians indicated he should stay."
In other news:
Naruhito: Japan's new emperor prays for peace in new era, BBC 
China sentences second Canadian to death, BBC 
Get the PrintEssential to make sense of the day's key developments