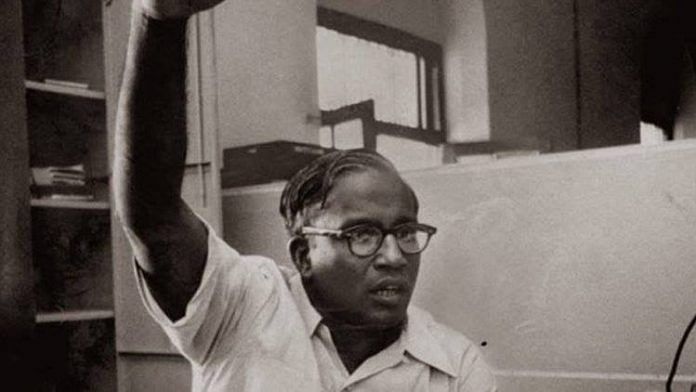 Text Size:
New Delhi: There's little left of the Left in present-day Indian politics.
On Sunday, the Congress called off its alliance with the Left Front in West Bengal, after weeks of deliberations over seat-sharing failed to result in agreement.
From 60 seats in the Lok Sabha in 2004 to just about 10 a decade later, the fall of the Communist Party of India (Marxist) has involved increasing internal discord, a failure to adapt to new socio-political dynamics, and the party's inability to either retain its old base or capture a new one.
Sixty years ago, however, the political landscape was vastly different — an undivided CPI became one of the first ever democratically elected Left governments in the world to stake power in Kerala in 1957.
Kerala came into being on 1 November 1956 under the State Reorganisation Act.
At the helm of what later came to be known as the "Kerala model" was the state's first chief minister Elamkulam Manakkal Sankaran Namboodiripad. He died on 19 March 1998, due to pneumonia contracted at an old age.
To mark his 21st death anniversary, ThePrint traces his legacy and relevance in 2019.
---
Also read: Biju Patnaik, the two-time Odisha chief minister who was RAF pilot in World War 2
---
Political consciousness
Namboodiripad was born on 13 June 1909 into an aristocratic upper-caste Brahmin family in the Elamkulam village in Kerala. By 13, he had already developed a political consciousness about his privileged place in the world, and joined a local community dedicated to the welfare of lower castes and fighting orthodoxy in the area.
Namboodiripad also mobilised campaigns aimed at normalising inter-caste marriage and widow remarriage in the Namboothiri community in Kerala.
As a student at St Thomas College at Trichur (now Thrissur), Namboodiripad's first brush with active politics came in the form of aligning with the Indian National Congress' struggle for freedom against the British empire in the late 1920s. He was imprisoned for one year for his participation in the Civil Disobedience Movement.
Even within the Congress, Namboodiripad stood by his socialist principles, co-founding a socialist wing within the national party called the Congress Socialist Party (CSP).
---
Also read: Buddhadeb Bhattacharya, the last Left chief minister of West Bengal
---
On Mahatma Gandhi
Namboodiripad's steady progression towards the Left in the 1930s was marked by a parallel disillusionment he felt with the politics of Mahatma Gandhi — whom he trusted to achieve political freedom, but doubted when it came to liberating the oppressed from social hierarchies.
"The tortuous path which took me from the original moorings of the feudal family into which I was born, and from the old-fashioned education to modern education and the organized movement of social reform, and ultimately to nationalism with its leaning towards the left…at last culminated in my membership" of the Communist Party of India, Namboodiripad was quoted as saying.
For the CSP, which was perhaps the ideological stepping stone for Namboodiripad between the Congress and the CPI, Gandhi's doctrines were steeped in a certain anti-rationality and mysticism — one that the socialists could not accommodate.
Namboodiripad has also been famously known to refer to Gandhi as a "Hindu fundamentalist".
---
Also read: George Fernandes, the socialist who wanted to be a priest but ended up a rebel
---
Journey with CPI
Namboodiripad's personal politics soon came into conflict with that of the Congress party.
In 1939, he officially joined the Communist Party of India (CPI) after becoming disillusioned with what he perceived to be the Congress' diplomatic compromise with the British government during the Second World War.
From the very beginning, Namboodiripad's commitment to the ideological backbone of the CPI was absolute. So much so, that he donated significant portions of his inherited properties to the party. In 1957, he became Kerala's first ever CM.
As chief minister
A lot of what Kerala boasts today — India's highest literacy rate, low infant mortality rate, high life expectancy and best sex ratio — can be traced in part to Namboodiripad's short tenure of 28 months as the state's first chief minister.
Within a week of becoming CM, Namboodiripad had already put forth a radical set of historic land and agrarian reforms that would change the course of Kerala's social topography. Under these reforms, the tenant farmer would not be evicted, a land ownership ceiling was set at 15 acres of cropland, and rights for tenants and agricultural labourers were solidified.
A total of 88 bills were enacted by his government that enhanced minimum wages and ensured workers rights, but what ultimately led to anti-communist backlash against the CPI was the education bill that sought to regulate government-aided educational institutions and promised universal free education, as Anand Kochukudy wrote in Huffington Post.
The Nair Service Society and the Catholic Church led "The Liberation Struggle", or "Vimochana Samaram", which pushed the Centre to impose President's Rule merely two years into CPI's term in 1959.
Prime Minister Jawaharlal Nehru was not initially concerned about a communist leader being in power, but certain readings of history, including one by CPI(M) leader Prakash Karat, claim that the anti-communist movement was in part supported by the Congress itself through covert funding by a capitalist US.
At the time, Namboodiripad commented on the fall of his government by saying, "Everything looks yellow to a jaundiced eye."
---
Also read: MN Roy, the Indian revolutionary who founded Mexican Communist Party
---
To the CPI(M)
By the 1960s, the global communist conversation was changing, and turning divisive after an ideological rift between China and the Soviet Union (the two most influential communist nations in the world). Add to this tense faultline the India-China War of 1962, and the CPI support base also split.
As The Indian Express explained, a "radical section leaning towards China walked out of a meeting held in Delhi, calling themselves the 'real communist party'" and formed the CPI(M), with Namboodiripad as one of its leading members.
Namboodiripad became Kerala CM for a second term in 1967 as part of a seven-party coalition — another short term that only lasted two years. He was leader of the opposition in the Kerala assembly between 1960-1964 and 1970-1977.
Till the very end, he held forth on the political front, campaigning for the CPI(M) in the 1998 general elections.
His speeches were marked with a distinct stammer, and yet Namboodiripad was a leader unafraid to take unpopular stands — during the Iran-Iraq War, he publicly declared his support for Iraq president Saddam Hussein, and later, he also stated a need for reform in Sharia laws despite opposition from the Muslim Community.
Namboodiripad's courage, paired with his disciplined working style, and loyalty to his ideology is more relevant to a diminishing Left than ever before.
Subscribe to our channels on YouTube & Telegram
Why news media is in crisis & How you can fix it
India needs free, fair, non-hyphenated and questioning journalism even more as it faces multiple crises.
But the news media is in a crisis of its own. There have been brutal layoffs and pay-cuts. The best of journalism is shrinking, yielding to crude prime-time spectacle.
ThePrint has the finest young reporters, columnists and editors working for it. Sustaining journalism of this quality needs smart and thinking people like you to pay for it. Whether you live in India or overseas, you can do it here.