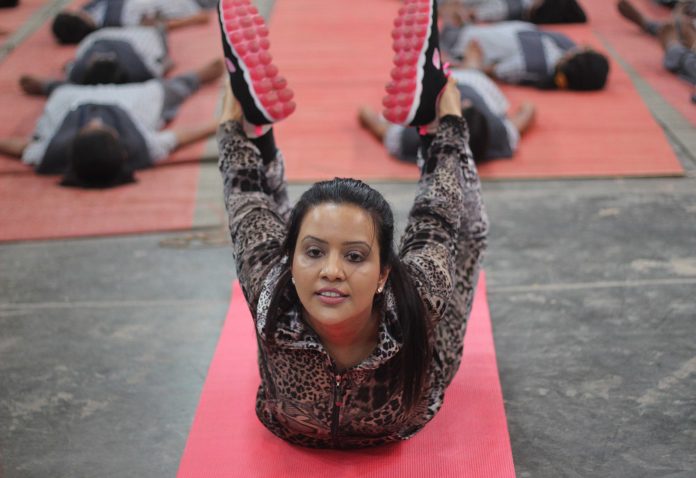 Text Size:
Amruta Fadnavis, wife of Maharashtra CM Devendra Fadnavis, has drawn both flak and admiration in the last three years, but that has not stopped her from asserting her choices.
On Tuesday, Amruta Fadnavis, wife of Maharashtra Chief Minister Devendra Fadnavis, was aggressively trolled on social media for promoting a Christmas charity event for a private radio station.
Twitter users slammed her for endorsing an event associated with a Christian festival, questioned her religious belief, and lashed out at her for not promoting Hindu festivals instead.
This wasn't a first for 38-year-old Amruta Fadnavis though. Last year, she battled criticism from the other side of the spectrum when she accepted a gold chain from self-styled godman Guruvanand Swami, and paid obeisance to him.
The swami reportedly produced the chain out of thin air at an event of a Pune-based management institute, and the chief minister's wife accepting it angered anti-superstition activists.
Amruta Fadnavis swiftly responded to both incidents — the first one by emphatically stating that love, empathy and sharing have no religion, and the second by clarifying that she had offered her salutations to the swami out of respect for an elderly person as those were the values she was brought up with.
Either which way, the 'first lady' of Maharashtra has always been under public glare, having vastly transformed the traditional image of the wife of a chief minister in the last three years.
"I think hers is a remarkable story because she is her own. She is not just a chief minister's wife. She is a good singer, a banker, and is responsibly working towards giving back to the society," said Bharatiya Janata Party's Shaina NC who has been Amruta Fadnavis' friend since she moved to Mumbai. In fact, Fadnavis and her daughter Divija spent their first day in Mumbai with Shaina and her son Ayaan at a suburban mall.
"Whether she is distributing sarees during Diwali or gifts during Christmas, it is charity. I think it is unfair to give it a religious hue," said Shaina, who was by Amruta Fadnavis' side Tuesday night after the Twitter storm.
Amruta Fadnavis, a commerce graduate from Nagpur with an MBA from Pune's Symbiosis College, made it clear right at the start that her role as the chief minister's wife would be different. She decided to continue working at Axis Bank, sought a transfer from Nagpur to Mumbai, and refused an elaborate posse of security personnel when she went to work in a dapper black suit on her first day. Amruta Fadnavis said she holds her working mother, Charulata Ranade, a gynaecologist, as a role model. Her father, Sharad Ranade, is an ophthalmologist.
Since then, not only has she continued to work at Axis as a deputy vice-president, but has also associated herself with a number of high-profile events. She has highlighted the importance of working women setting an example for their children, and drove home the point of empowerment of women. She routinely responds to complaints about Axis Bank directed at her official Twitter handle, which she created in March 2016.
Amruta Fadnavis' continued association with a private bank has, however, caused trouble for her husband. The Congress in 2016 alleged that the chief minister was indulging in nepotism by asking developers working on Mumbai slum rehabilitation projects to open accounts in the private bank his wife works in. Both Devendra Fadnavis and Amruta dismissed the allegations as baseless.
Besides her professional work, Amruta Fadnavis has also built her presence as a social worker. In the past three years, she has adopted villages such as Kawdas and Fetri in Nagpur district, walked at the New York Fashion Week to promote education of the girl child, and organised a ramp walk with acid-attack survivors in Mumbai through her NGO this year.
In some ways, Maharashtra has also heard more of Amruta's voice than her chief minister husband's.  A trained classical singer, she has performed at a number of events since her husband assumed office, sung for Marathi and Bollywood films, and starred in a music video with actor Amitabh Bachchan.
The music video, shot last year at the recently-restored Opera House in South Mumbai, featured Amruta dancing with Bachchan in a glamorous red outfit. However, the video drew as much flak as appreciation. Many in political circles spoke in hushed voices about how it was very unbecoming of a chief minister's wife to wear short tight clothes, and dance with other men.
While Amruta has transformed the image of a chief minister's wife, she has also used her status to promote herself as a banker and singer instead of using it productively for the betterment of society, Nationalist Congress Party legislator Vidya Chavan told ThePrint.
"No CM's wife has done something like this so far," Chavan said. "One may be modern and from the new generation, but there is some decorum that needs to be followed, and she should have some sense of what clothes to wear in public life."
Get the PrintEssential to make sense of the day's key developments