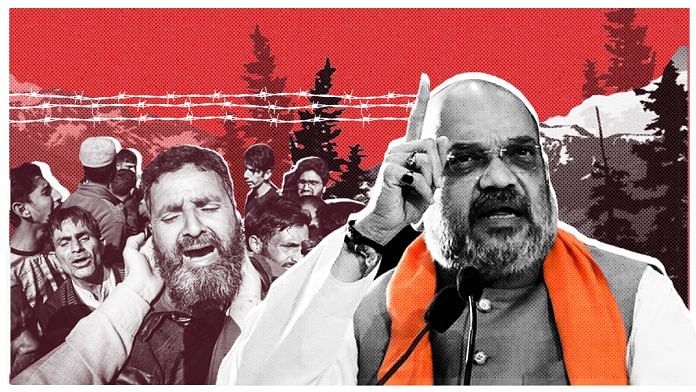 Text Size:
Home Minister Amit Shah Monday announced the end of 'special status' to Jammu and Kashmir. He told the Rajya Sabha Article 370 has been scrapped, which makes Article 35A about 'permanent residency' meaningless. Jammu and Kashmir will now be a Union Territory with a legislature while Ladakh will be a Union Territory without an assembly. President Ram Nath Kovind has signed the order.
ThePrint asks: Will scrapping Article 370 and splitting the state resolve Kashmir problem or worsen it?
---
New Delhi must also take back territories occupied by Pakistan and China
Aman M. Hingorani
Supreme Court advocate and author of Unravelling the Kashmir Knot
The impact of New Delhi's move in Jammu and Kashmir will be a mixed one. While Jammu and Ladakh are likely to welcome full integration into the Indian Union, parts of the Valley are bound to protest at such an unceremonious burial of J&K's autonomy. Leaving aside the question of its constitutional permissibility, the move is reflective of the traditional narrow view of the Kashmir issue taken by successive regimes in New Delhi from 1948 onwards.
I believe that New Delhi should not see the Kashmir problem only as turmoil in the Valley, which is just 9 per cent of J&K, or as a matter of cross-border terrorism. It must include taking back the occupied territories of J&K, where Indian citizens remain under foreign rule.
The 1994 parliamentary resolution had demanded that Pakistan vacate the occupied territories. New Delhi has made only formal protests at the evident annexation of Gilgit Baltistan region and PoK by Pakistan. China occupies about 17 per cent of J&K's total area. New Delhi has remained content with the use of its territories for the China Pakistan Economic Corridor, while merely boycotting China's Belt and Road Initiative. One can only hope for a comprehensive and coherent Kashmir policy.
---
Article 370 prevented Indian govt from taking necessary steps to clean up the noxious situation in J&K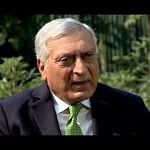 Kanwal Sibal
Executive council member, VIF, and former foreign secretary

The situation in Kashmir has gone from bad to worse over the years. The state has been rocked by separatism, terrorism, ethnic cleansing, Islamisation, and foreign interference for decades. The government of India has tried everything in the book to control the constantly degrading situation in Jammu and Kashmir, but without success.
All attempts to win people's hearts, reduce the sense of alienation, deal forcefully with terrorists, and provide substantial funds for the state's development did not end the demand for 'azadi'. The mainstream political leadership in the state wants Kashmir's Islamic character to be preserved, even as it wants the rest of the country to be secular.
The progressive Islamisation of the state and the separatist elements' links with Pakistan and jihadi elements are the product of the 'special status' of the state. Unfortunately, Article 370 has prevented the government of India from taking necessary steps to clean up the noxious situation in Jammu and Kashmir and establish peace and security in the state. After the government's latest move, a period of unrest can be expected. In time, however, the scrapping of Article 370 and bifurcation of the state will greatly improve the situation.
---
Also read: Modi govt wanted to scrap Article 370 in February. Pulwama CRPF attack forced postponement
---
Strong message to Pakistan and global community about India's approach to resolving Kashmir issue
Arun Anand
CEO of Indraprastha Vishwa Samvad Kendra, and author of Know About RSS
The scrapping of Article 370 was awaited for quite some time. Debates in India's Constituent Assembly make it clear that all leading member-experts, including the country's first law minister Bhim Rao Ambedkar, were never in favour of giving Jammu and Kashmir any special status.
The bifurcation of the state is also a step in the right direction because the regions of Jammu and Ladakh were getting step-motherly treatment as compared to the Kashmir Valley.
Both the scrapping of Article 370 and reorganisation of the state of Jammu and Kashmir will go a long away not only in integrating the region with the rest of the country, but also sound a death knell for terrorism in the region.
The fact is that under the garb of Article 370, a handful of clans created an atmosphere of uncertainty in Jammu and Kashmir. What all did Article 370 bring to Jammu and Kashmir? Terrorism, regional imbalance, marginalisation of several communities, and lack of development.
The abrogation of Article 370 and reorganisation of the state would also send a strong message to Pakistan as well as members of the international community about a much robust and clear approach of India in resolving this long-pending issue. This is a historic moment for the country as the government of the day had the courage to take this bold initiative, making one recall the old saying, "Better late than never".
---
BJP govt is in a position to do as it wants. The only institution that can stand in its way is judiciary
Vineeth Krishna
Lead associate editor, Centre for law and policy research
Any trust or goodwill that India had gained among the people of Kashmir is now in the drains, thanks to the BJP government's decision to effectively scrap Article 370 to, ironically, partition it.
Not only did this government not consult the people of Kashmir, but it also put the state under what is practically a siege. It is in a position to do as it wishes but there is one institution that can stand in its way: the judiciary.
Bifurcating a state through presidential order without the assembly's ratification is constitutional savagery and should invite judicial scrutiny. And while Section 3 does give the President the power to delete Article 370, this can only be done with the concurrence of Kashmiri people's will. Whether the court will get into all this remains to be seen.
The house arrest of mainstream leaders shows they will now be seen as separatists. A strand of leverage and moral standing that India had with Kashmir viz-a-viz Pakistan and the world at large is also in tatters.
Today is a shameful day for the republic – and it will play on the minds of future generations of Kashmiris. The BJP government has effectively sown the seeds of a conflict that will raise its head now or in the future.
Omar Abdullah had tweeted Sunday that this was not the India Jammu and Kashmir had acceded to. India's founders would agree – this was not the republic they had painstakingly crafted.
---
Also read: No debate, no discussion, no dissent, and the Constitution is changed
---
India is alienating millions of Kashmiris. Pakistan stands with them and will lend full support
Salman Bashir
Former foreign secretary of Pakistan, and former high commissioner of Pakistan to India
Abolishing Article 370 and Article 35A removes the fig leaf of accession, a myth that India cleverly crafted to give quasi legitimacy to its forcible occupation of Kashmir. Yet, this move by Prime Minister Narendra Modi is likely to be applauded and make him look tallest among India's prominent leaders. But it is short-sighted even from the point of view of India's own interests.
The manner it is being done shows that the entire population of millions of Kashmiris is now incarcerated by the Indian Army and the CRPF, including the so-called mainstream leaders like Omar Abdullah and Mehbooba Mufti. This is nothing but an effort to completely alienate the Valley. No one can hope to keep a people, determined to realise their fundamental rights, under perpetual armed occupation. The legal niceties are over. Now, Kashmiris will prepare for the long haul. They will resist occupation by all means.
Pakistan stands with them and will continue to lend full support to them. Avenues for a peaceful settlement are being closed by India. In the longer run, this will amplify India's own internal contradictions and lead to further polarisation in the country. A populist government wrapt in heady power is propelling India and the region to a calamity of enormous proportions. It is sad that a country of over 1.2 billion is being misled and while fair-minded Indians are being silenced.
---
Also read: What was Amit Shah like as home minister of Gujarat? Biographers give an insight
---
Move will usher a remarkable transformation in the lives of J&K's Dalit, tribal and OBC communities
Guru Prakash
Fellow at India Foundation and Assistant Professor at Patna University
By revoking Article 370 of the Constitution of India, the Narendra Modi government has undone years of injustice and exploitation of the socially marginalised sections like the Scheduled Castes, Scheduled Tribes and Other Backward Classes. It is one of the rare occasions where the Bahujan Samaj Party solidly stands with the Bharatiya Janata Party.
Affirmative action policies like preferential treatment to Dalits, tribal, and OBC communities became victims of Article 370, which created a permanent roadblock for central legislations. It is interesting to note that reservation policies were not fully implemented in the entire state of Jammu and Kashmir due to Article 370.
Many Valmiki Dalits in Jammu are forced to become sweepers, because the state legislation does not recognise their community, whose members are conventionally manual scavengers, as state subjects. The members of the community cannot apply for a Scheduled Caste certificate or a government job, except for the post of sweeper.
The anomalies created due to Article 370 and Article 35A were erroneous at many levels. The Modi government's decision will usher a remarkable transformation in the lives of Dalit, tribal and other backward communities of Jammu and Kashmir.
---
Afraid atmosphere in Kashmir will become like 1990s when insurgency was at its peak, or maybe even worse
Manu Srivatsa
Senior Jammu-based journalist 
The scrapping of Article 370 and the bifurcation of the state will not resolve the Kashmir problem. On the contrary, it will worsen the situation by bringing up new issues. This is mainly because the ground reality is a lot different than it is perceived to be and there are two main factors to consider as the situation worsens – the armed insurgency and Pakistan.
The separatist movement will grow and the leaders will exploit the Kashmiri youth and alienate them further from the state. Earlier, the separatists were on the back foot and fewer youths were joining the armed insurgency because many of them were coming to the mainstream through sports, arts and Bollywood. However, this will now change. The separatists will indoctrinate the youth through their propaganda and essentially re-assert that the Indian state does not care about Kashmiris and only cares about land.
As for Pakistan, which too believes it has a claim over Kashmir, will not take this scrapping of Article 370 lying down.Pakistan will take advantage of this sense of alienation among Kashmiris. It is also extremely possible for the country to attack in response to this decision. I am afraid that the atmosphere in Kashmir will become like that of the 1990s, whenthe insurgency was at its peak, or maybe even worse.
---
By Revathi Krishnan and Taran Deol
Subscribe to our channels on YouTube & Telegram
Why news media is in crisis & How you can fix it
India needs free, fair, non-hyphenated and questioning journalism even more as it faces multiple crises.
But the news media is in a crisis of its own. There have been brutal layoffs and pay-cuts. The best of journalism is shrinking, yielding to crude prime-time spectacle.
ThePrint has the finest young reporters, columnists and editors working for it. Sustaining journalism of this quality needs smart and thinking people like you to pay for it. Whether you live in India or overseas, you can do it here.