Narendra Modi's remark that he hasn't heard laughter like that of Renuka Chowdhury since he stopped watching Ramayana has generated a lot of responses. While the opposition claims that it represents the inherent misogyny of the BJP, Modi's supporters have said it was a jovial comment.
ThePrint asks: Modi's remark on Renuka Chowdhury's laughter – is it wit or misogyny?
---
PM Modi's comment on Renuka Chowdhury is misogyny at its worst. Can the PM teach the youth to respect women if he can't?
Priyanka Chaturvedi
Spokesperson, Indian National Congress
Modi's comment is an extremely misogynistic statement in the garb of wit and sarcasm. It clearly showcases inherent misogyny and can't be passed off as a jovial comment.
I speak as a woman, not the spokesperson of a particular party. I speak as a woman who is trying to become a part of a male-dominated system. I speak as a woman who can understand the patriarchal systems of oppression around her. I speak as a woman who has favoured reservation in Parliament.
India is a male-dominated society where a population of over 1.5 billion barely reflects in Parliament, where there are few women representatives.
It is in such a context that the Prime Minister's remark should be addressed. It is extremely offensive to speak in the manner in which he spoke. Even if he disagrees with her behaviour, there are many other ways to have addressed that.
It is hypocritical to talk about respecting women on the one hand, and on the other, disrespect a fellow legislator. The Prime Minister has stressed on providing equal opportunities for women — is this how he intends to go about it?
It does not behove the Prime Minister to lessen the dignity of his chair by making such remarks. Has he considered what kind of a message he is sending to the youth of the country that is influenced by him? Those young boys studying in co-ed schools will learn to act the same way as the man they look up to.
Comments like these only help reinforce patriarchy. How can the Prime Minster talk about every home respecting the girl child when he himself can't respect a colleague he ideologically disagrees with?
This cannot pass off as jovial banter; it is misogyny at its worst.
---
Instead of analysing PM Modi's comment, perhaps the question we should ask is: Was Renuka Chowdhury's behaviour acceptable?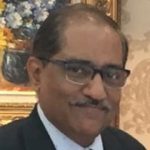 Ratan Sharda
Columnist and author of 'Secrets of RSS: Demystifying Secrets of the Sangh'
It was a riposte by a Prime Minister who was being continuously heckled, first in the Lok Sabha and then in the Rajya Sabha. Let us not forget that this lady was also chastised by the Chairman for laughing aloud for no reason at all and disturbing the PM. He even asked her to see a doctor if she had any problem before the PM made his famous remark.
All the Prime Minister can be accused of is an intelligent comeback. He did not name any character in Ramayana. It is Renukaji and her Congress supporters who are trying to figure out the characters. It's their choice. There was no misogyny behind this remark; it was as wonderfully caustic as it was satirical.
In intellectual debates there is no issue of gender. Thus, to use 'feminism', to cry victimhood when faced with the PM's wit is too convenient. Should the PM have cried victimhood for diatribes against him as anti-man or anti-OBC? We have reached a new low in public discourse when each act or incident is seen only through the lens of gender, caste or religion. So-called left liberalism has lost its way.
Even if Rahul Gandhi had laughed or disturbed proceedings in such a manner, he would probably have gotten a similar response. Moreover, the Prime Minister could have got upset (which is what the opposition wanted) and shouted back or abandoned his speech. But all he did was make a witty comment.
In fact, I am amazed at his ability to think of a 30-year-old serial on a tense day where he was heckled.
The PM has been insulted with classist and tasteless remarks about his earlier life for 15 years. He has always responded in a classy manner and not in a crass manner. I still see Modi's "taking a shower with a raincoat on" comment on Dr Manmohan Singh as a class satirical comment at par with Churchill's famed speeches.
Perhaps the question we should be asking is: Was Ms Renuka's behaviour acceptable? And if we talk in terms of gender, was it lady-like? It's a personal remark exchanged by two political opponents. This has nothing to do with BJP's or Modiji's stance on women's issues.
---
Modi, in comparing Renuka Choudhury's laughter to the serial Ramayana, is basically inferring that she sounds like the demons
Kavita Krishnan
Secretary, All India Progressive Women's Association

There is nothing witty about the Prime Minister's comment. Since childhood, women are used to being told not to laugh loudly, to not raise their voice and not to be heard expressing themselves.
It is not just Modi, the words used by Venkaiah Naidu (unruly, bad behaviour, loose talk) come with a tone of moral chastisement. One wonders if such words have been used against a male politician acting in a similar manner. Naidu's tone makes it clear he is incensed that Renuka — a woman — has the temerity to laugh at Modi instead of showing 'bhakti' for him.
Did Naidu ever chastise Modi for calling Sonia a 'jersey cow', I wonder? Or for calling Sunanda Pushkar '50 crore ki girlfriend'? How come those comments don't count as 'unruly' or 'loose talk'?
At a panel discussion on Times Now, when Arnab Goswami was an anchor there, I remember I was called out for trying to make myself heard. There were men ranting at the top of their voices, shouting, with spittle literally spraying from their mustachioed mouths, but I was told by Arnab that I was "badly behaved" — since I was a woman trying to talk sense in a hostile male-dominated space.
It is common for male politicians to laugh and crack jokes in Parliament, but they don't get chastised for it. Modi, in comparing Renuka Choudhury's laughter to the serial Ramayana, is basically inferring that she sounds like the demons (Tadaka/Shurpanakha) — we should remember that these mythic 'demons' are widely believed to represent women of oppressed castes or adivasi communities or from southern India, whose sexuality is "loose" rather than tightly bound, and "unruly" and "out of control" for Brahminical patriarchy.
Even the BJP spokesperson Shaina N.C. had once said — "I am confused if Mayawati is 'he' or 'she'" — implying that dark, politically outspoken, strong Dalit women aren't "womanly" enough.
Yogi Adityanath, in a piece against reservation for women in Parliament, had said that 'behaving like men makes women demonic'. It seems Mr Modi also agrees with his colleague in believing that women MPs should be shamed for 'demonic' laughter.
Laughter isn't a crime, and in these times, we need it a lot more than the poisonous hate-speech we so often hear from the mouths of politicians.
Note, all the BJP MPs laugh when Modi cracks his 'joke'. So, Venkaiah Naidu thinks laughter is okay as long MPs are laughing in support of the 'king' Modi, but a woman laughing at Modi in the 'durbar' will be frowned upon and publicly shamed?
---
Like the Lakshman Rekha, Modi's joke and Naidu's reprimand to Renuka Chowdhury teach women to stay in their limits
Deeksha Bhardwaj
Journalist, ThePrint
Renuka Chowdhury, how dare you laugh at the Prime Minster? After all he is the alpha male, the representative of all that is good and beautiful about Indian patriarchy. He's the one who introduced 'Beti Bachao, Beti Padhao' for educating the girl child. He is also the one who gave women gas to cook food with the Ujjwala scheme. He is also the benevolent Hindu saviour of Muslim women who aims to make triple talaq illegal.
The temerity of your actions, Ms Chowdhury, will make you go down in history as the demonic woman.
But fear not. You are in good company.
Draupadi laughed at Duryodhan, when he tripped and fell into the pond at Indraprastha. It enraged him so much that he annexed the palace and eventually disrobed her in full public view. A woman laughing at a man undermines his masculinity. It is said Duryodhan never felt more ashamed in his entire life than he did at that moment.
Similarly, Shurpanakha's sexual agency bothered Lakshman, yet another privileged male who believed women could only be safe if they stayed behind the lines he drew. It wasn't until she laughed at him and called out his prejudice that he proceeded to cut her nose.
Both these incidents reflect how Renuka Chowdhury was chastised and consequently publicly shamed in Parliament by Vice-President Venkaiah Naidu and Prime Minister Narendra Modi. She is the demonic woman who dared to laugh at a man, in a male-dominated space. That is not a decision one makes lightly, or loudly as Renuka did.
Naidu specifically asked Renuka to go see a doctor. Must laughter now be clinically treated? Or is the disease of open expression of female dissent in a male-dominated space what Naidu wants to cure?
Many have called Modi's comment a joke. But those in positions of power often normalise oppression through jokes and cultural tropes. These make oppression seem funny, ubiquitous, and take away from the damage incurred.
In as much as a Lakshman Rekha, a line drawn by a man, becomes the measure of safety for women, Modi's 'jovial comment' and Naidu's explicit reprimand on Renuka's behaviour (and not that of her male compatriots) becomes a measure for acceptable behaviour.
These are the innocuous ways in which we teach our women that they must be the 'angel' in the house, the one who keeps quiet, listens carefully and obeys readily.
Laughter is an expression of her ability to think for herself. In a society as hyper-nationalist and patriarchal as ours, it is a luxury women can little afford without being asked to look for a cure. As Milan Kundera says, "No great movement designed to change the world can bear to be laughed at or belittled, because laughter is a rust that corrodes everything."
---
Compiled by Deeksha Bhardwaj, Journalist at ThePrint.