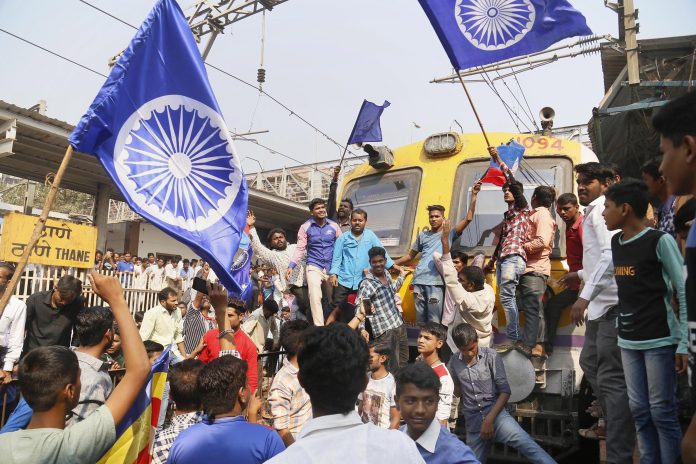 Text Size:
ThePrint asks:
Why is renewed Dalit assertion making upper castes anxious?
The media and academicians portray Dalits as victims in the incident at Bhima-Koregaon. The battle that happened there was a fight against a particular caste, the Brahmins. The fight isn't against the upper-castes, it is against Brahmins and Brahminism.
For so many years, Neo-Buddhists have been agitating against the escalating caste violence in the country. This agitation is not a display of Dalit assertion, but an assertion of the Neo-Buddhist school of thought. It is but obvious that when there are such protests, Brahmin pride will be hurt. They celebrate the Peshwas, and so, their defeat at the hands of the Mahars is something that will obviously ruffle feathers.
Brahmins have had a stronghold on resources across India. Therefore, the fact that they lost the battle doesn't sit well with them. This celebration at Koregaon further stirs the pot. When there is a rally at the Peshwas' house with Jignesh Mevani at the helm, the Brahmins' pride takes a hit. They are not willing to accept an egalitarian society.
The incident is a manifestation of such a mindset. In Maharashtra, Hindutva politics has become intimately linked with Maratha politics. In the past, there was a progressive tradition that started an anti-caste movement. Of late, it has been snuffed out by Hindutva politics. The two main accused, Sambhaji Bhide and Milind Ekbote, are both Brahmins. There are part of smaller RSS factions.
The attempt is to break the Bahujan identity that is forming. It was the 200th anniversary of the battle, and people came out in large numbers to support the cause.
Bhima-Koregaon is not part of mainstream academic history. It has been chronicled by the Dalit-Bahujan samaj. Mainstream history has always been the prerogative of Brahmins, who were traditionally the only ones who had access to reading and writing.
There has been no space for Dalit assertion in such a framework. By controlling knowledge, Brahmins have consistently denied access to the under-privileged. Any form of dissent or assertion then takes away from their power. Hence, they take path of violence to put Dalits in their place.
Somnath Waghmare is a documentary filmmaker and Research Scholar at TISS.
Get the PrintEssential to make sense of the day's key developments