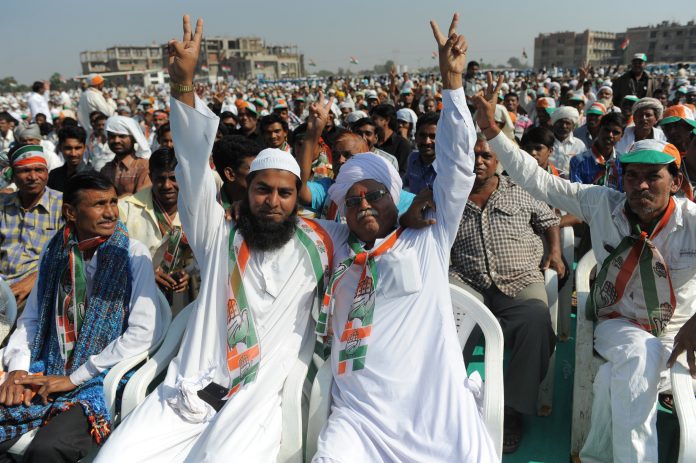 Text Size:
The Congress fielded six Muslim candidates this time compared to seven in 2012. The BJP has never fielded a Muslim candidate for assembly polls.
New Delhi: On several occasions during the 2017 Gujarat assembly election campaign, communal rhetoric dominated the discourse, and there was enough talk about the Muslim vote being rendered inconsequential. When the dust settled, the results were pretty much a case of same old, same old, as only three Muslims won the elections – all on Congress tickets.
For the 50 lakh-strong Muslim community in the state, it's nothing new – they continue to remain on the fringes of Gujarat's electoral politics. The Congress fielded six Muslim candidates this time, as opposed to seven in 2012 (of which two had won). In 2007, five Muslim candidates had won, while in 2002, just three had become MLAs. The BJP has never fielded a Muslim candidate in the assembly elections.
The winners
Of the three Muslims who have won this time, Imran Yusufbhai Khedawala is a first-time MLA. He defeated BJP MLA Bhushan Bhatt in the Jamalpur-Khadia seat by a margin of 29,339 votes.
Bhatt's defeat was not entirely surprising, as Sabir Kabliwala, whose candidature had divided the Muslim vote in 2012, withdrew his candidature this time, reportedly under pressure from the Congress.
The other Muslims to have won are Shaikh Gyasuddin Habibuddeen from Dariapur (Ahmedabad) and Pirzada Mahamadjavid Abdulmutalib from Wankaner (Rajkot). These two leaders had also won in 2007 and 2012.
Loaded campaign
Even though the election saw communally-loaded controversies make headlines, the 2002 riots remained conspicuous by their absence from the Congress and its candidates' campaigns. The government did, however, initiate a debate around triple talaq weeks before the state went to the polls.
Speeches about Rahul Gandhi's religiosity, comparisons between the Congress president and Mughal emperor Aurangzeb, allusions to the Congress's collusion with Pakistan to influence the election results, and the Ayodhya debate, were some of the instances in which the anti-minority innuendo was rather stark.
For ThePrint's smart analysis of how the rest of the media is doing its job, no holds barred, go to PluggedIn