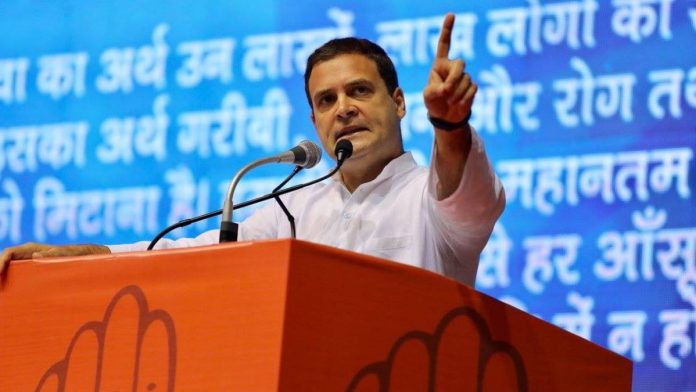 Text Size:
Congress president Rahul Gandhi will participate in some of the meetings, especially those with farmers and student groups.
New Delhi: The Congress is set to delegate its leaders to visit industrial towns such as Tirupur in Tamil Nadu and Surat in Gujarat as part of its manifesto preparations for the 2019 general elections.
The move, party sources said, is to gauge the mood of businessmen, especially those in small and medium businesses.
"Demonetisation and the flawed GST implementation has mostly hit small and medium businesses and we would like to hear their grievances to find out what needs to be done for them," said a senior leader who is a member of the manifesto committee.
---
Also read: GDP numbers have become phallic symbols for Congress & BJP
---
The list of cities to be visited by Congress leaders is yet to be finalised.
The decision to seek out the grievances of businessmen was among those that the newly-formed manifesto committee, which met on 3 September, decided on.
The Congress has also decided to hold wider consultancy with various groups. It plans to start the exercise nationwide from October as it aims to hold at least 70 to 80 consultancy meetings with various sections such as farmers and students, apart from businessmen.
The party will also resort to crowd-sourcing to formulate a manifesto that it hopes will appeal to a large section of Indian voters.
Expanded version of earlier poll exercises 
Party leaders said that the exercise for the 2019 election manifesto will be along the lines of the one that the party conducted ahead of the Gujarat elections in 2017 and the Karnataka elections in May.
In Gujarat, Congress strategist Sam Pitroda held meetings with different sections of society and the party had prepared a manifesto based on those meetings.
In Karnataka, it came out with a separate manifesto for all districts and regions focusing on specific areas, while highlighting local issues.
This time, the exercise will be an expanded version of the earlier efforts, a senior leader said.
"Every time we talk about problems faced by the country, people ask what solutions we can offer," said the senior Congress leader. "We will now hear them directly and then prepare a manifesto that would answer all these questions. Our manifesto would present a roadmap on how the Congress will take the country forward."
---
Also read: India was asked to choose between society and economy in 2014. Now they have neither
---
Apart from senior leaders, Congress president Rahul Gandhi too will participate in some of the meetings, especially those with farmers and student groups. The manifesto committee will also propose that Rahul visit some university campuses to know about the problems faced by the students.
While this exercise is exclusively for the 2019 Lok Sabha polls, the Congress is also working on manifestoes for year-end assembly polls in four states — Madhya Pradesh, Rajasthan, Chhattisgarh and Mizoram.
Get the PrintEssential to make sense of the day's key developments