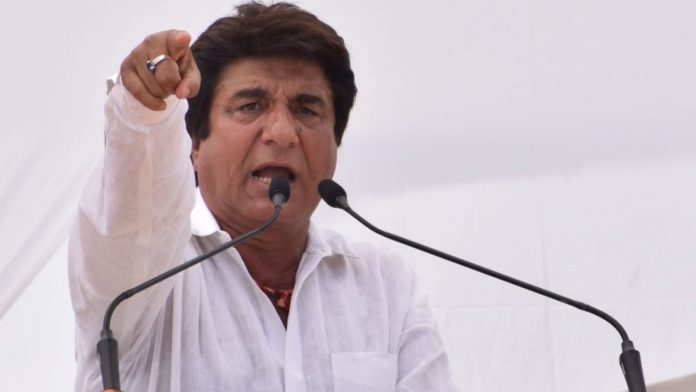 Text Size:
Fatehpur Sikri: It is 2 pm in Gadsani village of the Fatehpur Sikri parliamentary constituency. In the scorching summer heat, a group of villagers stands waiting for someone — "We are waiting for Raj Gabbar", they say.
The Bollywood star of yesteryear is called by many names here — Raj Gabbar, Babbar Sahib, and even Raj Sir. But Raj Babbar, president of the Uttar Pradesh Congress Committee, is doing more than just fight an electoral battle against the BJP — he is battling for his own political future.
A straight BJP-Congress fight
Apart from Saharanpur, Fatehpur Sikri is the only seat where Congress looks to have a chance, and is thus focusing all its resources. On the face of it, Babbar is facing BJP's Raj Kumar Chahar and the SP-BSP-RLD alliance's Guddu Pandit (originally of the BSP), but on the ground, it's being touted as a direct 'Raj vs Raj' battle.
Fatehpur Sikri will go to the polls in the second phase on 18 April.
Last time, the BJP's Babu Lal had defeated BSP's Seema Upadhyay by over 1.73 lakh votes. But this time, the BJP has denied him a ticket, making several supporters switch sides to the Babbar camp. Ditto for several disgruntled BSP leaders, since Upadhyay has opted not to contest.
And yet, the situation is far from easy for Babbar, thanks to the Modi factor. During his campaign, at several places, youth chanted the prime minister's name, which made Babbar move on without speaking to them.
---
Also read: Bollywood stars and their readymade support base: Why Indian politics can't do without them
---
Local manifesto
Babbar has issued a separate manifesto for the constituency. A major theme of this manifesto is to implement a comprehensive plan to ensure minimum support price for potato farmers.
He has also promised the creation of new cold storage facilities in areas such as Bah, Fatehabad, Agra Rural, Fatehpur Sikri and Kheragarh, which could be of immense benefit in storing fruits and vegetables.
Babbar plans to develop a leather footwear industry, and also start a women's university in the area.
Journey from Janata Dal to Congress
Babbar started his political journey in 1989, during V.P. Singh's march to power. He shifted to the Samajwadi Party in 1994, and was twice elected from the Agra Lok Sabha seat, in 1999 and 2004. He joined the Congress in 2006.
Babbar's biggest political victory came in 2009, when he defeated SP founder Mulayam Singh Yadav's daughter-in-law Dimple Yadav in a by-election for the Firozabad parliamentary constituency. In 2014, he contested from Ghaziabad and lost by a big margin to BJP's Gen. (retd) V.K. Singh.
He was appointed the UP Congress president in 2016, but could not resurrect the party, which won just seven seats in the 2017 assembly elections despite a tie-up with the Samajwadi Party. It also put up a poor performance in municipal elections, raising serious questions about his leadership.
With Priyanka Gandhi Vadra's entry into active politics, rumours abounded that Babbar's time in the hot seat was up. But the decision has been postponed till the end of the general elections. In this context, there could be serious implications if Babbar fails to win from Fatehpur Sikri. On the flip side, if he snatches the seat from the BJP, he could be hard to dislodge from his position.
Mood of the people
Dinesh, who hails from Nagla Sawlan village, expressed confidence in Babbar's win, because he said the Brahmin vote would split between the BJP and BSP candidates. However, in a tea shop next door, Anand said Brahmins would stand solidly behind Modi and the BJP.
A majority of voters ThePrint spoke to said the election would be in the name of Modi, and local candidates wouldn't matter.
Babbar's supporters, meanwhile, expressed the belief that he would buck the state-wide trend of a weak Congress, because he knows the constituency well and the people know him too, given his track record as Agra MP and his familiarity with the electorate from his film days.
---
Also read: Modi, Ananth Kumar & I are main factors in Bangalore South seat: Tejasvi Surya
---
Get the PrintEssential to make sense of the day's key developments