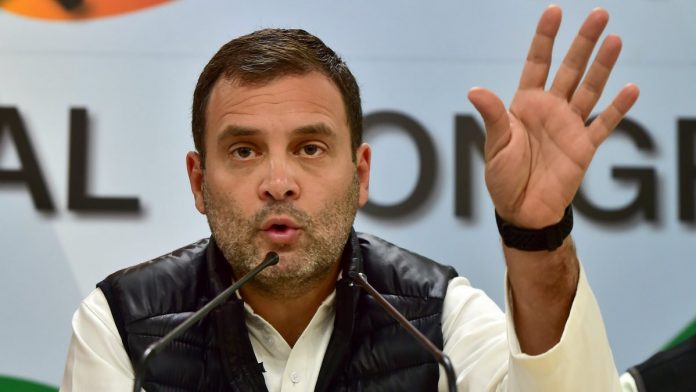 Text Size:
New Delhi: Rahul Gandhi has got his party colleagues guessing about his role model in politics: Former prime minister V.P. Singh or Delhi Chief Minister Arvind Kejriwal?
The debate has started, though in whispers, in the context of what many see as his attempt to virtually troll Prime Minister Narendra Modi.
What had begun in 2016, with his "earthquake" speech in the Lok Sabha and his subsequent references to alleged entries of payment in the Sahara diaries, has now become a routine affair, with Gandhi levelling a host of allegations against Modi.
What has, however, made a section of Congressmen uneasy is the manner in which their party president has launched personalised, no-holds-barred attacks on the prime minister.
Alleging a scam in the Rafale fighter jet deal, Gandhi has repeatedly described the prime minister as a "chor (thief)" and demanded the registration of an FIR against him.
On Thursday, he called him "the poster boy of Pakistan" who he said had allowed the Inter-Services Intelligence (ISI) to come to Pathankot (post-terror strike) and gone to the then Prime Minister Nawaz Sharif's granddaughter's wedding.
"Dear PM, Have you no shame at all? YOU stole 30,000 Cr and gave it to your friend Anil," the Congress president said in a tweet earlier. "He's an incompetent man who listens to nobody," he said in another tweet.
Dear PM,

Have you no shame at all?

YOU stole 30,000 Cr and gave it to your friend Anil.

YOU are solely responsible for the delay in the arrival of the RAFALE jets.

YOU are WHY brave IAF pilots like Wing Cdr. Abhinandan, are risking their lives flying outdated jets. https://t.co/BrzAuFTlFu

— Rahul Gandhi (@RahulGandhi) March 2, 2019
"There was a time when great dignity was attached to the post of the Congress president," a veteran Congressman from Uttar Pradesh told ThePrint.
"What Rahul is doing doesn't behove the post he holds or the one he aspires for (prime ministership). You can't call the Prime Minister names. People don't take kindly to it."
---
Also read: Rahul Gandhi believes Pakistan over Indian forces & leaders: BJP responds to Congress attack
---
V.P. Singh or Kejriwal model?
Some in the Congress party believe that Gandhi has been bullish with his attacks on the PM without a strategy in place.
"His (Rahul's) role model is VP Singh. He sees scope for himself only after he demolishes the incumbent (PM) by any means," a Congress leader who was in Sonia Gandhi's core team told ThePrint. "But there is no deep thinking behind this strategy in terms of public perception or the impact it will have on his own image."
V.P. Singh, a key member of the Rajiv Gandhi cabinet, had fallen out with the then prime minister and left the government to level a series of allegations about kickbacks in Bofors gun deal. He would flash a paper in public meetings, claiming that it contained the Swiss bank account number in which the alleged kickbacks were deposited.
Another Congress functionary has a different take: "He has to decide whether he wants to position himself as Kejriwal or (Atal Bihari) Vajpayee. If he thinks being aggressive like Kejriwal works, it's his judgement call."
An eminent political analyst who has known Gandhi closely told ThePrint that the "culture of wild allegations" was started by the BJP and Modi but the Congress president shouldn't follow the same model.
"First of all, Modi has a certain level of popularity," he said on the condition of anonymity. "On the issue of national security, for instance, he enjoys a better level of (public) trust. So, even his wildest allegations get some reception."
He added that Gandhi's communication skill is "not great" and he should have just maintained that he was for national consensus and wouldn't criticise Modi even if the latter did.
"It would have raised Gandhi's stature. Instead, he has fallen into Modi's trap by responding to him," the analyst said. "This is exactly what Modi wanted. Rahul doesn't have the gut sense of politics or the feel of street politics."
---
Also read: A national security election gives Rahul Gandhi the perfect excuse to lose
---
Carried away by social media?
There is a consensus among Congress leaders, political analysts and observers that Gandhi has got carried away by his increased profile on the social media and is not getting the larger picture.
"His approach is that of a leader contesting students' union election," said a former AICC general secretary. "Modi can get away with his style of politics because of his popularity but Rahul as a young leader can't be so disrespectful and rude while talking about the Prime Minister."
Congress spokesman Manish Tewari, however, debunked all criticism of the party president: "People in the government have been using intemperate language against Mrs (Sonia) Gandhi and him (Rahul) for years," he said.
"What about sobriety in Modi? Look at the language he uses against political adversaries. The opposition has to be aggressive, especially in a situation where a substantial section of the media, particularly TV, is controlled by the ruling party."
Get the PrintEssential to make sense of the day's key developments