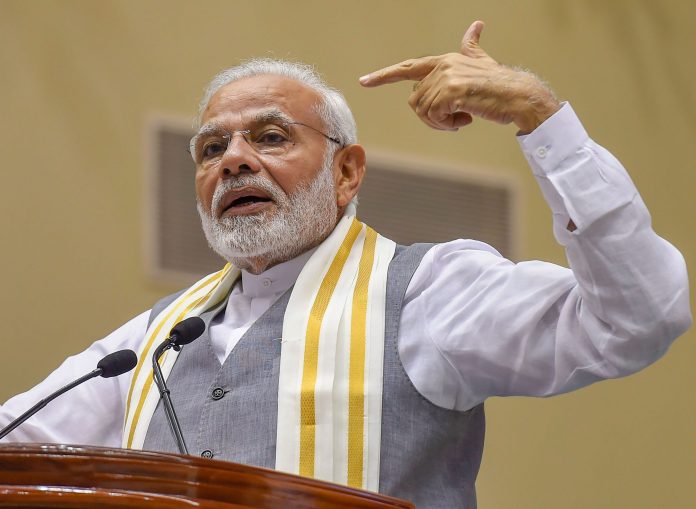 Text Size:
BJP hopes the Twitter applause and ad campaign will help it court India's young voters ahead of DUSU polls and 2019 elections.
New Delhi: The Modi government has launched a massive advertisement campaign with the tagline India's. Best. Ever. Performance, claiming credit for the country's largest medal haul in the just-concluded Asian Games.   
The advertisements also contain a message from Prime Minister Narendra Modi, which reads, "The 2018 games have been the best for India in the history of Asian Games. Every athlete who took part in the Games is India's pride. I congratulate the Indian contingent for their performance".
---
Also read: After Indira Gandhi, Narendra Modi only PM to display enthusiasm about sports
---
The campaign comes on the back of Modi congratulating each individual medal winner through Twitter. Cabinet ministers, it is learnt, were also told to tweet in praise of the winners.
A majority of the Union ministers also retweeted the Prime Minister's congratulatory messages even as Sports and Youth Affairs Minister Rajyavardhan Singh Rathore tweeted that the "PM is likely to meet them (winners) exclusively)".
Sources in the BJP said the advertisement campaign and Modi's appreciation of the athletes are aimed at young voters, particularly first-timers, ahead of the 2019 general elections.
The party also believes that the gesture of individual appreciation by its top leadership gives the impression of sincerity, which will help it in next week's Delhi University Student's Union (DUSU) elections as well as the assembly polls at the end of the year.
"We have made it clear that our government gives importance and appreciates the contribution of athletes who make India stand out internationally. Unlike the Congress, our PM takes the lead in appreciating those who have made us proud in the games," said a senior BJP leader.
---
Also read: Obsession with Asian Games' medal tally shows India's breathtaking apathy towards sports
---
India notched up 69 medals at the Asian Games in Jakarta and Palembang, surpassing the previous best of 65 at the 2010 edition in Guangzhou, China. India's haul of 15 gold medals in these games also matched its 1951 performance.
Youth the target
BJP leaders believe that youngsters feel tremendous pride when the country wins medals in international sporting event and so the best strategy is to use this to win them over. The BJP also believes that promoting sports and acknowledging athletes will help it shed its extreme Right-wing image with young voters and show it as a party with modern values.
The party has an eye on young voters, estimated to be close to 15 crores, and aged between 18 and 23, a demographic it believes will play a crucial role in next year's elections.
Get the PrintEssential to make sense of the day's key developments