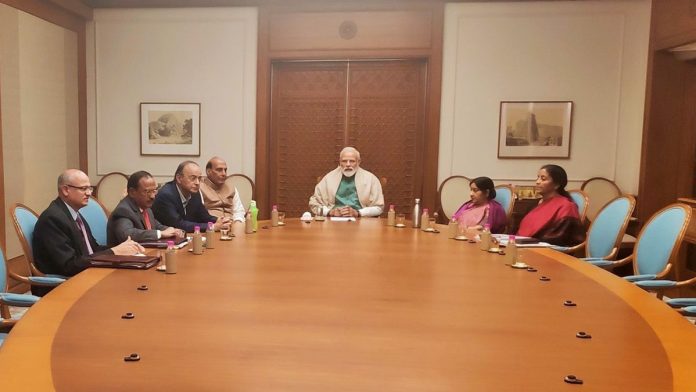 Text Size:
New Delhi: Prime Minister Narendra Modi-chaired National Security Council late Sunday discussed issues related to the country's security situation in the backdrop of tensions with Pakistan, India's participation at the Organisation of Islamic Cooperation (OIC) meet and its subsequent resolution on Kashmir, sources told ThePrint.
Sources said PM Modi held the meeting to ascertain India's continuing counter-terrorism efforts and preparedness of the armed forces in the backdrop of the country's attempts to have Jaish-e-Mohammed (JeM) chief Masood Azhar listed as an international terrorist by the UN.
The meeting was attended by Home Minister Rajnath Singh, Foreign Minister Sushma Swaraj, Defence Minister Nirmala Sitharaman, Finance Minister Arun Jaitley, National Security Advisor Ajit Doval and Foreign Secretary Vijay Gokhale at the PM's residence.
The Indian Air force (IAF) struck a JeM training camp in Pakistan's Balakot area on 26 February that housed several of the terror outfit's local leaders and recruits. It was the first such an airstrike was carried out by India inside Pakistan's sovereign territory since 1971.
---
Also read: Islam means peace, none of Allah's names mean violence — Sushma tells OIC minus Pakistan
---
'Ongoing operation'
The meeting of the NSC came two days after Pakistan Army spokesperson Asif Ghafoor tweeted that his Army chief Qamar Javed Bajwa spoke to US Central Command and chiefs of defence forces of UK and Australia, and envoys of US, UK and China to Pakistan.
"Pakistan shall surely respond to any aggression in self defence," Bajwa tweeted Friday.
At an event in Coimbatore Monday, IAF chief B.S. Dhanoa said the Balakot strikes were just the beginning, adding that "this is an ongoing operation" and India's operation against terror groups in Pakistan is "not yet over".
On Sunday, Bharatiya Janata Party president Amit Shah said over 250 terrorists were killed in the air strikes.
The Modi government, however, is yet to announce the casualty figure officially.
Concerns over OIC resolution
At the NSC meeting, Modi is also believed to have discussed the OIC resolution at its 46th session of the Council of Foreign Ministers (CFM) in which Swaraj was invited as a 'Guest of Honour'.
India participated in the inaugural session of the OIC meeting and termed it a huge diplomatic success.
However, after the 57-nation grouping passed a controversial resolution on Kashmir, opposition parties questioned the government's decision to attend, calling the subsequent developments "extremely disturbing".
At the end of the two-day conference Saturday, the OIC slammed India for "recent wave of Indian terrorism in occupied Jammu and Kashmir and expressed deep concern over the atrocities and human rights violations in IoK (India occupied Kashmir)".
"This OIC resolution on regional peace and security in South Asia also welcomed Prime Minister Imran Khan's renewed offer of dialogue to India and the goodwill gesture of handing over the Indian pilot," the OIC said, even as it elected Pakistan as a member of its Independent Permanent Human Rights Commission from the Asian region.
---
Also read: Congress party slams Modi government over OIC resolution on Jammu and Kashmir
---
For ThePrint's smart analysis of how the rest of the media is doing its job, no holds barred, go to PluggedIn