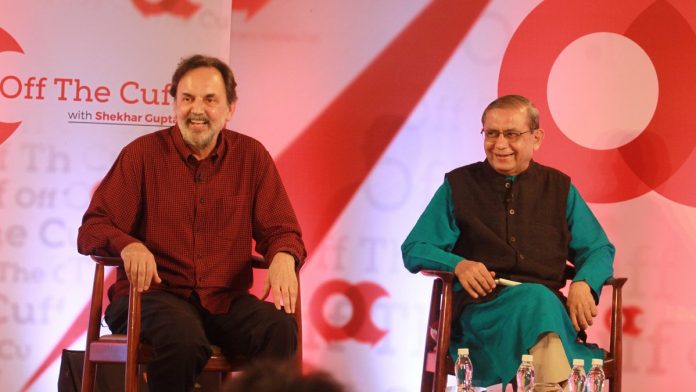 Text Size:
Mumbai: Regional parties have grown to play an important role in elections, and the Bharatiya Janata Party (BJP) is way ahead of the Congress in understanding the importance of alliances, NDTV co-founder Prannoy Roy and the channel's editorial adviser Dorab R. Sopariwala said at Off The Cuff Tuesday.
In conversation with ThePrint Editor-in-Chief Shekhar Gupta, the senior editors said the upcoming Lok Sabha election will not be a national poll, dominated by one sweeping agenda or a Narendra Modi-versus-Rahul Gandhi theme, but a "federation-of-states" election.
"The BJP is way ahead of the Congress in understanding the importance of alliances, and is far superior in negotiating and forming fronts," said Roy. "The Congress is unable to understand just how important it is to form an alliance."
Coming together as an alliance, he added, gives parties the benefit of their combined strength as well as an additional boost of up to 8 per cent. What the BJP has done in Bihar, Sopariwala said, is one of the best examples of brokering an alliance and building consensus.
"They (the BJP) had 21 seats in Bihar (in the current Lok Sabha), now they are ready to fight 17," he added. "They said, 'We will give up four of our seats because we want an alliance'. The final objective is to win, and not lose an election gloriously. So you do what it takes."
How India votes
Roy, who has mainstreamed psephology in India, and Sopariwala, a market research veteran and psephologist, have authored the recently-published The Verdict: Decoding India's Elections, a statistical study of Indian elections since 1952 that seeks to give a data-based insight into the key factors that determine wins and losses.
The book splits Indian elections into three phases. In the first 25 years, it says, 80 per cent of the governments were voted back to power. In the next 25 years, 72 per cent of the governments were thrown out of power. However, 2002 onwards, the figure has hovered at 50 per cent, an indication that the electorate has transformed from trusting to angry to wise, Roy said.
Sopariwala added that chemistry and charisma of leaders had become less important over the years, with development emerging as a more significant factor.
"Many politicians used to think that charisma is not the icing on the cake, but the cake itself. It is the delivery that got Narendra Modi back there (re-elected in Gujarat), not his oratory," he added.
As examples, the two editors named several chief ministers who are ordinary orators but won multiple terms in office: Shivraj Singh Chouhan, Raman Singh, and Sheila Dikshit, the former chief ministers of Madhya Pradesh, Chhattisgarh and Delhi, respectively, and Odisha incumbent Naveen Patnaik.
Sopariwala said the way people vote had also changed. "Thirty years ago, people decided who to vote for in communities. With the coming of media, people have seen wider exposure, so they are making their own choices," he added. "I once met a family where the husband was voting for one party, wife for another, and the mother for yet another, and all had their own reasons."
Roy said while contemporary women were more independent in their voting preferences, it was a worrying fact that 21 million Indian women of voting age can't cast their ballot as they are not on the electoral rolls.
---
Also read: Modi must restore BJP to what it was in Vajpayee-Advani times: Yashwant Sinha
---
'WhatsApp election'
Roy said the media's impact on the electorate was overestimated, pointing out voters' growing reliance on social media like WhatsApp.
"They (voters) go beyond perception and they are very clear that they don't really trust the media," he added.
"We (the media) think we have a huge impact, politicians think we have a huge impact. We overestimate the impact of the media on the electorate. They watch everything. They have WhatsApp. This is almost a WhatsApp election," Roy said. "They have Facebook, but they make up their own minds."
He, however, added that while social media did ensure big media houses didn't dominate the discourse, the anonymity it offered was as much a flaw as a strength.
"You don't know the origin of the creator of the fake news. That is a major danger and it is exploited by people who live off hatred," Roy noted.
Suggesting a possible solution, he said people should be made aware that they can be identified in the rarest-of-rare cases, and that too by the judiciary, and not the government.
---
Also read: Regret garlanding lynching case convicts, will not do it again: Jayant Sinha
---

Get the PrintEssential to make sense of the day's key developments