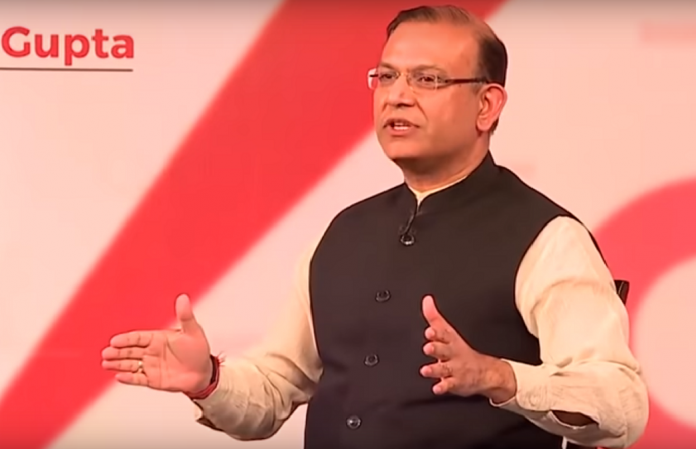 Text Size:
Speaking at Off The Cuff, the minister said it was a "small, private event" that the opposition used to peddle "fake narratives".
New Delhi: Union Minister Jayant Sinha has said that he "regrets" garlanding the convicts in a lynching case, who were out on bail, adding that he is against "vigilantism and violence of any kind".
Sinha, who was speaking at the Off The Cuff with ThePrint Editor-in-Chief Shekhar Gupta and Associate Editor Ruhi Tewari said he would not repeat what he did.
"In our constitutional democracy, the rule of law is supreme. I've regretted the garlanding and I would not do it again. It was clearly something I shouldn't have done," Sinha said at the event Friday.
---
Also Read: Jayant Sinha's transition from venture capitalist to adventurous politician is complete 
---
Sinha further said that he "absolutely" thought that he was wrongfully targeted.  "Let me make two things clear. I am completely against violence of any kind and I am completely against vigilantism," he said. "No one has the right to take the law in their hands; the guilty should absolutely be punished".
Sinha, the Lok Sabha MP from Hazaribagh in Jharkhand, created a furore earlier this year after he garlanded a group of men convicted of lynching a Muslim trader at Ramgarh last year. A fast-track court had found 11 persons guilty in the case in March this year, of whom eight later secured bail.
'Private event, believe they are innocent'
Sinha explained the circumstances of the incident as a "small private event", and condemned the opposition for "peddling fake narratives".
"After spending a year in jail, they were released and came to my house. They came with their families who had the garlands and mithai (sweets) and they fell on my feet saying because of my intervention they had got bail," he said.  "They said I was their janamdata and asked me to garland them. It was a small private event that lasted precisely ten minutes or so".
"To insinuate thereafter by the principal opposition party that I condone vigilantism on the basis of what happened is exactly what I mean by peddling fake narratives," he said.
Sinha, however, claims while he did not intervene in the case at all despite pressure from the people of Ramgarh.
---
Also Read: Airline business is booming, says Jayant Sinha 
---
"Based on a very close reading of the facts and confirmed by the bail order of the Hon. Ranchi High Court, the people who came to my house – 7 of the 12 accused – did not attack the victim," he said. "In fact, it's very questionable whether there was even a lynching for that matter".
"I started studying the matter very closely and personally got convinced these people were innocent. That is when I helped them get a lawyer," he said.

Get the PrintEssential to make sense of the day's key developments